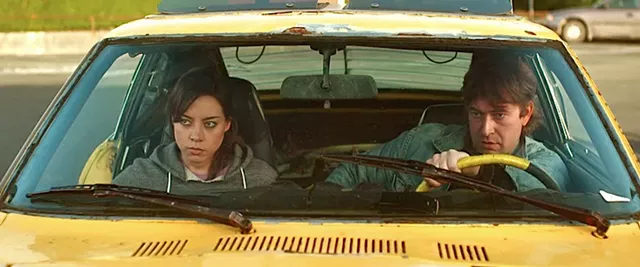 FilmDistrict
Safety Not Guaranteed
In preparation for
my recent interview with Colin Trevorrow
, I watched the director's first feature, the 2012 indie comedy
Safety Not Guaranteed
. I had been meaning to see it for a couple of years, but never quite got around to it. My interview with
Trevorrow
was scheduled for a Thursday afternoon; I started
Safety Not Guaranteed
on Wednesday evening. Deadlines are great motivators.
Trevorrow (the accent is on the second syllable, I learned from the friendly NBCUniversal PR lady) is the latest and surely most prominent example of a filmmaker who has been plucked from the ranks of the indies and brought up to the big leagues. You may have heard of his second film, a plucky little picture called
Jurassic World
, which pulled in more than half a billion dollars in its first weekend of release.
The film made about
40 percent of that staggering sum
— just over $200 million — at the domestic box office, a figure fully 50 times larger than
Safety Not Guaranteed
's
domestic gross
. Those figures are seriously askew, but we can bring them into some kind of alignment by considering the films' respective budget-to-profit ratios.
Safety Not Guaranteed
cost
an estimated $750,000
, which means that it took in about 5.3 times the money required to produce it — a ratio that would put a smile on the face of any movie producer. Globally,
Jurassic World
(in just its first weekend, remember) took in about $500 million, which is only
about 3.3 times its estimated $150 million cost
.
FilmDistrict
Aubrey Plaza in Safety Not Guaranteed
At the moment, that makes
Safety Not Guaranteed
the more
relatively
profitable of the two films, though it will surely soon be overtaken as
Jurassic World
's release extends into the summer. Not to mention that you'd be hard-pressed to find a fourth grader with a
Safety Not Guaranteed
lunchbox, but
Jurassic World
action figures
,
LEGO sets
and
flame-retardant children's pajamas
will be clogging toy stores for years. Such "ancillaries" are where the money's at, baby.
All of this box-office hoo-hah is to say that, in at least one key respect, Trevorrow's two films are not so different. During my interview with him (he seemed to be a very nice fellow, by the way), I didn't really want to ask the ultra-obvious question: "How did you adjust to making a film on such a bigger scale?"
But I found that I could hardly avoid it. I tried to give the question a new spin by observing that
Safety Not Guaranteed
didn't require the director to create great suspense, but that
Jurassic
World
surely did. Trevorrow read right through my question, though, and offered that his two features are actually more similar than they might appear: Both films combine multiple genres, and both films engage their audience's emotions on multiple levels.
Partly because I had a couple of movie-theater gift certificates and partly because I had just had a pleasant conversation with the film's director, I was one of the millions who saw
Jurassic World
on opening weekend. Though I can't say I found that it delivered a great many narrative or stylistic surprises, it's a perfectly good summer blockbuster. It's exciting, suspenseful and enjoyable, even if most of its strokes are painted with a brush as wide as a train car. But I can't say that I found much overlap between it and
Safety Not Guaranteed
. I'm not calling Trevorrow a fibber here; rather, I respectfully disagree.
FilmDistrict
Safety Not Guaranteed
That said,
Safety Not Guaranteed
is as pitch-perfect an example of the quirky indie rom com as
Jurassic World
is of the giganto action blockbuster. Me, I'm not much of a fan of quirky indie rom coms, so I wasn't crazy about
Safety Not Guaranteed
. The thing I liked the least about the film (besides the presence of
Mark Duplass
, an irritating actor [and worse director] whom I simply cannot abide) was its visual dullness. The film looks like pretty much every other indie movie, in that little thought or energy seems to have gone into its cinematography.
Like so many other films,
Safety Not Guaranteed
overuses the handheld camera — practically the whole film is shot using this tired technique. It's not the handheld camera of cinéma vérité, which is marked by its on-the-fly roughness, but the handheld camera of such TV shows as the American version of "
The Office
" and "
Parks and Recreation
": a smoother, less jostly style of handheld that de-emphasizes the presence of the camera operator and attempts to create a "you are there" feeling for the viewer.
I have nothing against this style of cinematography in and of itself, but it's become so commonplace that I don't ever need to see it used again. I can't help but see it as a kind of cop-out, an all-purpose visual strategy that imparts a sameness unto a film even when its component parts are in fact somewhat varied. Trevorrow is correct in his assertion that
Safety Not Guaranteed
blends several genres: comedy, romance, science fiction. But the film's stylistic approach is not nearly so varied; indeed, the too-samey cinematography effectively smooshes those genres together into a kind of dull narrative paste. Would that the director had varied his cinematographic approach so that
Safety Not Guaranteed
's varied narrative elements could have been more fully differentiated and thus given stronger identities.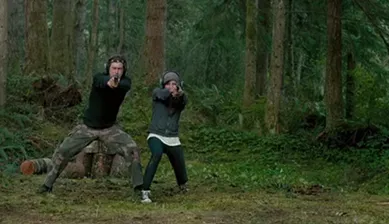 FilmDistrict
Mark Duplass and Aubrey Plaza in Safety Not Guaranteed
Interestingly,
Jurassic World
offers a model of how to use cinematography (among other stylistic measures) to enhance and emphasize narrative content. At one point, for example, two young protagonists are trapped inside a spherical plexiglas vehicle by a rampaging dino. When the vehicle is batted away, the boys' attacker momentarily loses track of them, so they respond by being as quiet as possible, in hopes of remaining concealed.
But then we hear a strange buzzing that, we soon understand, the dino can hear, too. It's the older boy's smartphone, which has fallen from his hands onto the hard surface of the space-age vehicle. As the phone vibrates noisily against the plexiglas, Trevorrow gives us a simple, quick close-up of it, and we can see that the caller is the boys' aunt Claire, whose inattentiveness is part of the reason they are in trouble.
Though very simple, this one motionless close-up demonstrates a greater degree of visual-narrative sophistication than does the whole of
Safety Not Guaranteed
. This quick insert is all that's needed to convey tension (a mood created in large part by the buzzing sound, as well); to remind us of the circumstances (both human and saurian) that have gotten the boys into their fix; and to deliver a quick little joke (Claire's big, officious smile in the image on the smartphone is completely at odds with the severity of the boys' situation). The shot achieves these functions in part by contrast to the shots around it, which depict the raging dino and are thus larger in scale, wider in angle and imbued with camera movement of every type, the better to convey excitement and energy.
Safety Not Guaranteed
is a little indie trifle. It's by no means a bad film, but it's relatively undistinguished. As Trevorrow himself suggested to me, he seems to have learned a great deal from working with Steven Spielberg, a master director who's well aware of how to tell stories visually. I'll be interested to see what he does next, as it's always fascinating to me to watch a director's abilities grow.
FilmDistrict
The time machine in Safety Not Guaranteed