The Weinstein Company
Eli Roth and Brad Pitt in Inglourious Basterds
I'll admit that, once in a while, I'm a slave to the suggestions offered up by Netflix. I find it both creepy and oddly reassuring that the company's algorithms are actually pretty good at predicting, based on my viewing habits, what I'd like to watch next. I hadn't seen Quentin Tarantino's
Inglourious Basterds
since its 2009 release, and had been meaning to watch it again. When Netflix proudly announced that the film was now available on its streaming service, I went ahead and did what the computer told me to do.
Ever since his 1992 feature debut,
Reservoir Dogs
, Tarantino has been a polarizing figure. Obviously vastly talented and knowledgeable, he's also, at times, his own worst enemy, larding his films with an
embarrassing surfeit of winking references
to high and low culture. Indeed, his double-edged embrace of "trash" cinema and works of "high culture" is itself a meta-reference to Jean-Luc Godard, a large part of whose remarkable oeuvre is characterized by that particular device. Coming up with that kind of knowing, cinematic reference to referentiality is the kind of thing, I imagine, that really excites ol' QT.
Tarantino is a filmmaker given to excess. His movies tend to be long, ambitious, meandering and
stuffed with in-jokes
that seem designed to amuse an audience of one. He's a great admirer and deconstructor (the two are by no means opposed) of generic forms: Every one of his films engages with a distinct film genre, be it crime (
Reservoir Dogs
), western (
Django Unchained
), martial arts (the two
Kill Bill
films) or a mishmash of generic tropes found in penny dreadfuls (
Pulp Fiction
).
Much as I love a clever genre deconstruction, I've often been disappointed by those that Tarantino has embarked on. Time and again, he glibly goes right for the evisceration of generic conventions without actually acknowledging their functions or values. As the British saying goes, Tarantino's films often strike me as too clever by half.
The Weinstein Company
Michael Fassbender and Diane Kruger in Inglourious Basterds
I do admire some of Tarantino's work — typically, those of his films that might be called "lean."
Reservoir Dogs
,
Django Unchained
and especially
Jackie Brown
seem to me to be his best movies, in large part because they're celebrations of their genres, not just smarmy takedowns thereof. But I really detest the overlong and dull
Death Proof
, think relatively little of the
Kill Bill
films and consider
Pulp Fiction
to be one of the most overrated films of the last half-century. It's just too self-indulgent for my taste.
I recall that my reaction to
Inglourious
Basterds
was one of disdain, too, though I saw it long enough ago that I didn't remember any of my specific criticisms. Having liked Tarantino's most recent film,
Django
Unchained
(which is somehow already three years old), and being generally inclined to like anyone who is as much of an unabashed film dork as he is, I'd been meaning to give
Inglourious
Basterds
another look. So again, thanks, Netflix, for creepily reading my mind.
This time around, I appreciated
Inglourious
Basterds
. The film offers much for the cinephile to savor. The performances are universally excellent — as one can expect from a film by Tarantino, who has demonstrated time and again an ability to extract fine work from his actors. (Christoph Waltz won a much-deserved Oscar for his performance, but Brad Pitt and Diane Kruger, to name just two, are at least equally good here.)
For the most part, I found myself admiring — not being irritated by — the cinematography of Robert Richardson (see the video below), whose style of lighting is so pronounced as often to irritate (viz.
Hugo
,
Shutter
Island
or any of his many collaborations with the even more irritating Oliver Stone).
Inglourious
Basterds
also possesses a pleasingly dry wit throughout.
Inglourious
Basterds
, though, is its clever narrative structure. One key scene, in particular, struck me as especially clever and subtle in its narrative function. The scene itself is unflashy and generally expository, but it's remarkably efficient at knitting together
Inglourious
Basterds
' varied and seemingly unrelated narrative strands.
I'm referring to the scene where Lieutenant Archie Hicox (Michael Fassbender) has a covert meeting with Winston Churchill (an unrecognizable Rod Taylor, in his final film role) and General Ed Fenech (Mike Myers). Fenech informs Hicox that the latter is being assigned to a top-secret, last-minute detail that is tasked with assassinating the four key members of the Nazi high command, all of whom will be attending a film premiere in a small Paris cinema. Hicox will work with the Basterds, as well as with a famous German actress who is working as an Allied double agent, to pull off this daring feat.
Until this scene, which occurs roughly midway through the film, viewers would be forgiven for wondering what each of the previous scenes has to do with the others. In the first scene, set in 1941, Colonel Hans Landa locates and kills all but one member of a Jewish family who are hiding in the home of a French farmer. The second scene, set in the spring of 1944, focuses on the exploits of "The Basterds," an elite group of Jewish-American soldiers (and a few German deserters) that specializes in hunting down and brutally killing Nazi soldiers. No connection — beyond the general milieu of Nazi-occupied Europe during WWII — suggests these scenes have any relationship to each other. They feel like they come from two different war films.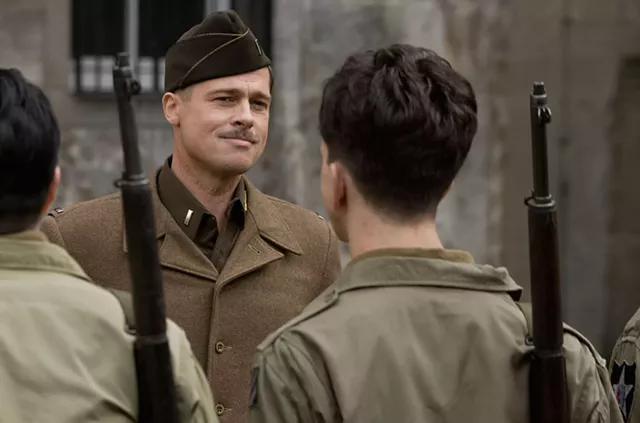 The third through fifth scenes concern Shoshanna Dreyfus, the sole surviving member of the family that Landa killed in the first scene — the first hint of a connection between any two scenes of the film. Under an alias, Dreyfus has come into possession of a small cinema in Paris, which she operates with her lover, Marcel. In the two paired scenes that focus on her, she is first courted by Fredrick Zoller, a Nazi soldier-turned-actor who stars in a new propagandistic German film,
Nation's
Pride
. She rebuffs him, but he doesn't get the hint.
Soon after, Dreyfus is dragged to a meeting with, of all people, Nazi Minister of Propaganda Joseph Goebbels; there, Zoller convinces Goebbels to stage the premiere of
Nation's
Pride
in Dreyfus' cinema. Landa is present for this meeting, as well, and informs Dreyfus that he'll be running security for the event. In the fifth scene, Dreyfus and Marcel devise a plan: Once the theater is filled with high-ranking Nazis, they will bar the doors and set alight Dreyfus' huge collection of highly flammable nitrate film prints. If the plan succeeds, the fire will destroy the cinema — a small price to pay for the killing of Goebbels, Adolf Hitler, Martin Bormann and Hermann Göring.
The Weinstein Company
Nitrate won't wait!
Tarantino allows his audience to know more than any single character in
Inglourious
Basterds
. Once we see the scene in which Hicox is briefed by Churchill and Fenech, we know what nobody else knows: that there are actually two plans to destroy the theater and kill the members of the Nazi high command. That's the key piece of information, but, until the briefing scene connects the dots, it is not possible to understand the relationships among the scenes that precede it (other than knowing that Shoshanna is the young woman who escapes from Landa in Scene One).
What this short and visually unexceptional scene accomplishes is the stitching together of all of the pieces of the plot: the Basterds, Dreyfus, Zoller, Landa, information about the Allies' undercover operations. At last, the relationships between the scenes are clear; Tarantino handles this key scene deftly and quickly.
More importantly, the scene establishes a hierarchy of narrative knowledge that will hold good for the remainder of the film: The audience is the most knowledgeable; Hicox, the Basterds and Dreyfus, as the leaders of separate but unrelated operations that happen to have the same goal, are second-most knowledgeable; the Nazis are clueless. They're just there to enjoy the movie.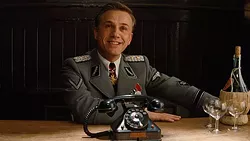 The Weinstein Company
Christoph Waltz in Inglourious Basterds
So we can feel superior to the Nazis — it's always fun to watch those guys get surprise-massacred — but there's an important twist. The audience of
Inglourious
Basterds
occupies a parallel position to that of
Nation's
Pride
: Both sit in movie theaters enjoying the unfolding of a cinematic narrative.
Maybe, Tarantino seems to be saying, we're not so knowledgeable as we think about the film we're watching. Maybe being established in a position of superior knowledge is not as superior as it seems. Until the briefing scene, we're unable to make heads or tails of the narrative of
Inglourious
Basterds
, anyway, even if the individual scenes are tremendously entertaining.
In this way, I think, Tarantino is suggesting that if you go to films looking just for entertainment, you're not looking hard enough, nor getting the full picture. Such a message is in line with his cinematic ethos, right from the beginning of his career. Every one of his films leaves the audience with unanswered or even unanswerable narrative questions — and maybe that uncertainty is a larger part than we think of our enjoyment of cinema.