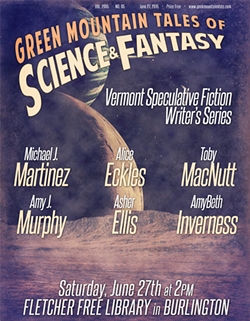 It's summer. And, like most of us, writers are leaving their cocoons and getting around.
Where are you going to find a literary event that showcases picture-book authors, a best-selling steamy romance writer,
and
more "literary" types? In Vermont, of course. Specifically, in Greensboro, where the
Green Mountain Arts Alliance & Residency's Writers' Forum
will happen from August 11 to 20.
This isn't one of those expensive writing conferences where you can meet publishing professionals and pitch your book to them. It
is
an event where you can pay $10 to $15 for a workshop with local best seller
Anne Stuart
or kids' author
Natalie Kinsey
. Readings over the two weeks carry the same price (actually a suggested donation), with an all-access pass available for $50.
And it (almost) all happens in a tent.
Well, the Tent on the Green in Greensboro, anyway. The one exception is best-selling Vermont author Chris Bohjalian's reading on August 21 at the Highland Lodge.
The theme of this second annual Forum is "The Joy of Words," which means all the readings and workshops focus on the joy of something: memoir writing; writing for children; genre (besides Stuart, fantasy novelist Brian Staveley will read); poetry (with Vermont Poet Laureate Sydney Lea and poet and
Seven Days
reviewer Julia Shipley); writing about place (with Dede Cummings of Brattleboro's
Green Writers Press
) and more.
The Green Mountain Arts Alliance has also announced that it's ready to break ground on a planned Elizabethan-style theater
that we wrote about back in 2009
. Yes, a Shakespeare-esque theater in Greensboro. Projected to open in summer 2017.
Talk about road trip material.
Closer to here, closer to now, mark your calendars for an unusual pair of Burlington readings on Tuesday, June 23.
At 7 p.m.,
Phoenix Books Burlington
will host Lev Grossman, author of the best-selling fantasy trilogy — and
soon-to-be Syfy series
—
The Magicians
. The books have sometimes been described as "
Harry Potter
for adults" — yes, a magic school is involved, as are sex and drugs. It's a ticketed event.
At 8 p.m., you could ramble over to the Light Club Lamp Shop to be transported in a rather different way: Eighty-eight-year-old Fay Webern will read from her soon-to-be-published
The Button Thief of East 14th Street: Scenes From a Life on The Lower East Side 1927-1957
.
A New York native, Webern studied writing after retirement and used to read her stories at the Knitting Factory; she moved to Vermont in 2002. Here's
more information about her book
, full of colorful details of the thriving urban milieu where she grew up.
Andrew Liptak
of Geek Mountain State, Vermont's geek guru, will interview Grossman at his reading. Meanwhile, Liptak's own monthly Vermont Speculative Fiction Writers' Series continues on June 27, at 2 p.m. in Burlington's Fletcher Free Library, with "
Vermont Tales of Science and Fantasy
."
The slate ranges widely — from yurt-dwelling post-apocalyptic writer Alice Eckles (
read more here
) to Ludlow horror novelist Asher Ellis, whose debut
The Remedy
has drawn comparisons to classic slasher flicks.
AmyBeth Inverness
writes both SF and romance; Toby MacNutt is a fiber artist and dancer as well as a writer (
watch this short profile
).
Finally, one Vermont micro-publisher has been getting regularly over to the Adirondacks — to win awards. Dave Donohue, who has run Ra Press for the past 15 years, reports that Luis Lazaro Tijerina of Burlington won Best Short Story Collection from the Adirondack Center for Writing in Saranac Lake,
which hands out annual awards for the Best Adirondack Books
. New York poet Stuart Bartow, also published by Ra, took home the Best Book of General Nonfiction honor.
Donohue started Ra in the Adirondacks, where he was then living, but has since moved it to Burlington.
Read
our early report on the press.
And then get outside — with a book, of course.