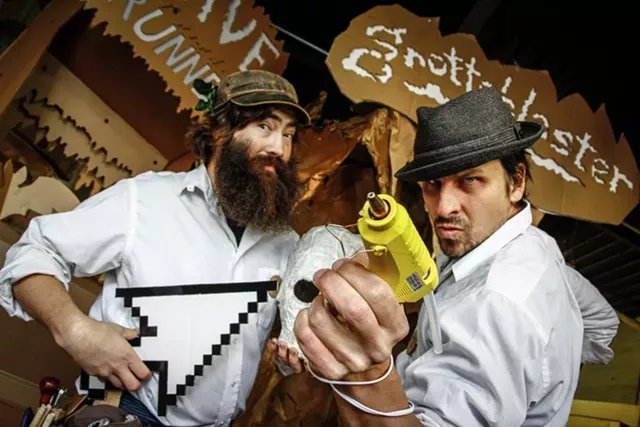 Raychel Severance
Pete Talbot (left) and Ben t. Matchstick of the Cardboard Teck Instantute
Fun though it is, the game of pinball does not invite customization. The heavy, unwieldy machines are packed with scores of moving parts and electrical doohickeys; even replacing a flipper's bumper requires a bit of mechanical know-how.
Montpelier artists Pete Talbot and Ben t. Matchstick have upended the traditional definition of pinball by building a machine that is lightweight, customizable and made of cheap, recyclable materials. And they'll be traveling to Washington, D.C., this week to show it off on a national stage.
The artists, who collectively call themselves the
Cardboard Teck Instantute
, have just been invited to the first annual
National Maker Faire
to show off their creation, which they've dubbed the
PinBox 3000
. The cabinet of the device is constructed entirely of custom-cut cardboard. Its pinball is a marble, and the spring in its flippers and plunger are supplied by ordinary rubber bands. Says Matchstick, "It doesn't require any fasteners to construct. We can ship it with 10 sheets of cardboard. It takes about an hour or less to assemble, and then you've got a really solid little game on your hands."
For the last two months, the members of CTI have enjoyed a residency at
Generator
, the Burlington "design and fabrication sandbox." There, says Matchstick, the PinBox really took shape. He and Talbot availed themselves of Generator's laser cutter. "Without having to do all the cardboard incisions by hand, we could build and design on a computer and print them out," says Matchstick. "That gave us the chance to iterate and iterate … until we came up with a design that was ready to bring to market."
Pete Talbot
The PinBox 3000
Making a profit on this tabletop-sized pinball machine is not, however, priority No. 1 for the rabblerousing artists of CTI. In a conversation with
Seven Days
, Matchstick repeatedly refers to the concepts that drive his creative projects: recycling ephemeral materials, interactivity and creating "theatrical experiences."
The pseudonymous CTI "professor" had a years-long tenure with Glover's
Bread and Puppet Theater
, and expresses a preference for weaving subversive messages into his work. The ideal pinball machine, for him, is one that takes its players on a semi-narrative exploration of such unpinbally notions as "internal struggles against capitalist systems, or battling white privilege at home."
Next week, Matchstick and Talbot will see how well such a message flies in the nation's capital, where they'll represent the state of Vermont in the first maker faire with a national focus. Organizers of the event invited one "maker" from each state to participate in the weekend convention, in which workshops will address such subjects as community education and creative innovation.
The two have launched a
crowdfunding campaign
to help them cover the costs of their trip.
Matchstick says that he and Talbot were encouraged to apply to the faire by Generator's executive director, Lars Hasselblad Torres, and that they were able to slip their application in just before the deadline. Now, they're focused on finishing up their online fundraising tools, which they hope will raise money for the trip to D.C. and the further development of the PinBox itself.
The project is creative and unusual, but it's hard not to wonder: Why cardboard? Matchstick is quick to defend this seemingly unexciting material. "As an artist, you're always struggling to put money into your art, so it's great to have a resource that is just kind of endless," he says. (Similarly, he adds, he's always enjoyed creating devices that are powered by gravity — another limitless resource.)
Beyond that, though, Matchstick says he appreciates the material's unique qualities. "Its advantages and disadvantages are almost identical," he says. "It's throw-away-able and cheap … It's super-accessible, pliable, reliable, ephemeral, and it just comes in so many varieties, colors and shapes."
With all that cheap variety at the ready, Matchstick envisions endless modifications for the PinBox. "Eventually, we could offer a subscription: People would quarterly receive a new playboard that they could punch out and install," he says. "It'd keep the game really fresh."
Custom-cut, plant-derived, mail-order, subscription-based pinball. The retro-future of analogue home entertainment may never be the same.