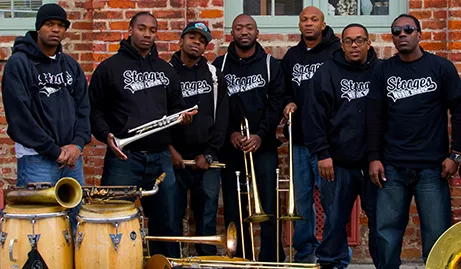 Stooges Brass Band
Courtesy of Stooges Brass Band
We're t-minus 24 hours from the start of this year's Burlington Discover Jazz Festival. So this week's Soundbites column was chock-full o' locally focused BDJF coverage. But that doesn't mean
everything
happening this week on the local scene is jazz-related. Just almost everything. With that in mind, here's some music news you can use that (mostly) have nothing to do with the impending jazzanalia.
———-
If you can't wait until Friday to spaz out with your jazz out, get yourself downtown this evening, Thursday, June 4. The venerable
Stooges Brass Band
from New Orleans kick off a monthlong Thursday residency with a surprise show. They'll start at the top block of Church Street, then march, second-line style, to City Hall Park, where they'll play a free 20-minute set. If you miss that, the band will be at ArtsRiot every Thursday in June.
Also, did you know you can hire a second-line band to follow you around in New Orleans?
It's true
.
———-
Speaking of ArtsRiot, a cool party is happening at the hip South End hub this Saturday, June 6. The bash is a launch party for
One Hearth
, a new food truck that features a wood-fired oven. A new food truck in BTV is not exactly stop-the-presses news. But the party looks awesome.
Headlining is indie darling (and secretly awesome basketball player)
Nat Baldwin
(Dirty Projectors). He'll be joined by NYC Afrobeat outfit
Underground System
, members of local neo-soul band
Smooth Antics
playing a jazz set, and local DJs
Disco Phantom
and
SnakeFoot
. The party costs, but the food is free.
———-
Comedy fans, take note:
Dan St. Germain
will be at Club Metronome tonight for a show co-produced by Nectar's and ArtsRiot. Because ArtsRiot is apparently taking over Burlington. I, for one, welcome our new hipster overlords.
Anyhoo, I could run through St. Germain's impressive résumé of comedy credentials to hip you to reasons you might wanna check out the man tonight. Or I could just let him tell ya. Dan?