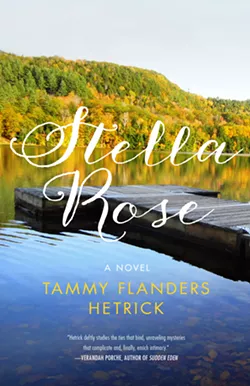 In this new twice-monthly Live Culture feature, I review the first 50 pages of a local book — and sometimes, if I feel like it, more.
Go to the first installment
for a more involved explanation.
This week, the book is
Stella Rose
, a novel by Tammy Flanders Hetrick (She Writes Press, 343 pages, $16.95).
The author
Hetrick lives in Fairfield and works at Keurig Green Mountain. She has published short stories in venues including Vermont's
Route 7 Literary Journal
.
The deal
In a gorgeous Vermont June, Abigail Solace St. Claire loses her best friend, Stella Rose, to leukemia. Both in their late thirties, the two had been inseparable since elementary school. Stella went on to marry, divorce and raise a daughter, while Abby stayed single and pursued a career in museum curation.
Now Abby must fulfill a death-bed promise to Stella: She'll move into her friend's house — which Stella willed to her — and serve as the guardian of Stella's daughter, Olivia, for her last year of high school.
That task turns out to be harder than Abby anticipated, because grief is sending the normally level-headed adolescent in reckless directions. As she struggles to help Olivia cope, Abby also deals with a new romance and revelations that shake her faith that her late friend was "pretty much perfect."
The book follows Abby and Olivia over the course of a year. Each month, they draw inspiration from a letter and a gift that Stella prepared for them before she died, with strict instructions not to open it until the appointed time.
The first sentence
"Finally. The pain, the anguish, and the struggle are over." (OK, that was two sentences.)
My favorite quote
"I secretly think we love to hate winter. It gives us something other than our fellow man to direct our inner hostility toward."
A quote that puts the book in a nutshell
"'Sweetheart.' I place my hand on his cheek. 'We're all damaged.'"
Will I read the rest?
Actually, I read this whole book in an evening. It was an effortless read, and though I wished more were
happening
in the story, I still found myself driven to the end of the year.
For fans of commercial women's fiction,
Stella Rose
is a good bet. Short sentences and present tense ensure that the story always seems to be moving briskly along, even if there's not a ton of plot (until toward the end, when we get a bit of TV-style melodrama). The narrative is steeped in emotion, but generally not schmaltzy. The portrait of female friendship is relatable and compelling.
I had mixed feelings about Ghostly Inspirational Figure Stella Rose; sometimes she just seems
too
perfect. (A mysterious figure known only as The Rose Whisperer sneaks in and tends her elaborate garden so Abby and Olivia don't have to worry about it — that's how much people love her.)
Yet the departed's sass and spirit (as shown in flashbacks) are contagious. This is a woman who insisted her friend attend her funeral "in style" — in a little black dress with a shockingly bright scarf — who adored flowers, who dreamed of crossing America in a VW van, who exhorted grown-ups to jump in leaf piles. Sometimes, indeed, I found myself wishing the novel could be narrated by Stella Rose or Olivia, rather than by the meeker, more risk-averse Abby.
The story is about Abby learning to commit and find her "passion" in life, with Stella's beyond-the-grave guidance. While it's a worthy subject, noncommittal protagonists aren't the most dynamic ones.
Still, Hetrick's writing itself has enough color and momentum to carry the day. She doesn't soft-peddle the dilemmas of friendship and grief. And fans of the genre will love her depiction of The Girls — Abby and Stella's extended group of margarita-quaffing, ever-supportive friends.
A note on the publisher — and a question
Stella Rose
is the third book I've seen from She Writes Press in the past year. Here are reviews of
the first
and
the second
.
I'm intrigued and, to be honest, a bit perplexed by the model of She Writes, which publisher Brooke Warner calls "hybrid" in this
Huff Po blog post
. Here's how it works (
longer explanation here
): Authors submit to SWP, which assesses the book and either offers paid editorial services or gives the book a "green light" for publication. If your book gets the go-ahead, you must still purchase a $4,900 package that includes design, a cover, proofreading, distribution and other services (but
not
copyediting or publicity). After that, SWP takes a cut on net sales of the book (40 percent print, 20 percent ebook;
more specs here
).
Here's why I'm perplexed: Most publishers that take a sizable up-front fee from writers aren't picky about what they publish, because, hey, they get paid either way. (That's why it's generally called "vanity publishing.") These publishers typically end up with gigantic lists of poorly edited, poorly marketed books that only the author's friends and relatives are likely to buy.
By contrast, Warner says she carefully curates her list.
Stella Rose
supports that claim: In terms of writing and editing, it could pass for a book from a big house or a respectable independent press. (I can't speak for design, but it looked OK to my untrained eye.)
While Hetrick's book impressed me, this still isn't a publishing model I personally would choose. I tend to be a fan of
Yog's Law
("Money flows
toward
the writer"), or DIY self-publishing for books that don't get a trade deal.
Still, being open-minded and interested in changes in publishing (see my
story on local small publishers
), I'm curious to hear from local SWP authors about why they chose this model and how it's working for them. Feel free to speak up in the comments, or shoot me an email.
Upcoming readings
Hetrick has several upcoming local events:
Author talk, Tuesday, May 12, 6 pm., at Pierson Library in Shelburne.
Release party, Saturday, May 16, 2 p.m., at Barnes & Noble in South Burlington.

Reading and signing, Thursday, May 21, 6 p.m., at Bridgeside Books in Waterbury.

Reading, signing, letter-writing activity, Saturday, June 19, 6 p.m., at Northshire Bookstore in Manchester Center.

A note to authors: I choose books for this column at my own discretion. Please don't send me your book with a specific request that I feature it here (or not do so). Please don't ask for an explanation either way. And please recognize that these write-ups are not "reviews," which would entail reading the entire book.