Image courtesy of Lance Caron
Society's self-appointed arbiters of moral rectitude have once again proven that attempts to censor images they deem inappropriate or offensive only draw more public attention to them.
No, this isn't a story about the two
gunmen who attacked the Muhammad Art Exhibit in Garland, Texas
, though the timing of that deadly May 3 attack makes discussions of other types of censorship all the more relevant.
In the last week, students, faculty and staff at Johnson State College have been abuzz over an effort by an as-yet-unidentifed JSC staffer who tried to block public access to an art show of sexually explicit imagery that was on display in the Dibden Center for the Arts.
Titled "Essence of Self," the exhibit by JSC senior Lance Caron included provocative, homoerotic images of both men and women shown in intimate poses with … themselves. Caron's images, which he created using composite photos of himself and others, were part of a larger show, titled "Essence," which featured the capstone senior theses of three graduating seniors earning their bachelor's of fine arts degrees this spring.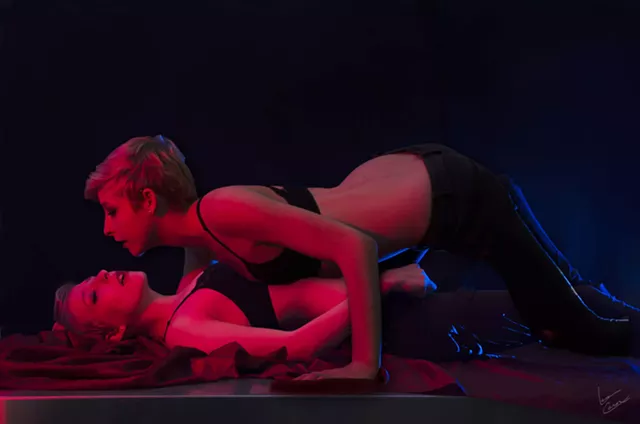 Image courtesy of Lance Caron
According to Caron, all three student exhibits were unveiled at an art opening on Thursday, April 23. The following day, Kenneth Leslie, a JSC professor of fine arts, discovered that someone had locked the doors to the
Julian Scott Memorial Gallery
and plastered over the windows and doors with green "blinders" to restrict the exhibit's visibility. Caron said that none of the three students was contacted beforehand. In fact, a sign on the door to the gallery read, "WARNING: MATURE CONTENT ART SHOWING IN PROGRESS."
Ironically, Caron's artist statement, which accompanied his show, references the controversial homoerotic images from a previous generation.
"My work is inspired by my own desire to be comfortable with my own self in my own skin, reflecting on portraits and images by artists such as the photographer Robert Mapplethorpe, whose risqué works have faced many forms of censorship and discrimination based on content that has been labeled as 'inappropriate' and 'too risky' to be displayed openly to the public."
Leslie, Caron's professor who discovered the locked and papered-over gallery, immediately got the door unlocked, took down the paper drapes and penned a campus-wide email to JSC faculty, staff and students. In it, he called for an immediate apology to his three students whose work was affected and described the act as "cowardly" and "embarrassing to all of us who work here and thought we worked at a free-thinking institution that values free speech and the flow of ideas."
"If it's too hot in the kitchen," Leslie added, "get out of higher education!"
Reached this week, Leslie told
Seven Days
that he doesn't believe the effort to restrict access to his students' artwork was done maliciously or had been sanctioned by anyone in the administration. In fact, Leslie said he was later contacted by the director of admissions, the president of the college and the dean of administration, all of whom characterized it as the work of a "self-appointed censor ... acting on their own who just didn't have a clue about what it is we do here at the college."
According to Leslie, a recruitment event involving potential students and their families was held on campus around the same time of the exhibit. The show closed, as scheduled, on May 2.
Leslie, who said he deliberately did not find out who was responsible, noted that the response to his email has been overwhelmingly positive and supportive. In fact, it appears the incident sparked debate in classes of all kinds.
"A math professor told me he had an extensive discussion with his students," Leslie added. "So, in the end, we're probably better for it because we had a great campus-wide conversation."