Courtesy of the New Nile Orchestra
The New Nile Orchestra boogieing down in a 2013 show
For the second year in a row, Vermonters are invited to boogie themselves silly, Ethiopian-style. And it's all in the name of a good cause.
On Saturday, May 2, Vermont's own
New Nile Orchestra
will headline the second annual
Ethiopian Boogie Benefit
, the proceeds from which will benefit the
Vermont-Ethiopia Teacher Exchange
and
Action for Youth and Community Change
(AYCC) a nonprofit organization that fosters cultural exchange. Admission to the concert, which will take place at Lincoln's
Burnham Hall
, includes Ethiopian food jointly prepared by local chefs and visitors from the Ethiopian city of
Hawassa
.
The Vermont-Ethiopia Teacher Exchange, explained theater artist
David Schein
, does exactly what it sounds like. In 2014, the program sent five Vermont teachers to Hawassa, where they worked with Ethiopian teachers in two-week classroom residencies. To initiate the second stage in that cultural exchange, two teachers from Hawassa have just arrived in Vermont. Tedelech Assefa and Adane Kebebew will visit classrooms in Monkton, Vergennes and Grand Isle.
Schein, whose travels to Ethiopia indirectly inspired the exchange program and the upcoming concert, envisions the exchange program continuing indefinitely, with teachers from each country visiting the other in alternate years. "The whole focus of the exchange," said Schein, "is to learn about each others' schools and the culture of education in both countries. Millions of teachers have classrooms, and there are a lot of similarities."
Schein, 65, was born in Burlington and returned to it after 40 years in other countries and U.S. cities. His travels took him to Ethiopia, where he and a group of "street kids" founded, in 2002, an activist theater group called
One Love AIDS/HIV Awareness Theater
. Members of that organization then founded AYCC, a program that aims to foster social change through various classes and group activities. As one of the groups sponsoring the visits of Assefa and Kebebew, AYCC is one of the beneficiaries of the proceeds from the concert; the teacher exchange is the other.
The transcontinental educational exchange has attracted the attention of other Vermont arts and education organizations. Fellow event sponsors are
Vermont Folklife Center
and
Castleton State College
. The former will launch a program about the shared culture of education, and the latter is offering a professional-development course for Vermont teachers who wish to get involved with the exchange program.
Though Vermont and Ethiopia could barely be more geographically or climactically different, the band headlining the benefit concert has devoted itself to exploring artistic connections between the two cultures. The New Nile Orchestra, whose music is no doubt familiar to attendees of Burlington's First Night or Discover Jazz Festival events, counts among its members musicians from both countries.
New Nile keyboardist Ron Rost explained that the band first came together in 1991, when acclaimed Ethiopian musician Kiflu Kidane moved from Addis Ababa to Vermont, where his brother was living. Rost had a spare bedroom at his place, so Kidane (who shares a name with an Eritrean revolutionary) moved in. Soon enough, he'd joined Rost and several other musicians in performing traditional Ethiopian music filtered through American "rock or blues or however we interpret it," Rost said.
Of the Ethiopian music that his band performs, Rost said, "The rhythms are just crazy and really fun. It's exciting to have different time signatures and different phrases."
Rost, who also performs musical accompaniment for dance students at Middlebury College, added, "Kiflu's a pretty exciting performer, and a great dancer. It's really wild to play music to him. I play music to dancers at Middlebury in a very different way."
Rost is looking forward to performing at the benefit concert — he said he feels lucky to play with his talented bandmates, and that Burnham Hall has "a good vibe." But he's equally excited about the promise of authentic Ethiopian food. Of the visiting teachers he said, "I hear these guys are good cooks!"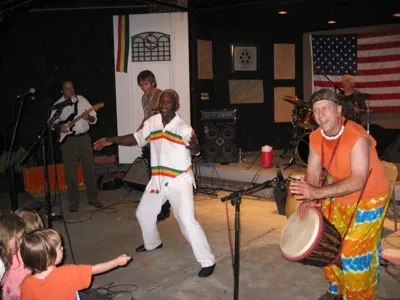 Courtesy of the New Nile Orchestra
The Ethiopian boogie just won't stop.