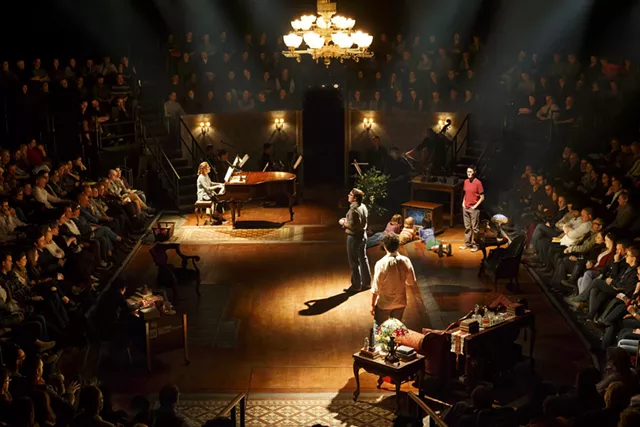 Courtesy of Joan Marcus
Fun Home at Circle in the Square Theatre
If you've read
Alison Bechdel
's
Fun Home: A Family Tragicomic
, or seen the
musical
based on it, you might understand becoming obsessed with it. That's why I'm adding even more content to the article I wrote in State of the Arts this week, and to the Stuck in Vermont video created by
Seven Days
multimedia producer Eva Sollberger.
You can read that article
here
, and watch the video
here
.
And while you're at it, check out the
cartoon
that Alison Bechdel herself made for
Seven Days
in 2014, about seeing her life story as a musical. For more about
Fun Home
on Broadway and its critical reception, read on.
Courtesy of Joan Marcus
The three Alisons, L to R: Sydney Lucas, Beth Malone, Emily Skeggs
Here's the thing. Last Friday Eva and I went to New York City to see
Fun Home
at
Circle in the Square Theatre
— right next door to the long-running
Wicked
. I interviewed Bolton-based cartoonist Bechdel before the show; Eva talked to both her and Oscar Williams, the 11-year-old Vermont actor who won the role of Alison's little brother Christian. He was one of three casting changes made since the original production off-Broadway at
Public Theater
, which I saw in late 2013.
Lisa Kron (book and lyrics) and Jeanine Tesori (music) translated to the stage a graphic memoir about a young girl's growing up and coming out — and her father's coming out, followed by his suicide. A musical about the uniquely dysfunctional Bechdel family, from a small town in Pennsylvania, shouldn't have worked — but it does, brilliantly.
That's in large part because of the source material — Bechdel's astonishing (and best-selling) memoir. But Kron and Tesori's music is simply stunning, by turns poignant and hilarious and always clever. What's more, every single cast member in
Fun Home
is perfect.
I loved the Public Theater version and loved even more the show at Circle. Its in-the-round staging and numerous trap doors in the floor enabled scenic designer David Zinn to move furniture around at will — or make it disappear altogether — and enabled lighting designer Ben Stanton to create near-magic with spots and inventive shadows. The ways in which both evoked the family's turmoil — and stirred the viewers' imaginations — were riveting.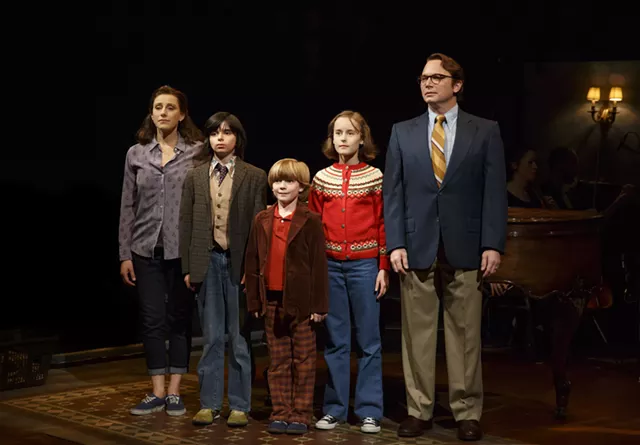 Courtesy of Joan Marcus
Fun Home's Bechdel family: Judy Kuhn, Oscar Williams, Zell Steele Morrow, Sydney Lucas, Michael Cerveris
The Broadway production had been in previews since March 27, and its official opening was Sunday, April 19. We didn't get to stay for that — though the real Alison (dubbed "T-RAB" by the cast) and her girlfriend, Holly Rae Taylor, did. But on the way back to Vermont in the car, Eva and I listened to the
Fun Home
soundtrack all the way through, rapt and rapturous — or devastated and nearly sobbing. The music is that good.
Theater critics from media outlets across the country agreed, about the music, the performances and nearly everything else. In an illustration of speedy writing, their reviews began to pour in later Sunday night. I thought I'd share some of them here.
Ben Brantley of the
New York Times,
who had declared
Fun Home
a critic's pick during the Public Theater run, did so again with the Circle production. An
excerpt
:
I can't think of a recent musical — or play, for that matter — that has done a better job at finding theatrical expression for the wayward dynamics of remembering. That includes the now-you-see-now-you-don't-aspect of David Zinn's inspired in-the-round set, in which furniture materializes through trapdoors, as well as the ruthless clarity and sudden, obscuring dimness of Ben Stanton's lighting.

But most important is the music, a career high for Ms. Tesori ("Violet," "Caroline, or Change"), which captures both the nagging persistence of memory and its frustrating insubstantiality, with leitmotifs that tease and shimmer. (John Clancy did the nuanced orchestrations.) The music is woven so intricately into Ms. Kron's time-juggling script that you'll find yourself hard pressed to recall what exactly was said and what was sung.
David Rooney of the
Hollywood Reporter
found himself unmoved by the earlier production, but
went all in
for the Circle version:
Whether it's the benefits of second-time exposure or the skill with which director Sam Gold and designer David Zinn have reconfigured the production to play in the round, intensifying its intimacy, this time I found it a beguiling experience, almost unbearably poignant at times.
Leah Greenblatt for
Entertainment Weekly
concluded her
review
with this:
All three Alisons share the same refreshing kind of naturalism, and each actress makes the part her own without showboating or selling the story's knottier sentiments short to reach the cheap seats. A little bit of nuance inevitably gets lost when subject matter this dark is set to song; death and deep family schisms, after all, aren't always fit for jazz hands. But like the book, Fun Home manages to use an oft-unserious medium to deliver something seriously, singularly moving.
I'll stop with these, but if you, too, want to keep up with the remarkable journey of Alison Bechdel's
Fun Home
, you can check out a collection of reviews compiled by
Playbill
. Enjoy.