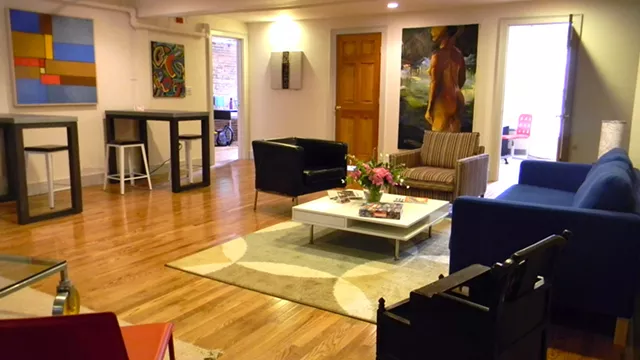 Courtesy of Local 64
Local 64's current space at 5 State Street in Montpelier
In celebration of its imminent move from one end of Montpelier's State Street to another, the shared workspace
Local 64
is hosting a
competition to design elements of its new digs
. The contest, said Local 64's founder and "chief agitator"
Lars Hasselblad-Torres
, is designed to tap into exactly the kind of robust creativity that the organization aims to promote.
"There's a diversity of ideas that comes from [holding a design contest] that might not come from a top-down approach," he said in a phone interview with
Seven Days
. "In order to authentically say that we're building a micro-designed showcase, we are obliged to have some diversity there, not just to be a windowfront for one or two companies."
Calling Local 64 a "coworking hub and creativity sandbox," Hasselblad-Torres emphasized that its policies of desk- and office-sharing foster collaboration and the exchange of ideas. The organization works on a membership basis, and offers short-term leases to allow for maximum flexibility. Its members, he said, not only share their expertise with each other but with the community, by hosting workshops and art shows.
"It's a platform for members to share their output and create more visibility and, hopefully, stimulate the marketplace of ideas, innovation and creativity in central Vermont," Hasselblad-Torres said.
The "incubator space" will relocate in early June from 5 State Street to 43-45 State Street in Vermont's capital. The move will allow the workspace to expand from about 1,800 square feet on two floors to 3,300 square feet on a single floor. It will gain, among other features, a conference room and a greater amount of wallspace on which to display artwork.
Hasselblad-Torres noted that Local 64 enjoys a "symbiotic relationship" with
Montpelier Property Management
, the landlord of both buildings.
Courtesy of Local 64
The yet-unadorned hallway at Local 64's future location at 43-45 State Street
The contest invites designers to create for the new workspace one "functional element" — a workbar, a bookshelf, a bench — that serves a useful purpose in a stylish way. Entrants may also reimagine and transform a single wall in the new space. The call for proposals invokes what Hasselblad-Torres, who's also the director of Burlington's
Generator makerspace
, calls the "modern, rugged vernacular."
"I sort of made [that term] up to sound exciting and knowledgeable," he said with a laugh, but the style is a genuine and recognizable one. Local 64's new space will feature the exposed wooden beams and iron joinery that characterize many of Vermont's modern interior spaces. Hasselblad-Torres admires the aesthetic because it's strongly identified with hardworking Vermonters. "It's not something that came out of a theoretical basis, like the Bauhaus, for example," he said.
Hasselblad-Torres said there may be multiple winners of the contest, and each will receive a one-year membership to Local 64. Designs are being
accepted
until June 1.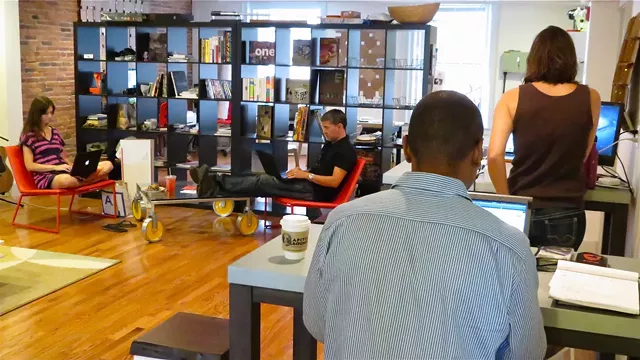 Courtesy of Local 64
Coworkers coworking at Local 64's current space
Clarification 4/21/15: This article has been updated to reflect that the contest may have multiple winners.