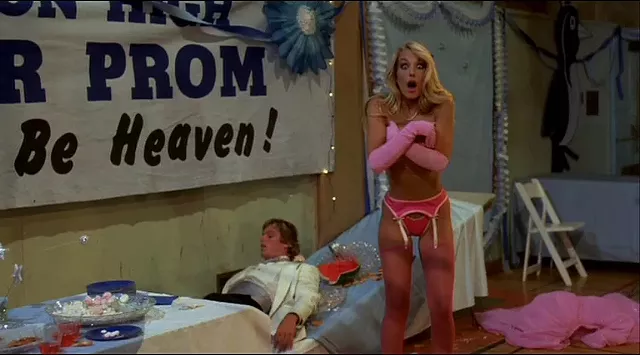 Embassy Pictures
Heather Thomas in the climactic scene of Zapped!
I grew up in the early, glory years of cable television and remember its many late-night forbidden fruits. In the early 1980s, the cable company would send out printed guides that detailed all the movies to be shown that month. Each capsule description ended with a series of letters that were likely cryptic to the uninitiated. "V, SL, N," for instance, indicated that a movie featured Violence, Strong Language and Nudity.
It was so thoughtful of the cable company to let us young boys know which movies had all the N. Saved us a lot of work.
Zapped!
(1982), which I watched again last week after 30 years, is one of the quintessential "
skinemax
" films of the era. I remembered it as being a nonstop nudity-fest, but that didn't turn out to be quite the case. I found myself surprised by its relatively moderate levels of N, as well as by several other things about the film.
I'm not sure why I elected to watch
Zapped!
I noticed it had been added to Netflix's streaming service, and I guess I was feeling nostalgic. My wife seemed puzzled but went along with my suggestion. She's a good sport.
Embassy Pictures
Willie Aames and Scott Baio in Zapped!
The premise of
Zapped!
is that Barney (
Scott Baio
), a nerdy high schooler, gains the power of telekinesis after an accident in his lab. Being a red-blooded young man, he mostly uses this power to disrobe young women.
Beyond that, the film doesn't do much to develop this premise, filling its running time instead with a number of narrative tangents. The best developed (and I use that term loosely) is the one concerning Barney's best friend Peyton (
Willie Aames
). He's a teenage Lothario fixated on wooing Jane (
Heather Thomas
) away from her obnoxious frat-boy boyfriend. Even the otherwise marginal character of the school principal (
Robert Mandan
) is given a subplot in which he tries to find love by placing ads in what appears to be a swingers' newspaper.
But no one ever watched
Zapped!
because they wanted to sink their teeth into a compelling story. Most people probably had the same intentions as my 11-year-old self: looking at naked ladies. And
Zapped!
delivers them, as well as the hindquarters of several naked men, most spectacularly in its final scene.
Zapped!
may not be a great movie, but its savvy makers clearly understood the conventions of the high school genre. (And, yes, that's an
honest-to-goodness genre
; some of its defining films are
American Graffiti
,
The Breakfast Club
and
Rock 'n' Roll High School.
)
Zapped!
's climax occurs, of course, at the prom — but this prom is unusual for at least three reasons.
First, two of its attendees are
Scatman Crothers
and
LaWanda Page
. Second, it features even more N than the average movie prom. Third, the final element elevates this curious little film to a plane above the average teen sex romp.
Embassy Pictures
Sue Ann Langdon, Scatman Crothers and Robert Mandan in Zapped!
As a total bonanza of nudity in a gymnasium full of screaming high schoolers, the prom scene in
Zapped!
invites viewers to read it as a parodic inversion of the famous final scene in
Carrie
(1976), which is far grislier but narratively similar.
In both films, an awkward, telekinetic teen is pushed into a situation in which s/he has no choice but to unleash the full force of his/her powers. In
Carrie
, many of the main character's tormenters are wounded or killed; in
Zapped!
, those tormentors are, at worst, punched in the face or disrobed.
This final scene drove home for me the fact that
Zapped!
is a cut above its 1980s T-and-A brethren like
Loose Screws
and
Hot Resort
. The prom scene is the climax of the narrative, but it's also the climax of a series of clever film references and parodies running throughout
Zapped!
The first of these occurs when Barney tests the limits of his newfound telekinesis by sending a toy spaceship flying around his bedroom. Suddenly, we're transported to the bridge of a
U.S.S. Enterprise
-like ship, where a crew of
Star Trek
doppelgängers tries to avoid steering the craft into the waiting jaws of Barney's amiable sheepdog. It fails, and giant "teeth" crash through the ceiling.
This single scene must have taken up a good 30 percent of the film's modest budget.
It's a genuinely funny moment that's all the more hilarious because it's completely unexpected. But it alerts viewers to pay a little more attention to the film. Those who do are rewarded with other such scenes, including a pretty funny nod to
The Exorcist
, the repeated citation of
Taxi Driver
and even, during the prom scene, a quick visual reference to the most iconic moment in
The Seven Year Itch
.
Wikipedia reports
that
Zapped!
contains a parody of the 1969 Disney film
The Computer Wore Tennis Shoes
, but this I cannot confirm.
Don't get me wrong. Such references and mild parodies are not the stuff of genius-level filmmaking. But they
are
clever, light-hearted and enjoyably surprising. And I imagine they're the main reason the film has developed a modest cult following. Hey, people fall at the feet of Quentin Tarantino to praise him for similar gestures.
After seeing
Zapped!
for the first time in decades, I'm delighted to report that it offers more than just bare breasts. But that does not mean I'll be watching its 1990 sequel,
Zapped Again!
, anytime soon.