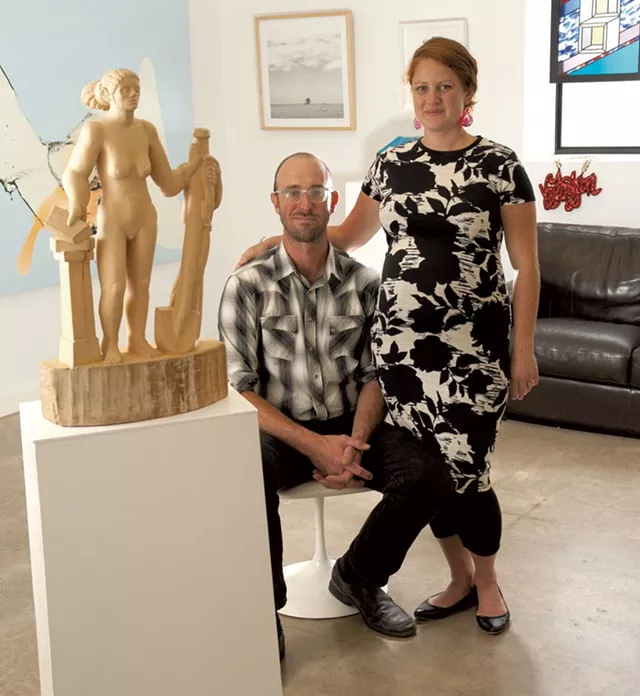 File: Matthew Thorsen
Derbes and Garcia last summer at the opening of South Gallery
The seemingly ubiquitous and highly energetic Burlington artist
Clark Derbes
now has another feather in his cap: Burlington City Arts has selected him the 2015 recipient of the annual Barbara Smail Award.
Last year's winner,
Sumru Tekin
, will officially pass the torch at the reception for her exhibit
"One Day"
at the BCA Center, today, April 10, from 5 to 8 p.m.
Launched by the family and friends of the beloved late painter Barbara Smail, the award carries with it a $1,500 cash prize and use of BCA's print, clay and photo studios for a year, as well as a culminating solo exhibit at the end of that period.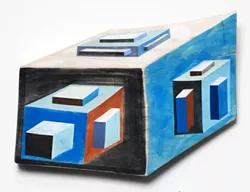 Courtesy of Clark Derbes
"Judy" by Clark Derbes
Born in New Orleans and raised in Baton Rouge, La., Derbes is influenced by the colorful and rustic folk arts of the region, including chain-saw sculptures. He's absorbed that technique into his repertoire but paints his resulting carved wood works with geometric abstract patterns that can deceive the eye à la Escher. A generally bright palette and exuberant, street-art-style execution defines his paintings, whether on canvas, paper or semi-trailers. (Yep, trailers — as in trucks. Just check out his truck "gallery" in the trailer graveyard on Pine Street.)
Derbes exhibits widely but maintains a home base in Burlington with his wife and fellow artist Wylie Sofia Garcia and their two small children. The couple manage South Gallery at RL Photo on Sears Lane.
Derbes' exhibit next year is something to anticipate, says BCA curator DJ Hellerman:
"Clark is a tremendous presence in this community and we are really excited he is this year's winner. Clark and I have already started to discuss his ideas for using the benefits of the award to experiment and try new things. We should all be looking forward to his exhibition next April."
Meantime, there is Tekin's
contemplative exhibit
to explore. Her work in mixed media and found materials "investigates the ways public and private events influence our process of identity construction." Tekin's show opens concurrently with that of
Thomas Brennan, "Darkness From Light."