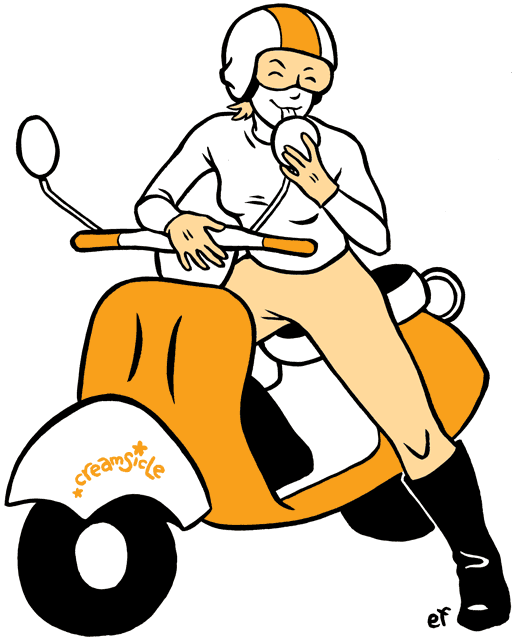 Ellen Forney
"Creamsicle" by Ellen Forney
Cartoonist
Ellen Forney
, who has won acclaim for her 2012 graphic novel/memoir
Marbles: Mania, Depression, Michelangelo & Me
, will visit the area this week to give talks at
Dartmouth College
and the
Center for Cartoon Studies
.
Marbles
is ostensibly about Forney's
diagnosis of bipolar disorder
, but it is equal parts meditation on the nature of creativity and well-researched history of bipolar artists of all kinds.
Forney lives in Seattle and teaches cartooning at that city's
Cornish College of the Arts
. As she was packing her suitcase for the trip east, she took a few moments to speak by phone with
Seven Days
about her work.

SEVEN DAYS:
What's the occasion for your visit to Vermont and New Hampshire?
ELLEN FORNEY:
I've known [CCS cofounder] James Sturm since he lived in Seattle in '93. He was the art director of [altweekly] the
Stranger
, and that was one of my first jobs as a cartoonist/illustrator. When I started teaching at Cornish College for the Arts in 2002, he was a huge help in my putting together my curriculum. And I still haven't been out there, so I feel like my visit is long overdue.

SD:
You said that writing
Marbles
took a lot out of you. What did you mean by that?
EF:
The story of my bipolar disorder was a story I hadn't really told before
Marbles
. I wasn't "out" about my disorder. So, gathering the materials for the book and then putting it out into the world just took a lot of emotional, social and professional energy. I had never done a full book before — most of my work I would consider graphic essays. So even logistically it was new.
Going through a lot of really difficult and often painful experiences, you kind of push those things under the rug as you go on about your life. Delving into them can be very depressing.
And when you're doing a comic, because you have to write
and
draw it, it's a very thorough exploration of an experience, and in particular an emotional experience. It was a lot of work.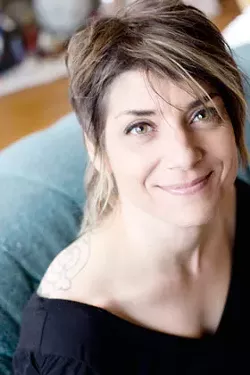 Jacob Peter Fennell | ellenforney.com
SD:
Did people who knew about your bipolar disorder still learn something about you by reading
Marbles
?
EF:
Yeah, I think everybody did. Even my mom did, and I'm very close with my mom. A lot of
Marbles
is about my own reaction to the world and what was going on inside my head, and my own way of processing things. I have excerpts from my journals and sketchbooks, and the kinds of sketches that I did when I was depressed are very different from anything that people who know my work would think of as my work.
SD:
Who are your biggest cartooning influences?
EF:
I would say
Alison Bechdel
, for sure, as well as a little-known cartoonist named
Michael Dougan
. I kind of stumbled on his stuff when I lived in Philadelphia. I think he's only put out two books. When I first decided to become a cartoonist, I met him for coffee. He looked at my work and suggested that I use a brush. I fell in love with the brush right away, and brush is my thing now. Before then, I was using pens, like Alison Bechdel, who was my big influence at the time. Michael saw that I was trying to get thicker lines. I just recently looked through his books again and realized just how much of an influence he was on my work.
Also, weirdly,
The Moosewood Cookbook
by Mollie Katzen [is a major influence]. I think I learned from it a lot about handwriting. As a teacher, I try to encourage people to be open to considering many different kinds of people and things as your teachers. You know, this is a
cookbook
, but I think it really influenced my comics. I think we're influenced by all sorts of different things. If you're a creative person, it all gets lodged in there somewhere and filters down to your own work.
Ellen Forney
will speak on Thursday, April 9, 4:30 p.m., in Haldeman Room 41 at Dartmouth College in Hanover, N.H. Free and open to the public. (Forney's talk at the Center for Cartoon Studies is open only to CCS students.)