Courtesy of Merrill Jarvis III
The "cheap seats" come down.
Local cinephiles marked another sad milestone in Burlington's ever-shifting theater landscape last week when the former Ethan Allen Cinema on North Avenue in Burlington was torn down. Better known to longtime local moviegoers as "the cheap seats," the four-screen movie house was long a venue where wallet-conscious film buffs could catch up on recent releases by simply waiting a few weeks until they'd cleared pricier first-run theaters.
Ethan Allen Cinema went out with both a bang and a whimper. Though the building was unceremoniously razed by a wrecking ball in a matter of hours last Friday, the theater sat dark and vacant for nearly a decade. For years, only a popcorn machine, visible through the front window, reminded passersby of its past purpose.
As Margot Harrison reported in
December 2010 on the passing of Lucille Barrett Jarvis
, for a time during the 1980s, the Jarvis families owned or operated nearly every movie theater in Chittenden County — a total of about 28 screens, reported her son Merrill Jarvis III, owner of Merrill's Roxy Cinemas and others.
Jarvis says the Ethan Allen Cinema thrived for many years, with "lines around the building to get in" and only started showing second-run movies "at the end of its life." He can't recall exactly when the last films were shown there, but press accounts reported that screenings were halted there indefinitely in August 2006 due to declining ticket sales.
What ultimately doomed it? Jarvis suggests it was a combination of the usual suspects, including the neighborhood getting older and the elimination of the film studios' six-month-or-more lag time between first-run releases and those movies being offered for rental and sale on VHS and DVD.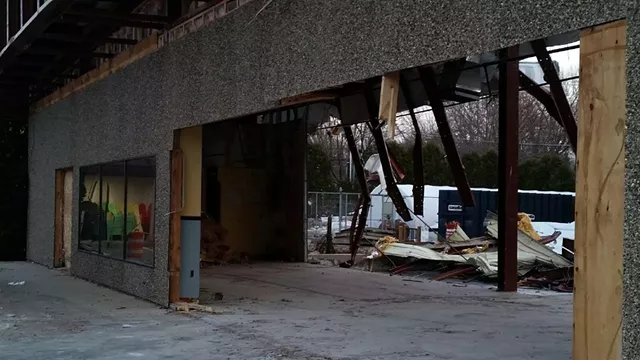 Courtesy of Merrill Jarvis III
"People used to say to me, 'Why are you closing the cheap seats? I used to go there all the time,'" Jarvis recalls. "Then I'd ask them, what was the last movie you saw there? and they'd say, '
Star Wars
'!"
Jarvis doesn't know what, if anything, will be built on the now-vacant lot. The property owner, Hauke Building Supply in Burlington, didn't return phones calls seeking a comment.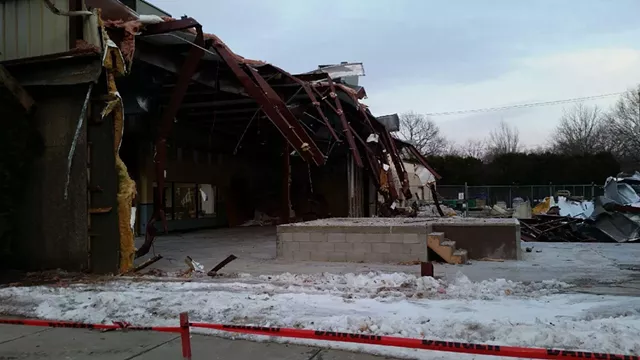 Despite the theater being shuttered for nearly a decade, Jarvis still came out to watch it go down.
"It was a sad day to see it go," he says. "We'd been there on the avenue for many years and we still miss it. I'm sure a lot of people have some fond memories of going there."
Photos courtesy of Merrill Jarvis III.