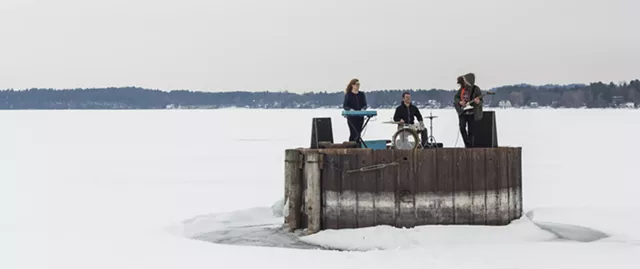 Shem Roose
Swale in a chilly moment
Vermont rock heroes
Swale
have come out swinging in their new video, which, through the magical power of the internets, you can watch below.
Shot at Burlington's Memorial Auditorium during
this year's Golden Gloves tournament
, the video, for the song "Beaten Down" from the band's 2014 album
The Next Instead
, places the band members right inside the square circle. Though the video uses boxing to literalize the song's central metaphor, the musicians leave the fighting to Golden Glovers Anna Gagnon and Hannah Rodrigue. A peaceful, if rockin', bunch are these Swalers.
Shot by
Shem Roose
, who also directed the video for Swale's tune "Popular Crowd" (below), the "Beaten Down" video demonstrates once again what filmmakers from
Robert Wise
to
Martin Scorsese
to
Clint Eastwood
to
David O. Russell
have all figured out: Few locations are quite as photogenic as old, beat-up boxing rings.