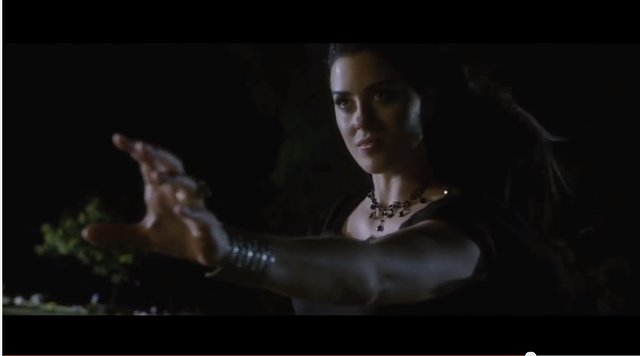 The Asylum
Gretel shows her mojo. (Note: Having failed to find promo stills from this film, I have used trailer screen-grabs.)
This week in movies you missed:
Usually in this blog feature, I try to write about movies that you
shouldn't
miss. But what about all those movies you notice on Netflix and think,
Hmm, WTF could that be?

Chances are, you aren't going to stream an obscure, unpromising-looking movie because its title aroused your passing curiosity. But
I
occasionally do that kind of thing. And that's why I watched
Hansel vs. Gretel
so you don't have to.
A week ago, while perusing Netflix Instant's new arrivals on
Instantwatcher
, I noticed
Hansel vs. Gretel
in the "Most Popular in the Last 24 Hours" list. I've heard of
Hansel & Gretel: Witch Hunters
, an actual movie that occupied local theaters in 2013. I've even heard of
Hansel & Gretel Get Baked
, which was popular on Netflix at around the same time. But this particular adult twist on the fairy tale was new to me.
Hansel vs. Gretel
is the sequel to
Hansel & Gretel
(2013). Both are direct-to-video products of
the Asylum
, a company that specializes in "mockbusters," or movies that bear a profitable surface resemblance to big-budget studio productions. Its catalog includes such films as
Transmorphers, Snakes on a Train, The Da Vinci Treasure, Atlantic Rim
and
Bound
, which was released the same week as
Fifty Shades of Grey
. Oh, and
Sharknado
.
I went into
Hansel vs. Gretel
with just one desideratum: to see Hansel and Gretel square off, as the title promised. And, of course, to see who won.
What You Missed
In an unnamed southern California town, an adult Gretel (Lili Baross) runs a bakery-café called the Gingerbread House. Meanwhile, her twin brother, Hansel (Brent Lydic), travels around the U.S. killing witches. In his first scene, he dispatches a "demon cheerleader" after torturing her with a lit cigarette, but we're assured that he's a good guy when he frees some tweens from her larder. (Witches in this vaguely Grimm-inspired world eat people, natch.)
Hansel returns to town to find that one of Gretel's customers at the bakery has mysteriously disappeared. Meanwhile, a multiethnic coven of witches arrives, eager to avenge the death of their sister-witch Lilith, whom Hansel and Gretel executed in the first film.
After much chewing of both scenery and props that are supposed to be human limbs, the witches capture Gretel, who offers a game-changing revelation. (NB: This is in the film's IMDB blurb, so it's not exactly a "spoiler.") Ensorcelled by Lilith, she's become a witch herself, and has been crafting her bakery's famous meat pies from … people!
Will Hansel figure out his sister is a witch and exterminate her, or will he be too distracted by the charms of his cutoffs-wearing "nice girl" friend, Willy (Aqueela Zoll)? Will Hansel and Willy be smart enough to follow a trail of bloody body parts to the coven? Can a witch seduce a gay man? Is any woman in this movie
not
actually a witch? Tune in for the answers to those questions and more.
Why You Missed It
Direct to video in January 2015. Director Ben Demaree previously helmed the Asylum's
Apocalypse Pompeii
(whose release coincided with that of the bigger-budget
Pompeii
) and served as DP on all three
Sharknado
s.
Should You Keep Missing It?
Here are a few questions I ask to evaluate modern-day B-movies:
Did it at least live up to the promise of its concept/title/hook?
As already mentioned, I went into
Hansel vs. Gretel
with low expectations. It simply had to justify its title by offering a knock-down, drag-out fight between the famous siblings. And it did — although it should be mentioned that the diminutive Hansel was painfully outmatched from the start, and that the witch-on-witch battles were the film's real centerpieces. I also wish bread crumbs could have been involved.
Was it "bad," or was it "Mystery Science Theater 3000" bad?
When you see movies in theaters these days, you're spoiled. You assume every film will exhibit a certain basic level of competence and professionalism in lighting, shooting, acting, digital effects, fight choreography, etc., because films that don't reach that bar seldom get theatrical distribution. So it's useful to be reminded that even a "bad" fantasy-horror movie such as
I, Frankenstein
takes a great deal of money, effort and expertise to produce.
You don't really have that realization until you watch something like
Hansel vs. Gretel
, which exhibits — well, let's just say less of all those assets. There are worse films out there, no doubt, and I'm sure many fine professionals worked hard on this one. (My sister, who worked on the effects team of a certain much-maligned remake, always reminds me that even the crappiest movies consume a lot of blood, sweat and tears.)
The Asylum
Hansel has a lot of nice weaponry on his side, but it's not really a match for witchcraft.
But … let's just say that after seeing the CGI in this movie, I've revised my notion of "bad CGI." I've seen a few low-budget local productions that had better lighting and gore effects than this one. The acting ranges from wooden to self-consciously campy to barely OK. All in all,
Hansel vs. Gretel
would be right at home on "MST3K."
Were any lines of dialogue quotably campy?
Like all B-movies these days,
Hansel vs. Gretel
is quite aware of its camp factor, thank you very much, which makes its silliness seem less found than planted. But a few of its throwaway lines still made me laugh:
"She's getting old." — Gretel's shrug of an answer when Hansel asks her why their grandma (Christopher Callen) is acting weird these days. This one was in the delivery. ("Old people — whatcha gonna do?")
"Tastes like magic." — a witch (Jhey Castles), after salaciously licking the bakery's door knob.
"I can explain!" — Gretel, after [SPOILER ALERT IF YOU REALLY CARE] Hansel discovers her ripping off her poor grandma's head.
Verdict:
Percent of this movie that was scary: 0. Percent that featured authentically "kick-ass" action: 0.5. Percent that featured scantily clad model-actresses: 85. Percent that featured scantily clad model-actors: a woeful 0. Percent that made me laugh: 20. Percent I already forgot two days later: no comment.
Oh, and in case you were anxiously wondering, there
is
a
Hansel & Gretel: Witch Hunters 2 in development
. A third entry in the Asylum's rival series may be an inevitability. Just
try
to convince a small child in 10 years that those two tykes went into the forest without machetes, automatic rifles and leather armor.
This Week in Theaters
At the Savoy, the
Green Mountain Film Festival
. At the Roxy, the acclaimed vampire mockumentary
What We Do in the Shadows
and the acclaimed hockey documentary
Red Army
.
Elsewhere: Sean Penn is
The Gunman
struggling with his past in the Congo. The teen-friendly
Divergent Series
continues with
Insurgent
(and no, the third one is not called
Detergent
).
Do You Believe?
Then you may be the audience for that faith-based film, at the Essex and Majestic.
This Week in Your Living Room
Annie, Exodus: Gods & Kings, Penguins of Madagascar, Top Five
.