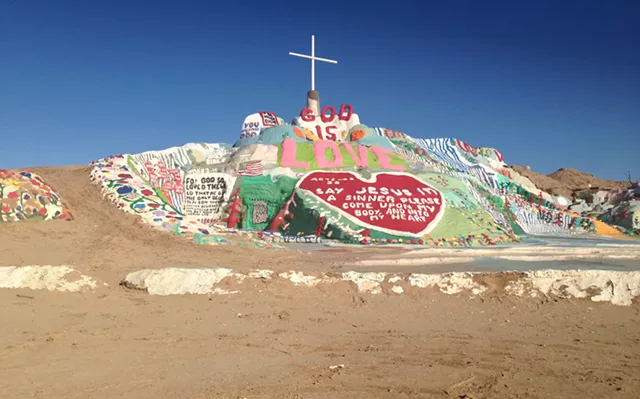 Paula Routly
Long view of Salvation Mountain
No American landscape looks less like Vermont's than the parched desert that runs along the dying Salton Sea in southern California — which is precisely what drew me to vacation there last week. But a folk-art oasis in that no man's land rightfully belongs to the Green Mountain State.
Near the dusty town of Nilan, Vermont-born Leonard Knight spent three decades building a monument to God called Salvation Mountain. A vision of obsessive devotion topped with a cross, it marks the entrance to a squatters' paradise called Slab City, aka The Slabs, that was featured in the 2007 movie
Into the Wild
. Knight and his mountain were also in the film.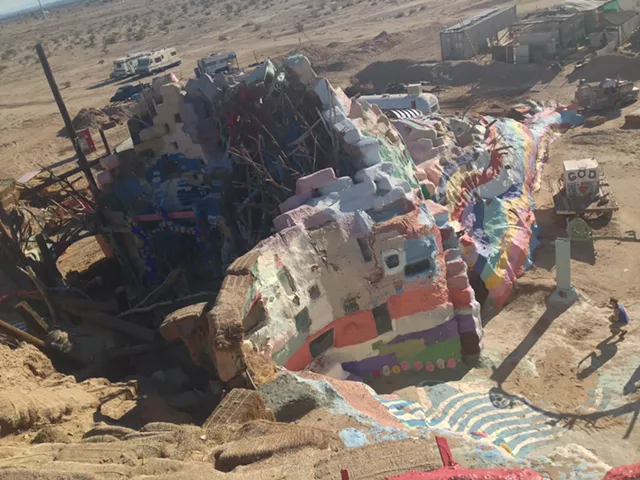 Paula Routly
Salvation Mountain from above
Knight died last year, at 82. But his life's work still rises out of the state-owned desert — a dazzling sculpture constructed of adobe, straw and lots of paint. Visitors can ascend the multicolored mountain on a yellow-brick road past whimsical representations of nature and quotes from the Bible, including the big one: "God is Love."
In 2000, the Folk Art Society of America declared it a "folk art site worthy of preservation and protection." In an address to the U.S. Congress two years later, California Sen. Barbara Boxer called Salvation Mountain a "national treasure … profoundly strange and beautifully accessible, and worthy of the international acclaim it receives."
Paula Routly
Converted vehicle at Salvation Mountain
Paula Routly
Room inside Salvation Mountain
In the same speech, Boxer described Knight as "a one-time snow shoveler from Vermont." The
official Salvation Mountain website
, which doesn't appear to acknowledge his death, notes he was born on November 1, 1931, just outside of Burlington in "Shelburne Falls" — the fourth of six kids.
A
staff-written obituary
last February in the
L.A. Times
said Knight was "a welder, handyman, guitar teacher, painter and body-and-fender man" before he arrived in Slab City in the early 1980s with his truck, an old tractor and a hot-air balloon that he had once thought would be his conveyance for a cross-country float." He spent decades living alone — among stray cats — in a truck at the base of his mountain. Plenty more of those converted vehicles remain.
All Knight ever asked for was paint.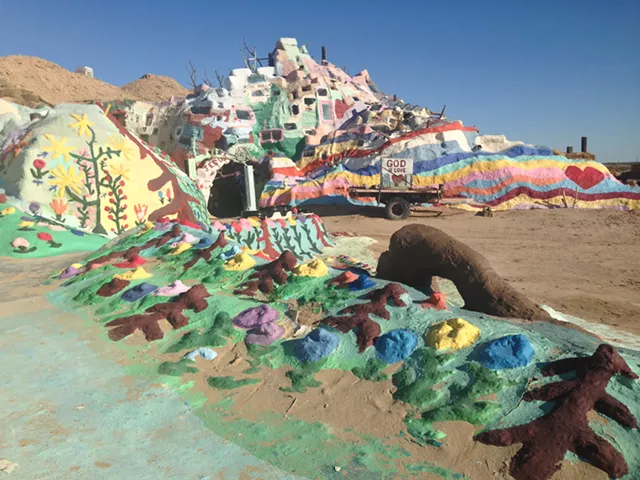 Paula Routly
Salvation Mountain
Knight did get some publicity over the years. In addition to the movie part and Boxer tribute, he was the subject of a documentary and in a cover shot on a book titled
Self-Made Worlds: Visionary Folk Art Environments
.
"He never sought to proselytize. He greeted visitors cheerfully," Tony Perry wrote in the
Times
obituary. He quoted Knight from an earlier encounter: "If somebody gave me $100,000 a week to move somewhere and live in a mansion and be a big shot, I'd refuse it," he said. "I want to be right here. It's amazing, isn't it?"
Last week, in the blazing California sun, I couldn't have agreed more.
Paula Routly
A "sign" on Salvation Mountain