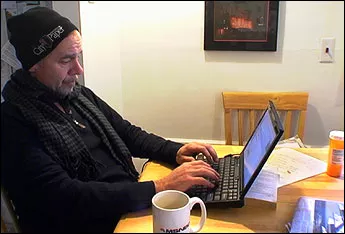 Screen shot from the film page One
David Carr
It's been the farthest thing possible from a slow news week. It's been a bad news week. And the bad news
about
the news just keeps coming.
On Tuesday the media packaged two completely unrelated stories together throughout the news cycle: Wherever you turned, there were Brian Williams and Jon Stewart: The NBC anchor had gone overboard with his war stories one too many times and had been suspended without pay for six months. Stewart announced to a stunned audience he'd be punching out at Comedy Central after 17 years as host of "The Daily Show."
Then, on Wednesday, things got grimmer. Legendary CBS News foreign reporter and "60 Minutes" correspondent Bob Simon was killed in a grisly car crash at the age of 73 in New York City. The next evening, David Carr, the world's preeminent media reporter, moderated a "TimesTalks" panel discussion with Edward Snowden, director Laura Poitras and journalist Glenn Greenwald about the documentary
Citizenfour
, returned to his office at the
New York Times
and collapsed. He was 58.
The cause of Carr's death, as of this writing, has not yet been determined. Its impact, on the other hand, is clear: The world of journalism has lost one of its greats, a true original at the height of his powers, a man who bridged the worlds of old-school, pavement pounding reporting and the digital age as no one else on the planet has done.
I never met Carr in person, but my feeling of loss is almost indescribably deep. He first came to my attention when I reviewed the 2011 documentary
Page One: Inside the New York Times
. Here's part of what I wrote:
What (the film) does well is give us a glimpse of day-to-day life at the Times and some of its more colorful characters at work. Easily the most colorful of these is media reporter David Carr.

A former crack addict and welfare recipient, Carr hardly fits the profile of a 21st-century Times journalist. He's hot tempered, chain-smokes and likes his reporting old school. One comes away with the sense that his first tweet was done with a gun to his head.

It's fascinating to watch Carr work the phones and pound the pavement over a period of several weeks as he crafts a 5,000-word cover story on the bankruptcy of the Tribune Company. Grilling a spokesman on the subject of $100 million incentive bonuses that executives at the business paid themselves as it crashed, he's resplendent in his indignation: "You could call that incentive," he rasps. "Or you could call it looting, depending on your perspective." The guy absolutely steals the show.
Carr really was the most unlikely of Gray Lady superstars. After studying journalism at the University of Minnesota, he went on to work in the alternative press first at the
Twin Cities Reader
and later at the
Washington City Paper
in D.C., before moving to New York. His 2008 memoir
The Night of the Gun
chronicled his long-term battle with addiction, which included five trips to rehab and was written at his family's cabin in the Adirondacks.
Of the
Times
, Carr once wrote, "I've always thought it was a magnificent thing to read and look at; I just never pictured the likes of me working here." Against all conceivable odds, however, he not only recovered and rose to the ranks of its newsroom in 2002, but became one of its most recognizable names. He was best known for his column, "The Media Equation" which analyzed developments in mass communication and social media, and for his creation of the immensely popular feature known as "The Carpetbagger," the final word in awards-season coverage.
Carr loved movies. So much so that he was more than happy to shoot the shit with me by email on occasion, especially around Oscar time. One of the high points of my life as a reviewer was the time he took a break from his busy schedule to read a piece I had done on the controversy surrounding
Zero Dark Thirty
and tell me he thought it was "stellar." In addition to being tough, quick-witted and brilliant, David Carr was an incredibly kind and generous human being.
I'll miss knowing that he's out there, that his mind is making sense of things most minds can't, and that he's an email away. And I'm anything but alone. "Thanks for sharing this memory, Rick," Cara Buckley, the current "Carpetbagger," wrote this morning after I told her that story. "David was so generous with so many people. We're just beginning to get an idea of how many people that included. We're just heartbroken here — it's not conceivable yet."
"I now inhabit a life I don't deserve," Carr wrote at the close of his memoir, "but we all walk this earth feeling we are frauds. The trick is to be grateful and hope the caper doesn't end any time soon."
For David Carr, the caper ended far too soon.