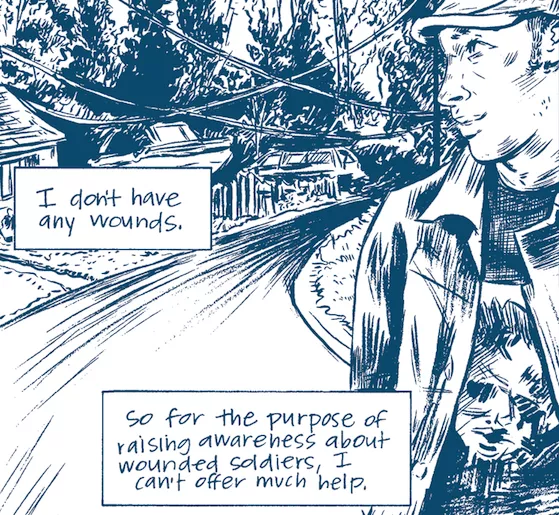 Courtesy of the Center for Cartoon Studies
A panel from Jess Ruliffson's comic Invisible Wounds
The Upper Valley town of White River Junction has long been just that: a junction. It's where the rivers come together, the railroads, the highways. This month, the town will witness yet another union, this one somewhat more unlikely: cartoonists and veterans.
White River Junction is home to two important institutions that, until now, have not formally collaborated: the
White River Junction VA Medical Center
, and the
Center for Cartoon Studies
. The school has invited veterans and their families to take part in the
Cartoonist Veteran Project
, in which CCS students and faculty will help vets to tell their stories in graphical form.
The first event of this months-long partnership takes place at the VA Center on Wednesday, February 25, when CCS cartoonists will give a presentation about comics and invite veterans to share their stories. Among the participants will be Jess Ruliffson, whose comic
Invisible Wounds
, about a veteran with post-traumatic stress disorder, won a 2014 Award of Excellence from
New York's Museum of Comic and Cartoon Art
.
CCS cofounder and director
James Sturm
, who has volunteered at the VA for the last year, is hopeful that the event will encourage vets to share their stories as a way of coping with their wartime experiences. He writes in an email, "I know how it takes some time for many vets to get comfortable with sharing their stories." For that reason, the project has no firm deadline, though Sturm expresses the hope that, by summer of this year, it will produce a collection of print and digital comics, as well as a possible exhibition at CCS.
The Cartoonist Veteran Project kicks off at 6 p.m. on Wednesday, February 25, at the White River Junction VA Medical Center, Building 44, Room 103. Free; no RSVP required. See
cartoonstudies.org
for more information.