20th Century Fox Pictures
Robert Carlyle on the hunt for a coherent protagonist in Ravenous
As a longtime fan of the films of
Peter Greenaway
, I kind of coincidentally have become a fan of that director's frequent collaborator, composer
Michael Nyman
. I love me some beautiful minimalism, I do.
Though I can take or leave the music of
Damon Albarn
, I suppose it was Nyman's and Albarn's collaboration on the soundtrack of the 1999 film
Ravenous
that inspired me to watch it this past week. I'd heard that the soundtrack was unusual and exceptionally good, and I did enjoy its curious combination of American folk tunes and stark Euro-minimalism. I still prefer Nyman's scores for Greenaway's films, but I could certainly see myself listening to the
Ravenous
soundtrack as a stand-alone work. Certainly, it's the best thing about the film.
As I watched
Ravenous
, I wondered just what it was about the film that made it so dull to me. The scenery is lovely (the film was shot in part in the stunning
Tatra
range of the Carpathian Mountains); the film stars the terrific
Jeffrey Jones
, who steals every scene he's in; and, anyway, who doesn't like a movie about cannibalism? (Maybe I had some sort of vague idea that, what with the anthropophagy subject matter and the Michael Nyman score, the film would somehow evoke Greenaway's masterful
The Cook, The Thief, His Wife, and Her Lover
. No such luck.) Most of the pieces of
Ravenous
seemed pretty well crafted, so why did the whole seem to fall apart for me?
20th Century Fox Pictures
Jeffrey Jones in Ravenous
About midway through the film, I figured it out.
Ravenous
' putative protagonist, the American soldier Captain John Boyd (Guy Pearce), is an almost completely passive character. He's the film's hero, yet he barely
does
anything — much less anything heroic. The actions of the film happen
to
him, not
because
of him. While this might not sound like a big deal, it actually winds up compromising the entire film, in my opinion.
If you've read the standard (and best) introduction to film studies textbook, David Bordwell's and Kristin Thompson's
Film Art: An Introduction
, then you know that one of the most important hallmarks of storytelling in the classical Hollywood cinema is the "goal-oriented protagonist." (Disclosure: I studied with Bordwell and Thompson in graduate school.) That is, heroes in most mainstream American films are purpose driven. They have specific (and typically complex) tasks that they must complete if they are to fulfill their promise as heroes.
Indeed, it's the completion of their tasks that
makes
them heroes. In nearly every case, those heroes must surmount delays and obstacles (another narrative hallmark of classical Hollywood cinema) that provide not only tension, but opportunities for the protagonists to prove themselves as bona fide heroes. A canonical example: In
Back to the Future
, Marty McFly, even though he has precious little time, takes a few minutes to
play a rock-a-shreddabilly version of "Johnny B. Goode"
on stage at the "Enchantment Under the Sea" dance. He'd been told, earlier in the film, that he and his band lacked musical ability, an event that causes him to lose confidence in himself. In playing this number at the dance (and coincidentally "inventing" rock 'n' roll), Marty regains the self-confidence he needs to, you know, get back to the future, where further complications await.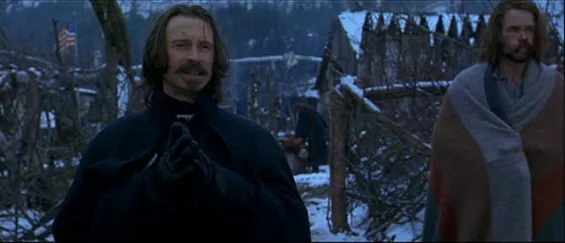 20th Century Fox Pictures
Two characters in search of a decent script in Ravenous
Marty McFly is a protagonist who takes action to achieve his goals and grow as a person (and character). By the end of
Back to the Future
, all of his goals are achieved: His parents are back together and happier than ever, Doc Brown is unkilled by Libyan terrorists, Marty himself returns to 1985, he's proven himself as a musician, and he even has that sweet new pickup truck he's been coveting. Because Marty's goals are clearly delineated, and because he takes clear and decisive action toward achieving them, the story feels full and complete — at least according to the classical Hollywood model.
Not all films must be made according to the classical Hollywood model, of course. That model may be dominant, but filmmakers are not required to abide by it; there are as many ways to tell a story as there are stories. The most significant (if not entirely cohesive) challenge to the dominance of Hollywood storytelling methods is that mounted by the European art cinema, the films of which typically feature meandering plots in which actions have no "payoffs," obtuse or downright misleading chains of cause and effect, and, yes, goalless protagonists. I challenge anyone to identify a coherent goal in, for instance, Michel in
Breathless
, or Claudia in
L'Avventura
.
20th Century Fox Pictures
Ravenous
Here lies my central problem with
Ravenous
. John Boyd is given no goals whatsoever; indeed, he barely even has any personality traits. (Strongly defined character traits and consistent psychologies are other important hallmarks of the classical Hollywood cinema, by the way.) He's a bit of a coward, as evidenced by his playing possum during a battle in the Mexican-American War, an act that gets him transferred to Fort Spencer, a remote outpost in the Sierra Nevada Mountains. From this point forward, Boyd is given nothing to do and no goals to achieve; he merely tries to get out of the way as the cannibalistic Colonel Ives serially kills and eats the others who are stationed at the fort.
While it's true that Boyd eventually kills Ives at the end of the film, he does not do so out of any particular sense of duty, obligation, self-preservation or honor. Though, in fact, the act of killing Ives is the opposite of a cowardly act — and cowardice is the one and only character trait that Boyd is given in the film — the film never makes clear that cowardice is Boyd's personal demon to be overcome. He never undertakes actions for the purpose of overcoming his own cowardice, and undergoes no transformation at all. He's simply a coward at the beginning of the film, and a little less cowardly at the end. One could make a strong case that he kills Ives out of anger or revenge rather than out of a desire to overcome his own personal shortcomings.
While this kind of protagonist behavior is anything but uncommon in an art film, it's out of place in a classical Hollywood film, which
Ravenous
ostensibly is. Without a goal-oriented protagonist,
Ravenous
falls into a trap in which its actions become simply items on a list: This happens, and then this happens, and then this happens. What's missing is the causative glue, which in better-constructed films is provided by a protagonist who has specific goals to accomplish.
If this kind of thing bugs you as much as it does me, pass on the movie. Go directly to the soundtrack.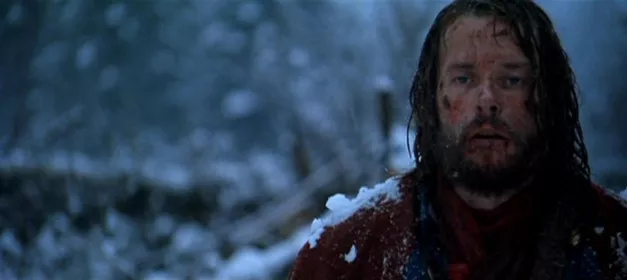 20th Century Fox Pictures
Guy Pearce in Ravenous