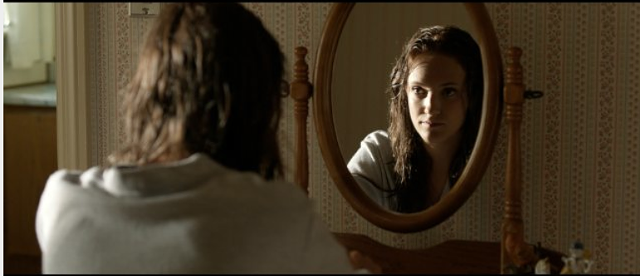 IFC Midnight
Esther contemplates a changed self.
This week in movies you missed:
Late last year over on the Dissolve, I saw critic
Mike D'Angelo mention Proxy among his top 15 films of 2014
. I'd never heard of this movie from writer-director Zack Parker (
Scalene
), but, hey, it was on Netflix Instant. I gave it a try.
Wow.
What You Missed
Two women meet at a support group for grieving mothers. Twentysomething Esther (Alexia Rasmussen), who's not good with people (and that's an understatement), doesn't feel comfortable talking about why she's there. Slick, put-together Melanie (Alexa Havins) readily tells her story.
When Melanie reaches out to Esther, cultivating a friendship with her, that's when things get weird. Because Esther is starting to suspect Melanie is not even close to what she seems. Turns out both of them have a few surprises up their sleeves.
Here's the trailer:
Why You Missed It
When I search this film on Box Office Mojo, all that comes up is
The Hudsucker Proxy
.
Proxy
did play in the 2013 Toronto Film Festival's Vanguard section, where it came with an accurate warning that "
Proxy
begins with some deeply disturbing content."
Should You Keep Missing It?
I am truly baffled that a professional critic would give this movie a politely charitable review, much less award it four stars. It is terrible. The so-called dazzling set-piece at the middle is laughably staged ... suffice to say that the audience was literally laughing at it when I saw it at a festival a couple of months ago. I actually did think that for the first half-hour it was a fairly compelling, if amateurish, De Palma knockoff. But after the pivot point of the movie—which, again, is completely ridiculous—the movie just plods from one WTF moment to another, spinning its wheels ludicrously until its eye-rolling ending. Maybe D'Angelo is grading it on a curve; I don't know. But I feel like I have a civic responsibility to tell you that you'll be angry if you allow this mystifyingly positive review to convince you to see this dog.
That quote comes from a comment posted on
D'Angelo's original review of Proxy on the Dissolve
. The commenter and a few others go on to argue that an approving review of
Proxy
calls the credibility of the whole site into question.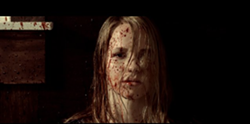 IFC Midnight
Despite the blood, this isn't really a horror flick.
"[I]f enough people see this movie it could be my new barometer for whether or not a person has trustworthy taste in movies," another commenter wrote. "As of now it's still Boondock Saints."
So … yeah. I did not like
The Boondock Saints,
for the record (except as unintentional comedy). But I did like
Proxy
.
Maybe "like" is the wrong word. It's more accurate to say I was riveted, and desperately wanted to discuss it with someone when it was over. And yet, I can fully understand why others find it a horrendous experience.
I'll try to explain why using my usual scale for the evaluation of indies:
1-4 points: Does it look pretty?
3/4. It's not a lush or visually exciting film (except for a few showy sequences), but Parker carefully frames his images for maximum suspense and, sometimes, ambiguity. While Netflix tells you
Proxy
is a horror flick, it's actually a twisted psychological thriller in the De Palma mode, and I thought Parker's cold, faux-clinical approach worked.
I can see how that approach might mislead viewers, however, into expecting realistic plot developments when this is adamantly not a realistic film.
1-4 points: Does anything happen?
4/4. Yes, but I can't spoil any of it. Suffice it to say that the movie breaks a certain major cinematic taboo twice, and a few more storytelling taboos along the way.
1-4 points: Does what happens make sense?
2/4. Well … here's where I part company with
Proxy
's detractors and even some of its fans, such as D'Angelo. Both groups describe the characters' actions as senseless and utterly lacking in psychological plausibility. D'Angelo doesn't see that as a problem; the detractors do.
I disagree. Granted, the movie has the kind of psychological plausibility that a fever dream does, the kind
Blue Velvet
does. It doesn't depict the way anyone would act in real life. It takes secret neuroses, fears and ambivalences and turns them into full-blown, plot-driving insanity.
But I think that insanity has a basis in reality. Some, I know, will adamantly disagree. But
Münchausen by proxy
, the syndrome for which the movie is clearly named, is real.
Without spoiling, I can say that both Esther and Melanie are driven by a pathological need for attention. That, too, is real. It's what they do to
get
attention that viewers will question.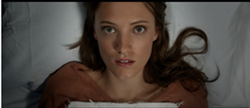 IFC Midnight
Rasmussen anchors the movie.

1-4 points: Do the characters seem like real people? Failing that, do they look pretty?
3/4. Rasmussen's bizarre, wounded, awkward performance drew me into this film and made everything else work, even when revelations about her character gave me painful whiplash. With a lesser actress in the role, I would not have suspended my disbelief.

Havins is a soap opera veteran, and it shows. The thing is, the glossy, self-conscious emotional shallowness she exhibits here is perfect for the role of Melanie. This is the type of woman who watches too many talk shows and Lifetime movies and dreams of being their heroine — a creepy sister to Amy in Gone Girl. Havins doesn't pull off the transformations that Rosamund Pike did, but I still think she's well cast.
IFC Midnight
Melanie has perfected her cloying façade, but something lies beneath.
1-4 points: Does the movie give us a reason to care about anything happening on screen?
3/4. Maybe I'm a sucker, but I did care about these characters, even when they betrayed my trust in the most horrible ways possible. Some of the actions of supporting characters do feel pretty random (like they're just necessary to jack up tension), and the "cops solving mystery" part of the film is a fail. But the arcs of the two protagonists worked for me all the way to the last scene.
Verdict:
15/20. Rare is the person to whom I'd recommend
Proxy
. But if you liked
Dressed to Kill
and
Blue Velvet
, and know you can handle "disturbing" material on the level of the French film
Inside
, maybe give it a try. (
Proxy
is far less gory than
Inside
, but you'll understand the comparison.)
Then come back and tell me I'm going straight to cinematic-bad-taste hell. Hell, I've known that for a while.
This Week in Theaters
At the Roxy, catch
A Most Violent Year
, the latest from J.C. Chandor (
All Is Lost
), or check out the Oscar-nominated shorts.
At the Savoy, there's Mike Leigh's acclaimed artist biopic
Mr. Turner
.
Elsewhere: Hanky-panky leads to murder in thriller
The Loft
, teens play around with time travel in
Project Almanac
, and Kevin Costner attempts to educate us all about racism in
Black or White
.
This Week in Your Living Room
Before I Go to Sleep, The Book of Life, Fury, The Judge, My Old Lady.