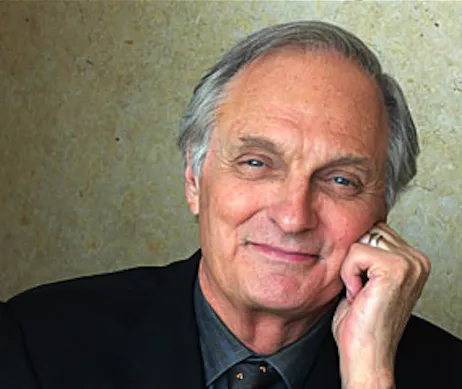 Courtesy of the University of Vermont
Alan Alda
The talented actor and director
Alan Alda
, who will give a talk at the University of Vermont on February 2, is probably tired of writers' constant references to his role as
Dr. Benjamin Franklin "Hawkeye" Pierce
on the beloved TV series "M*A*S*H." But that's not going to stop me from doing it, anyway. Apologies, Alan. I do genuinely admire your other work, too. (I've always thought
Sweet Liberty
was underrated.)
Upon learning that Alda would be speaking about his work with his eponymous
Center for Communicating Science
at Stony Brook University, my mind flashed back to an episode of "M*A*S*H" that has always stuck with me.
In "
The Moon Is Not Blue
," an episode from the show's 11th and final season, Hawkeye and B.J. Hunnicutt administer pills to one Corporal Bannister for the treatment of his diminished self-confidence, and to Corporal Klinger for his inability to cope with a torrid heatwave. In both cases, the "medicine" is just sugar pills, placebos given by sneaky doctors to unwitting patients. Clueless, both Bannister and Klinger report that the pills perform as advertised.
I think that, even though I was only 9 at the time, I remember the episode relatively well because it was the first time I learned of the p
lacebo effect
, a concept that astonished me.
As the article linked above points out, though, the term "placebo effect" has become a kind of ill-defined catchall; there is no such thing as "mind-over-matter medicine." The contraction or curing of an illness is a matter of science, not of positive thinking or mere misconceptions such as the placebo effect.
It's combating exactly this kind of misconception to which Alda has devoted much of his later life. A longtime advocate of science who hosted the PBS series "
Scientific American Frontiers
" from 1993 to 2005, he has also written plays about
Albert Einstein
and
Marie Curie
, and won the 2006 Public Service Award from the
National Science Board
.
In 2009, Alda lent his name to an institution dedicated to helping scientists convey their ideas more clearly. It is on this subject that the actor, director and philanthropist will speak at his UVM lecture "Helping the Public Get Beyond a Blind Date With Science."
Hawkeye, that dedicated and good-humored practitioner of the medical sciences, would no doubt be proud.
Alan Alda's talk, "Helping the Public Get Beyond a Blind Date With Science," is on Monday, February 2, 4 p.m., in the Silver Maple Ballroom, Davis Center, UVM, in Burlington. A reception follows at 5:30. Free.