Courtesy Mountaintop Film Festival
Edward Snowden (L) speaks with Glenn Greenwald in the film Citizenfour.
The MountainTop Film Festival
, which starts this weekend at Waitsfield's
Big Picture Theater
, has made a name for itself by showing an always-current crop of social-issues films.
This year's week-long festival
, the 12th annual, is no exception, boasting several documentary and fiction features that address many of the day's most pressing social controversies. But it's the host of guest speakers who really make this year's festival stand out.
Most recognizable among the festival's guests is Gov. Peter Shumlin, who will speak to attendees on Wednesday, January 21, about Vermont's first-in-the-nation law requiring the labeling of genetically modified foods. The recently re-elected Shumlin will specifically address in his talk the
Food Fight Fund
, a trust established to finance Vermont's efforts to defend the inevitable challenges to that legislation. A "community dialogue" will follow Shumlin's talk.
Other guests of the festival include two left-wing media icons, including perhaps the best-known such figure in the world. Just days ago, festival director Claudia Becker announced that modern-day muckracker
Glenn Greenwald
would Skype in to Waitsfield from his home in Brazil to speak after the screening of
Citizenfour
, the documentary about Edward Snowden. "For [Greenwald] to agree to do a Q&A after the screening is huge," says Becker in a phone interview with
Seven Days
.
Another visitor to this year's MountainTop Film Festival is the documentarian
Eugene Jarecki
, cofounder of the Big Picture and known for such films as
Why We Fight
and
The Trials of Henry Kissinger
. Jarecki will introduce and speak after the Saturday, January 17, screening of the documentary
Cyber Wars
, in which the filmmaker interviews a hologram of WikiLeaks editor
Julian Assange
. Yes, a
hologram
. Assange has been holed up in London's Ecuadorian embassy since 2012; the documentary about him was no small technical achievement, says Becker, who notes that this "pixel-by-pixel" process is the closest that anyone has gotten to Assange in some time. Jarecki will speak on the subject of privacy in the internet age.
The heart of the festival, though, is the films that it shows. This year, the fest has interspersed a number of socially conscious fiction films into its documentary-heavy programming. These include the just-released
Selma
, a dramatization of a chapter from the life of Dr. Martin Luther King Jr.; and
Dear White People
, the 2014 comedy about American race relations. "We wanted to have a couple of films with at least a glimpse of humor," says Becker. "[The festival] is not just about letting people feel like the world is coming to an end."
More than anything else, says Becker, the MountainTop Film Festival's mission is one of "creating dialogue. We're really looking to have people talk about the broader issues," Becker says. "It's about education and outreach and opportunities for people to get involved, more than it's about just showing movies."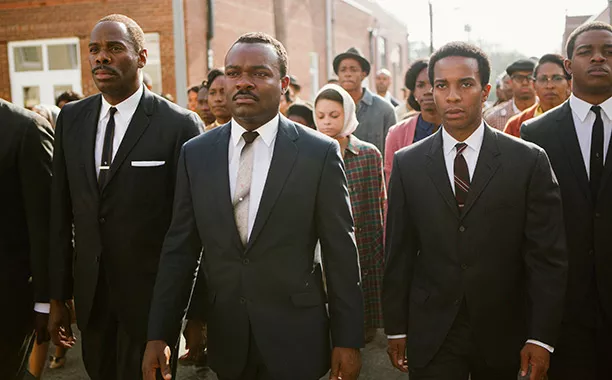 Courtesy Mountaintop Film Festival
Selma