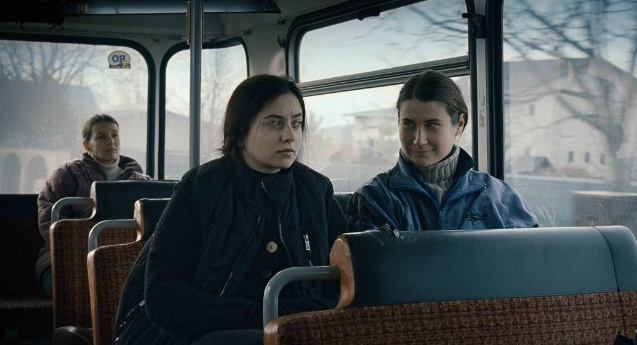 IFC Films
Young nun Voichita (left) gets a visit from an old friend.
This week in movies you missed:
Remember
4 Months, 3 Weeks and 2 Days,
less formally known as "That Movie About the Horrors of Trying to Obtain an Abortion in Communist Romania"? The tense drama from director Cristian Mungiu played at the Palace 9 in 2008 and
earned a rave
from
Seven Days
critic Rick Kisonak.
Mungiu's next film,
Beyond the Hills
, was heavily lauded at Cannes in 2012. It didn't appear in Vermont multiplexes, but locals had a chance to see it at a Burlington Film Society and Vermont International Film Foundation
screening last June
.
I recently caught up with
Beyond the Hills
on Netflix. Normally I don't notice (or give) Netflix star ratings, because I hate star ratings with a passion. (Yes, even the ones I have to give for this paper. Star ratings are dumb.)
But I couldn't help seeing that users of the streaming service had awarded the art film a whole 1.5 stars. My question: Would I like it any better?
NOTE (AND SPOILER): When I checked again today, several days after viewing
Beyond the Hills,
it sported a ranking of
2.5
stars. I had rated it 4 stars. Is the film so rarely viewed that one person can boost it a whole star rating? Or do I have delusions of grandeur? The ways of Netflix are mysterious indeed.
What You Missed
Voichita (Cosima Stratan) and Alina (Cristina Flutur), now in their twenties, grew up in the same orphanage. Voichita has remained in their village and joined an order of nuns led by a strict Orthodox priest (Valeriu Andriuta). She lives on a barren hillside without electricity, drawing water from a well and rising at night to pray.
IFC Films
The "hills" in question.
Meanwhile, Alina has attempted to make a life for herself as a guest worker in Germany. Loneliness drives her to visit Voichita, whom she begs to run off with her. In turn, Voichita tries to convince Alina that her only hope lies in confessing her sins to the priest. Those "sins," it's heavily implied, include a past sexual relationship between the two women.
As Alina grows angry and violent in her pursuit of Voichita, showing signs of mental illness, the residents of the convent resolve to "treat" her in the only way they know how.
Why You Missed It
You may have caught
Beyond the Hills
at the BFS/VTIFF screening or at the 2013 Green Mountain Film Festival.
Should You Keep Missing It?
Beyond the Hills
was a far less didactic film than I expected, with a broader scope, and I found it oddly mesmerizing.
But here's how I think it earned its low Netflix rating:
IFC Films
The extent of "hot lesbian action" in this film.

Not enough lesbian action. Actually, none, unless a back rub counts. When a European art film is categorized as "gay/lesbian," certain viewers may be expecting the next Blue Is the Warmest Color

. This ain't it.




"Austerity." In my experience, this is the word cinephiles use for films full of beautifully framed shots that go on forever and a day. Many of the scenes in

Beyond the Hills

consist of a single shot taken at a respectful distance from the characters, making viewers feel like helpless observers of the action. We long for close-ups of the women's faces at certain key moments, but the camera almost always keeps its stubborn remove. This approach is a Cannes pleaser, but not a crowd pleaser.




It's 150 minutes long, the setting is horrendously bleak, and the "real action" doesn't start till the last hour. My guess is some viewers simply bailed.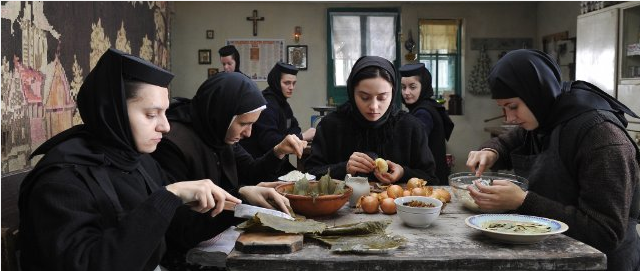 IFC Films
Inside the convent.
Cinematic austerity
is not my thing
. So why did this philistine give
Beyond the Hills
four stars?
The film is loosely based on real events that led educated Romanians to wonder if part of their country was stuck in the middle ages. (
More info here, but also spoilers.
) I've seen it described as a relentless indictment of religion.
Actually, it's a powerful, nuanced character study that gives humanity
and
culpability to everyone involved, from the frightened, fretting nuns, to the forbidding priest — who's clearly trying to do the right thing in a world that confuses him — to the doctors at the town's modern hospital, who tie Alina up and give her pills.
This is a film where "throwaway" lines matter. Mungiu's script doesn't spell out the two women's lack of decent options, so unless we listen carefully, Voichita's insistence on staying in the strict (but safe) convent may confuse us. But all the clues to understanding her choices are there.
IFC Films
"Austere" framing: a conversation where we only see one speaker's face.
At first glance, Voichita seems clinging, indecisive and childish (she calls the priest and Mother Superior "mama" and "papa"), while Alina seems dynamic and honest about her feelings. That changes, as it becomes clear that neither young woman has the tools she needs to live in an unforgiving world. Alina is often frustratingly opaque, but I'd argue that's because Voichita is the actual protagonist. Her inaction is a form of action, with tragic consequences.
Verdict:
This is the perfect film for January: Its sheer bleakness could make you feel better about living through January in wherever you live, which is probably not a Romanian convent. I found its slowness and silences compelling in a meditative way, too, which is very possibly something I would
only
say in January.
As Netflix attests, mileage may vary.
This Week in Theaters
The MLK drama
Selma
, a likely Oscar frontrunner, is finally in wide release. Paul Thomas Anderson's
Inherent Vice
arrives at the Roxy and Palace. And Liam Neeson punches some more people who threaten his daughter in
Taken 3
.
This Week in Your Living Room
Atlas Shrugged: Part III, Boyhood, Get On Up, Left Behind, No Good Deed
and likely future MYM
The Guest
.