movies
TV you missed: Shit gets unreal in the UK's update of "The Twilight Zone" for the internet era. No fan of dark, trippy satire should miss it.
What You Missed
Britain's beloved Princess Susannah has been kidnapped. In a viral YouTube video, her abductor promises to kill her unless the prime minister performs an unspeakable act — on live television.
A woman wakes with no memory to see a mysterious symbol blinking on her TV screen. Everyone she asks for help ignores her pleas and holds up a cellphone to film her.
Channel Four
This is how it looks when you replay your memories in "The Entire History of You."
A man who suspects his wife of infidelity knows just how to prove it: with the information stored on her memory chip.
In a future where young people spend their days generating power on exercycles surrounded by blaring screens, a lonely guy meets a girl with a beautiful voice. He gives her the best gift he knows: a golden ticket to appear on a reality competition.
Those are some of the stories featured in this anthology from satirist Charlie Brooker, which began airing on the UK's Channel Four back in 2011.
Why You Missed It
If you have DirecTV, you may have watched "Black Mirror" already. The rest of us peons can now see the first two seasons (three episodes each) streaming on Netflix. As far as I can tell, the show is still not available on DVD for Region 1.
Should You Keep Missing It?
Short answer: NO.
Channel Four
The PM considers his options in "The National Anthem."
In our
year-end film wrap-up
, I noted my dislike for films with curmudgeon characters who grouse about the internet and social media. (That goes for TV, too, Aaron Sorkin!) That doesn't mean I don't believe in questioning and satirizing internet culture. Far from it. I just think the critique needs to be done by people who understand the appeal of that culture in the first place, people who can get at it from the inside.
"Black Mirror" is powerful because its creators understand
why
people enjoy virtual reality. Technology isn't the villain in this series, as the title indicates. Our many screens stay black until we program them to mirror back our own desires and fears. That's when things can get out of control.
So far, not one episode has featured an independently malign artificial intelligence (e.g., Skynet). The emphasis is always on the human creator or user.
Take "Be Right Back," in which grieving Martha (Hayley Atwell) uses an online service to recreate her dead boyfriend (Domhnall Gleeson) using his trail of emails, video and social media. When she "talks" to her lover via software that predicts his responses, we don't need to see that software go rogue in a horror-movie way to be seriously creeped out. The gap between the human and the machine impersonating him — and Martha's willingness to make do with the latter — is disturbing enough.
Like any series about ideas, "Black Mirror" invites the inevitable accusation of heavy-handedness. And, while it doesn't frame its stories with the deliciously purple narration of Rod Serling, it does have its moments where the writers lay their message on thick to make sure we get it (such as the last scene of "The Waldo Moment").
But it works anyway, for two reasons:
Channel Four
Virtual avatars get more outdoor time than their users in "Fifteen Millon Merits."
Complexity and unpredictability.
Take "Fifteen Million Merits," the dystopian tale described above. Reality TV is an easy satirical target, and this episode has a lot of obvious precursors, from Mike Judge's
Idiocracy
to the short fiction of George Saunders. When Bing (Daniel Kaluuya) spends all his virtual savings to put beautiful, innocent Abi (Jessica Brown Findlay) on a reality show dominated by a vicious Simon Cowell figure (Rupert Everett), we know things will get ugly. And they do. But the episode continues to twist and turn in ways we may not expect, ending on an image I won't soon forget.
People matter.
Not all the episodes have "Twilight Zone"-style final twists. Some, like "Be Right Back" and "The Entire History of You," are basically character studies. Almost all feature strong acting and central characters who transcend stereotypes and earn our sympathy as people.
In "The National Anthem," for instance, the fictional TV audience is eager to see the prime minister degrade himself. But we aren't, because Rory Kinnear doesn't play him as a stuffed-shirt politician, but as a vulnerable man.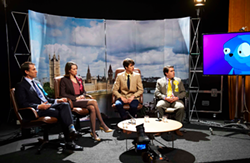 Channel Four
Democracy meets its competition in "The Waldo Moment."
Something similar happens in "The Waldo Moment," which deals with the power and dangers of satire itself. When we throw pies at politicians in a democracy, this episode asks, are we actually throwing them at ourselves? Sure, we'd rather watch "South Park" mocking the issues than an earnest debate among career politicians, but what do we sacrifice in the process? When does comedy stop being critique and start being a way to enforce conformity? The ending may not be subtle, but the questions the episode poses are.

Verdict: Watch it on your biggest TV, then turn it off and stare at your own reflection for a while.

This Week in Theaters
At the Savoy Theater only: The Tale of Princess Kaguya, the latest acclaimed animation from Studio Ghibli.

In wide release: The Woman in Black 2: Angel of Death, a sequel to the Victorian chiller that I remember mainly as a movie that seemed to freak out a couple of kids in the audience. This one does not star Harry Potter.

This Week in Your Living Room
The Equalizer, Tusk.