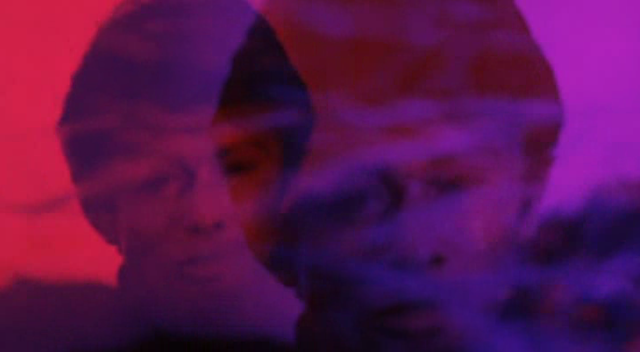 Warner Bros. Pictures
A purple, double-exposed George Chakiris in The Big Cube
By a stroke of what is surely unintentional irony, the 1969 youthsploitation film
The Big Cube
, which I watched last week, is really, really square. Though it was marketed toward a youthful, late-'60s audience,
The Big Cube
certainly missed its mark. It plays like an old-timey melodrama just barely seasoned with a soupçon of counterculture.
Directed for Warner Bros. by Tito Davison, a prolific journeyman Mexican-American writer-director,
The Big Cube
is a plain attempt to cash in on the "threat" ostensibly posed by the drug-taking, hippie-hippie-shaking countercultural movement of the late 1960s. The film makes no distinction between gentle, pot-smoking flower children and violent, leather-clad motorcyclists — as far as it is concerned, no one under 30 is to be trusted.
Such an attitude is not at all what I expected when I plunked down something like four bucks for a used DVD of this film. I suppose I'm the sucker here, as I was enticed by the DVD's psychedelic packaging, and by the fact that I always get a kick out of major-studio attempts to cash in on the "weird" trends of their particular moments. The ham-handedness with which big studios often make their fill-in-the-blanksploitation films is usually good for a good-natured groan or two. In this case, my hopes were slightly higher, for some reason — possibly because of the presence of
George Chakiris
, who I've always thought should have had a better film career. (Apparently he's now found success as a maker of jewelry. Huh.)
Then again, perhaps
The Big Cube
was the very film that condemned Chakiris to the relative anonymity of being That Guy From
West Side Story
. (He's also, for the record, absolutely superb in
The Young Girls of Rochefort
[
Les Demoiselles de Rochefort
], which is one of the most astounding, uplifting, remarkable experiences that moving pictures have yet offered to humankind. Please take all necessary steps to see this masterpiece if you have not yet done so. Or come on over to my place. I'm happy to watch it for the hundredth time.)
Warner Bros. Pictures
This is what happens when you take too much acid.
The title of the film refers to the cubes of sugar that are inevitably doused with LSD by the amoral weirdos of hippiedom. Such miscreants are epitomized by Chakiris' character, the imaginatively named Johnny Allen, who is some sort of medical researcher/swinger/ne'er-do-well/opportunist/would-be murderer. That sounds like a role for the ages, but Johnny is actually a very poorly sketched character, a blank slate on whom these various roles are superficially applied, like the haphazard doodlings of an inebriated tattooist.
To scare his adversaries, real and imagined, or just to mess with them, Johnny's not above secretly dosing them with LSD. And, after about half an hour of prefatory hippiesploitation, that's the narrative strain that
The Big Cube
finally latches onto: Johnny and his girlfriend, Lisa, dose her mother, Adriana, with LSD to scare her into killing herself. That way, they'll get all of her money. So poor old Lana Turner, as Adriana, has to do lots of bug-eyed gazing, traipsing and moaning as she's unwittingly given repeated doses of acid.
The Big Cube
is one of Turner's last few feature films (she did a little TV work in the last decades of her life), and it's surely not the one for which she hoped to be remembered. (Do yourselves a favor and remember her for the 1959 version of
Imitation of Life
.)
Turner and Chakiris weren't the only gifted artisans for whom
The Big Cube
represents a special kind of indignity. For reasons I cannot grasp, the film was shot by
Gabriel Figueroa
, one of the all-time great cinematographers. Maybe he owed someone a favor, I dunno. Figueroa was brilliant, but color film was not his forte, to be honest; the majority of the films he shot were in black-and-white, and he clearly knew that he was playing to his strengths. Check out, for instance,
The Night of the Iguana
, and prepare to be astounded. In
The Big Cube
, Figueroa opts for easy choices to evoke the Acid Era: garish, Day-Glo colors; pulsating zooms; even the already-clichéd-by-1969 solarization process. Such overtly "weird" decisions wind up being anything but weird; much of the film's squareness occurs at the level of its visual style.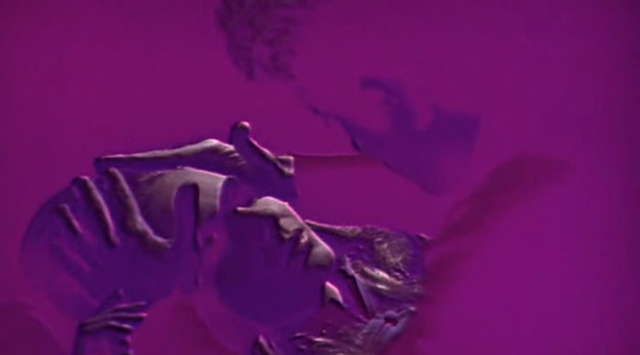 Warner Bros. Pictures
Solarization? Really, Señor Figueroa?
But it's not just in its cinematographic choices that
The Big Cube
is stodgy and unoriginal. The film uses narrative devices ripped right out of penny-dreadfuls and third-rate theatrical melodramas of the 1910s. The film is putatively about the bizarre way of life of the counterculture, yet it's really not of that world at all. A hoary old plot — rife with double-crossings, wrongly given inheritances and amnesia (amnesia!) — is merely imposed on a crudely depicted hippie milieu. None of the plot's many twists derive in any significant or organic way from that milieu.
The Big Cube
is nothing more than a melodrama in a tacky fringed skirt.
The strangest part of this film is how dull it is. Davison, with all these talented actors and a setting that lends itself to colorful extravagance, couldn't come up with anything better than a tired old drama about amnesiacs and disinherited daughters. Far out, man.
Warner Bros. Pictures
Because spiral face-paint is, like, so freaky, man.