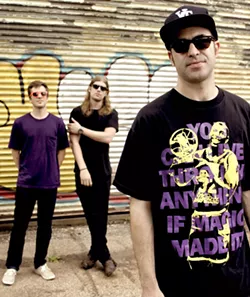 Courtesy of the Precepts
The Precepts
As 2014 comes to a close, we here at
Seven Days
are doing a lot of reviewin', revisitin' and reflectin' on the year that was. On the music front, this means selecting our seven favorite local singles and rolling them out each weekday, from December 22 through December 31 — except for Christmas, because Santa. Today's choice cut: "Revolvin'" by the
Precepts
.
As mentioned in a previous post, Aztext cofounder Learic has been prolific in 2014. While his work with Write Brothers might be his most cerebral, his live collaboration with multi-instrumentalists/producers Jer Coons and Eric Maier as the Precepts could be his most progressive and experimental. As Learic told us about the Precepts debut,
This Is How it Must Be
, in a July cover story:
"That record changed the way I think about rapping," Learic says. "It became less focused on rhyme schemes and the technical aspects and all about what we were saying, the stories we wanted to tell. The more you free yourself from the technical constraints of rapping, the more things flow, the more it just works.

"It's like acting," he continues. "Anthony Hopkins says his lines 1,000 times so he doesn't need to remember them, and just inhabits his character."