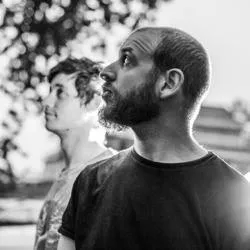 Courtesy of Monika Rivard
Pours
As 2014 comes to a close, we here at
Seven Days
are doing a lot of reviewin', revisitin' and reflectin' on the year that was. On the music front, this means selecting our seven favorite local singles and rolling them out each weekday, from December 22 through December 31 — except for Christmas, because Santa.
Today's choice cut: "Unveiled," from Burlington psych-pop duo
Pours
.
Pours' self-titled debut album, released on local imprint Section Sign Records, was among the most anticipated local records of 2014. It proved worth the wait, precisely because of cuts like this one. "Unveiled" is emblematic of the band's best qualities, melding spectral synth and guitar melodies with cascading percussion and fragile, crystalline vocal work.