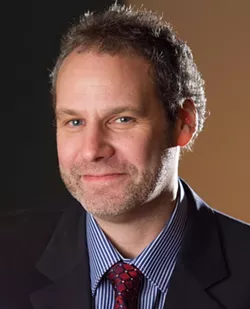 Courtesy of Vermont Public Radio
"Morning Edition" local host Mitch Wertlieb
If you're an unabashed National Public Radio geek like me, perhaps you've had the following experience: You suddenly recognize that the song used as the segue between one story and the next is a subtle — and sometimes not-so-subtle —commentary on the story you just heard. In radio, such melodic interludes are called "bumper music" or "musical beds."
In late October, I caught one such musical nod on Vermont Public Radio following the weekly sports piece by "Morning Edition" commentator Frank Deford. Following an especially long Game Six of the World Series, Deford aired a piece called
"Start World Series Games Earlier; Let Us Sleep."
In it, Deford bemoaned the fact that Major League Baseball insists on starting playoff games too late in the evening for most East Coast fans, especially kids, to catch the end of the game, "so children are denied baseball's championship and grow up mixed-martial-arts fans instead."
Following Deford's piece, VPR aired an instrumental cover of Eric Clapton's "After Midnight," which got me wondering: Who selects VPR's bumper music, and what were some of his or her favorites? And, what other musical inside jokes did I miss in 2014?
It turns out, VPR's morning bumper music is chosen by VPR's "Morning Edition" local host
Mitch Wertlieb
, who wakes up each morning at an ungodly hour so that the rest of us know what's happening in the world.
Regular VPR listeners have Wertlieb to thank (or blame, depending upon their musical tastes) for the
abundance of Grateful Dead songs that grace VPR's airwaves
. Wertlieb, a true musical DJ at heart — he got his start in radio at Tulane University spinning discs during the 2 to 6 a.m. shift. He finds any excuse to slip in a daily dose of Jerry Garcia, be it "Cold Rain and Snow" on an inclement morning, or "U.S. Blues" on the Fourth of July.
"I'm basically giddy that you recognized that 'After Midnight' reference," Wertlieb writes in a recent email. "That particular example was one of my favorites, but I always assume I'm just amusing myself, until I hear someone like yourself mention it, and I love it that you got it!"
Wertlieb says he keeps a running list of the songs he plays each day, though generally he doesn't keep notes about the reference itself, or whether there is one. That said, Wertlieb recalls another musical reference he made while promoting a story later in the day about Millennials' home-buying habits. The song he chose was the
Talking Heads' "This Must Be the Place."
Another such musical nod: After a report on the death of film director Mike Nichols on November 19, Wertlieb chose a cover version of Simon and Garfunkel's "Mrs. Robinson," a song that was featured prominently in Nichols' Oscar-winning film
The Graduate
.
Wertlieb says he's always pleased when listeners catch his musical references, especially the less-obvious ones.
"I once promoted an upcoming topic for "On Point" about [cyclist] Lance Armstrong's fall from grace by playing the
Leo Kottke song 'Busted Bicycle
,' which is just an acoustic guitar instrumental and not exactly a Top-40, well-known hit," he writes. "Moments like that make waking up at 3:45 a.m. every day totally worth it."
Some of Wertlieb's other favorite bumper music from 2014:
Promoting an upcoming story on "Morning Edition" about Detroit's bankruptcy with an instrumental cover of Marvin Gaye's "Inner City Blues" by Maceo Parker.
Playing, on Halloween, a bit of "Werewolves of London" from the Grateful Dead's show at Colorado's Red Rocks Amphitheatre in 1978.
On Black Friday, playing a snippet of the Steely Dan tune of the same name.
While promoting an "On Point" story on rising sea levels due to climate change, Wertlieb played an acoustic cover of Blondie's "The Tide Is High" by Simon James.
Promoting a "Vermont Edition" story on the state's coffee culture, fair trade and other issues, he played a bit of Bob Dylan's "One More Cup of Coffee."
"I like to throw in songs by Vermont artists when promoting Vermont-specific stories, even if the song doesn't directly relate to the topic," Wertlieb adds. "If we're coming out of a commentary about sugaring, for example, there's a terrific guitar player named Doug Perkins, who's local, and I'll play something from his CD
Music For Flat-Top Guitar,
" or something by Twiddle, Electric Sorcery or Guagua."
Wertlieb has some regular standbys, such as
"Cars Trucks Buses" by Phish
and Soulive's cover of "Drive My Car" when talking about auto- or traffic-related stories. When promoting
"BirdNote,"
VPR's weekly feature on Vermont's avian life, he'll often bust out a snippet of the Dead's "Birdsong," a cover of Jimi Hendrix's
"Little Wing" by the South Austin Jug Band
— "I get a lot of inquiries about that one," he says — or covers of the Beatles'
"Blackbird" by Adrian Belew
,
Brad Mehldau
or
Cassandra Wilson.
Asked if NPR issues any guidelines to affiliates for bumper music, Wertlieb says no.
"NPR does their thing and, while I often use their shorter music beds for convenience's sake, I like to program my own musical choices into the show and just provide some nice music that I like and listeners hopefully do as well," he explains.
"I've only been urged to not use too many vocals — which I don't often anyway, because it's hard to talk over without being distracting; to limit the Grateful Dead to about three times a week (plenty enough for me!); and to provide music that is generally fitting within the parameters of what VPR listeners expect to hear on 'Morning Edition.'"
In other words, Wertlieb adds, not a lot of Slayer or Insane Clown Posse. Whew!
Did you catch a cool musical reference this year on VPR or another NPR affiliate? Let us know. We'd love to list more here.