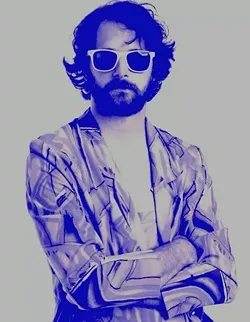 Courtesy of Madaila
Mark Daly of Madaila
As 2014 comes to a close, we here at
Seven Days
are doing a lot of reviewin', revisitin' and reflectin' on the year that was. On the music front, this means selecting our seven favorite local singles and rolling them out each weekday, from December 22 through December 31 — except for Christmas, because Santa.
Up first is the debut single from Burlington-based R&B-flecked indie-pop outfit
Madaila
, "Give Me All Your Love."
Since bursting onto the local scene earlier this year like the confetti that appears to have been the inspiration for front man Mark Daly's amazing, Technicolor dream-pop coat, the band has navigated several changes. Most notably these include its name, of which they've had three: Plato Ears, DALY and, now, Madaila.
The group has also settled on a lineup, evolving from a loopy duo into the multifaceted, seven-member pop juggernaut that produced one of our favorite local songs of the year. BTW, this track is from the band's forthcoming debut album, set for release early next year. So 2015 is off to a good start before it even begins.