20th Century Fox Pictures
The famous (and silly) ejector-seat scene.
We live in an age when digital technology grants us unprecedented access to pop-culture texts. Mostly, this is a very good thing. I can't express how delighted I am to be able to type a short phrase into YouTube's search engine and then watch, less than two seconds later, the goofy, excellent video for Utopia's song "Feet Don't Fail Me Now," which I watched roughly two million times when I was a kid in the early 1980s. When I was in college, I used to lament that it was so difficult to relive such youthful media moments; now, many of us carry that potential in our pockets. I can watch "Feet Don't Fail Me Now" on a crosstown bus, should I so desire. This is a pretty remarkable moment in human history.
Sometimes, though, that nearly unlimited access to beloved cultural products of the past winds up yielding a disappointment. I experienced that disappointment the other night after using the power of the internet to view, for the first time in probably 15 years,
Die Hard 2
. Used to love it. Now, I see that it is not much good at all.
(Of course, revisiting a once-beloved film is not the exclusive province of the internets. Video stores once provided the same kind of thrill, though their collections were much more "curated"; the internet is, happily, much less discriminating in its archiving of media texts. I remember once, in college, some friends and I rented the VHS of
The Incredible Shrinking Woman
, a film we'd all loved when we were younger — in part, no doubt, because of its ubiquity on cable television. And, lemme tell ya, that is a shitty, shitty movie. Lily Tomlin is great and I'll see anything she does. But I've done my time with this particular one of her works. Turgid, unfunny, incompetently made. My friends and I all wondered what it was that made our younger selves love this stupid movie so much — and, more disturbingly, what that might reveal about our respective characters. Was I just a nitwit? It wouldn't be the first time that idea has been suggested.)
My wife and I watch
Die Hard
just about every year as part of our annual Christmas Movie Roundup, a festival that also regularly includes
Gremlins
, the underrated
Just Friends
,
Meet Me in St. Louis
,
Bad Santa
and several others. That first film in the
Die Hard
series holds up incredibly well, and I agree with my friend and undergraduate classmate
Eric Lichtenfeld
in marking it as the most important turning point in the modern action film. There was The Action Film Before
Die Hard
, and there is The Action Film After
Die Hard
.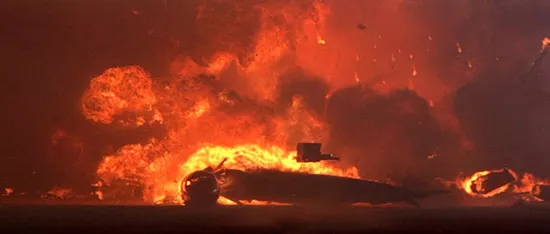 20th Century Fox Pictures
Plane go boom.
The first sequel — like literally every other sequel ever made — was designed to cash in on the success of its predecessor. In this case, the film relies just a little too heavily on its superior prequel, taking every chance to tongue-in-cheekily refer to the first film and to make jokes along the lines of "Why does this crazy stuff always happen to me on Christmas?" If those moments of referentiality were clever, that'd be OK, but they actually come off as somewhat desperate, as if the film is trying to evoke a moment it'll never recapture. My wife remarked, and I agreed, that
Die Hard 2
really doesn't have any moments of genuine humor, whereas
Die
Hard
itself is actually quite a funny film.
I'm not saying anything new about
Die Hard 2
, which has generally been criticized along just these lines. What sticks in my cinematic craw is the fact that I used to love this movie so much. Were my tastes so underdeveloped that 17-year-old me was simply unable to grasp its lameness? Was I one of those teenage boys for whom the term "good movie" meant "lots of explosions; preferably, some boobs, too"? I've always had a taste for so-called trash cinema (of the kind promoted by Joe Bob Briggs, who's one of my cinematic heroes), but still, I don't
think
I was one of Those Guys.
20th Century Fox Pictures
Die Hard 2
Watching
Die Hard 2
was a somewhat disheartening experience for this reason. It wasn't just that the film was subpar, but that it failed to live up to my memories of it. This second-level disappointment was redoubled by the fact that, in recent years, I've actually found myself defending other films of
Renny Harlin
,
Die Hard 2
's director. His moment has definitely passed, and he was never particularly beloved even at his career apogee, but some of Harlin's work is actually pretty damn good.
Deep Blue Sea
is a campy hoot,
Mindhunters
and
Cliffhanger
both have their merits, and the sorely misunderstood
Driven
is way, way better than you remember it.
Driven
, which seems to me to be Harlin's best film, now looks to be a kind of secret influence on the current generation of "information overload," everything's-in-motion-all-the-time action films that is epitomized by the
Transformers
series. Few films are as densely packed with mutilfaceted visual information as
Driven
, so much so that it's either exhausting or exhilarating to watch, depending on your perspective. (I'm in the latter camp.)
My point is that Harlin, for his many faults, is actually a pretty talented director. But he didn't seem to bring his A-game to
Die Hard 2
— which is odd, since it was, at the time, the biggest-budgeted film he'd worked on, and he was explicitly charged with the construction of an action franchise. In this task, he clearly succeeded: The
Die Hard
series includes, to date, five films in total. Perhaps Harlin was, in a weird way, downplaying the more extravagant facets of his style in aiming for a mass audience. (Then again, that seems like a weird thing to say about
Die Hard 2
, a film in which two jetliners, a church, several snowmobiles and a good portion of Dulles International Airport explode.) I return to
Driven
, which is, on a visual level, genuinely challenging;
Die Hard 2
is nothing if not blunt.
The Internets
Did I mention that things blow up in this movie?
That said, the film does have a couple of clever setpieces. The one that stood out to me in my most recent viewing was a brief moment when John McClane is pinned under a collapsed shelf next to a moving walkway. His gun is out of his reach, lying several feet from him on that walkway, which at the moment is not in operation. Beyond his gun is an unarmed but murderous thug, who runs toward the helpless McClane with the intention of dispatching him. The clever bit occurs when McClane manages to grab a nearby length of pipe, which he uses to turn on the walkway. As the gun slowly makes its way toward him, so does the thug, whose onrush McClane has in fact abetted. Harlin slickly builds tension by cutting back and forth between the gun's movement, the struggling McClane and the running bad guy; the hero manages to grab his gun and squeeze off a couple of shots just in the nick of time. It's a beautifully designed sequence that's on par with those in a good Hong Kong action film.
20th Century Fox Pictures
John McClane reaches for his gun in the film's cleverest sequence.
Another moment of visual cleverness comes at the very end of the film. A plane full of bad guys, which McClane has just destroyed by lighting afire a trail of its fuel, explodes into a million burning pieces — which then provide a de facto landing strip for the dozen circling commercial planes whose navigation and visual systems have been crippled by the baddies. It's a smart, fundamentally visual way to solve the film's two central narrative dilemmas in one stroke.
Overall, though,
Die Hard 2
is much more labored and much less funny than its prequel. Its plot is over-elaborate and its visual intelligence far dimmer than those of
Die Hard
. It's not like it's painful to watch, or anything — unless it causes one to question one's taste and memory, as it did me. Sigh.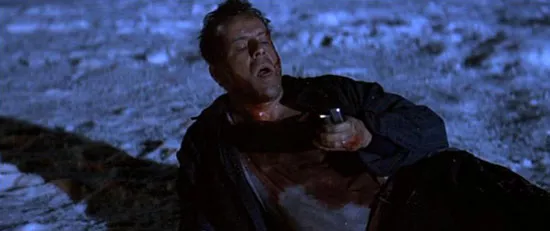 20th Century Fox Pictures
McClane prepares to light the trail of fuel on fire. Because this movie needs more fire.