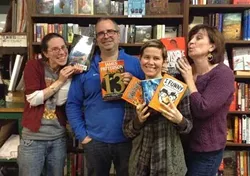 Courtesy of Bear Pond Books
Bear Pond staff celebrate the grant. From left to right: Amanda Menard, Chris MacDonald, store owner Claire Benedict; in front, children's room manager Jane Knight.
Within the last year,
three independent Vermont bookstores
have benefited from the largesse of author
James Patterson
, who in 2013 pledged $1 million in gifts to indie booksellers. This week, Montpelier's
Bear Pond Books
became the fourth Vermont bookstore to receive a Patterson grant, joining
Phoenix Books
of Burlington and Essex,
Norwich Bookstore
in Norwich and
Northshire Bookstore
in Manchester Center.
Patterson, an advocate of literacy programs, gave the money to Bear Pond because of the store's commitment to young readers. A condition of the grant was that the recipient stores have dedicated children's rooms; Bear Pond meets that stipulation by possessing an
upstairs space that's dedicated to children's and young adult books
. According to a press release from the store, Bear Pond Books will use the money to redesign that room, thus making it more of "a destination" for young readers.
The bestselling author has dubbed the grant program "Saving bookstores, saving lives," an indication of the importance he places on literacy and reading. So far, in
three rounds of grants
, nearly 200 independent bookstores have received portions of Patterson's $1 million gift. According to the author's website, he will "continue to support independent bookstores in innovative ways" in 2015, and will launch a new initiative to support school libraries.