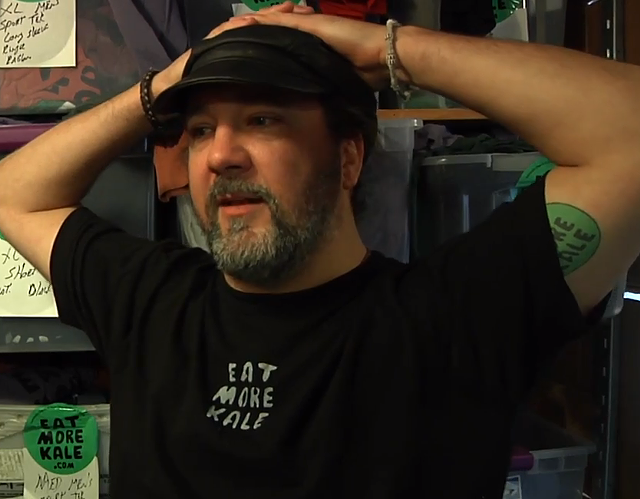 Eva Sollberger
Bo Muller-Moore in his "dudio" in Montpelier
A bottle of wine awaits Bo Muller-Moore in his Montpelier studio. But he won't open it until he's done with press for the day. And that may take a while.
It's not every day that a Vermont T-shirt artist bests a major corporation. But that's just what Muller-Moore did, and people are taking notice.
Today, the designer and his lawyers, Ashlyn Lembree and Daniel Richardson, announced their second major victory against fast-food chain Chick-fil-A. The first came when a court overturned the giant's cease-and-desist order demanding that Muller-Moore not only stop using the logo Eat More Kale — which the company claimed too closely resembled its motto "Eat Mor Chikin" — but turn over rights to Chick-fil-A.
Now, Muller-Moore has won the right to trademark his design. That trademark should be finalized within the next six months.
The artist, who retains a day job at a local bakery, admits that he would like to be celebrating with burgers at Three Penny Taproom, but he realizes that he must make, er, kale, while it lasts.
"The reality is, I'll do a couple months' worth of business tonight. My busy season is about to kick in," he says. "It's an unusual situation i find myself in. Another artist would kill to be in this position."
Hoping not to bore him with the same third degree he'd had all day, we asked the Eat More Kale dude a few easy questions.
SEVEN DAYS: This attention is like a golden ticket. Will you expand your product line?
BO MULLER-MOORE: i don't know. I had a really high-end company called Vermont Design Works build me a new website the summer before last. I went ahead and invested in thousands of new products like yoga mats, Frisbees and aprons. I was smacked with the reality pretty soon after debuting them that I'm a T-shirt guy.
People like my original design in the original colors I've always offered. You know how Dunkin' Donuts always made doughnuts and now they make shitty croissant sandwiches? I don't want to get too distracted.
SD: Filmmaker Jim Lantz has been working on a movie about your case, A Defiant Dude. Now that there's nothing to defy, will it continue?
BMM: I just did two hours with [the filmmakers] today. They presume that it's going to be their last interview with me. They want the case wrapped up completely, then they want Chick-fil-A and the trademark office to speak to them.
I asked [Lantz], 'Are we going to see the film in 2015?' and he said no.
[Lantz told reporter Margot Harrison in an email today, "This means we potentially have an ending to Bo's Eat More Kale trademark story and therefore the documentary — I hesitate to say it's 'absolutely an ending' because, as I've learned with producing this film, you never know where the story's going — it's like life that way: You think you know where it's all headed and then life says, 'Well, we'll see about that.'" A 2016 release date is likely.]
SD: How does it feel to lose your standing as a "defiant dude?"
BMM: i'll always be the Eat More Kale guy. No one can take that from me. When you're in the middle of a fight, it gives you a very active drum to beat. If sales were getting slow, every once in a while Chick-fil-A would do something silly and I'd post about it on Facebook and drum up a little business out of it. Now I've lost that.
Having been in the news before, I realize how quickly one becomes yesterday's news. There's definitely a very raw awareness that when this subsides, I will be yesterday's news and there won't be much to kick it back up. That's a little regrettable.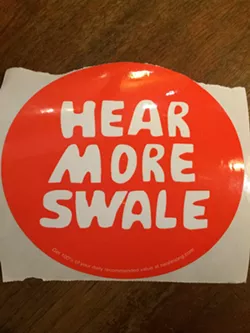 SD: Burlington band Swale has begun using a 'Hear More Swale' logo. Any plans to take them to court next?
BMM: I have no problems with that at all. Imitation is a sincere form of flattery and they don't steal any of my thunder and compromise any of my sales. If anything, I think it's a tip of the hat.
I think my design is pop culture now and is privy to some parody. When that happen,s it almost feels like Weird Al is taking a stab at my song.
SD: So tell the truth, how much kale do you actually eat?
BMM: My wife cooks loads of it! We eat it easily four times a week. When [I came up with the design], I wouldn't have known kale from kohlrabi. Once I started printing and selling enough shirts, I was going to be a hypocrite if I didn't get on board.

SD: How do you like it cooked?
BMM: Sautéed with onions and raisins with olive oil and a little splash of tamari. That combo makes it sweet enough, even kids will eat it.
SD: Have you stopped eating chicken?

BMM: I actually don't usually eat that much chicken. But I am from the South, and when I can find someone who can fry chicken up right, I will definitely eat it.