This week in movies you missed:
How happy can a mumblecore Christmas be? Let's find out!
Happy Christmas
is the 2014 offering from prolific low-budget director Joe Swanberg (
Drinking Buddies, Hannah Takes the Stairs
), whom you may also have seen on screen in
You're Next
,
The Sacrament
,
V/H/S
and a host of other films. Spotting him is the indie-film version of
Where's Waldo?
What You Missed
Jeff (Swanberg) and Kelly (Melanie Lynskey of
Heavenly Creatures
) are an arty couple living in Chicago with their 2-year-old son. Into their lives comes Jeff's younger sister, Jenny (Anna Kendrick), who's looking for new direction after a breakup. She crashes in their basement, parties with her friend Carson (Lena Dunham) and starts a tentative relationship with the couple's pot-dealing babysitter (Mark Webber).
Soft-spoken Kelly isn't crazy about Jenny's general lack of having her shit together. But as they talk, Jenny's nervous energy galvanizes her, and she finds herself wondering why she's put her work as a novelist on hold to be a full-time mom. Jenny eggs Kelly on to write a "sexy mom" book (à la
Fifty Shades of Grey
) that could catapult her to the best-seller lists, and an unlikely friendship results.
Magnolia
This is typical of Jenny's demeanor.
Why You Missed It
Happy Christmas
was nominated for the Grand Jury Prize at Sundance. Widest U.S. release: nine theaters. Now on Netflix and Amazon Instant.
Should You Keep Missing It?
My 20-point, highly scientific scale for the assessment of indie films:
1-4 points: Does it look pretty?
1/4. This is mumblecore. It's just a bunch of actors talking.
Magnolia
Swanberg and Lynskey play the "mature" couple.
1-4 points: Does anything happen?
3/4. The movie's plot arc is minimal at best. But as a character study, it offered enough change and incident to keep me from nodding off.
Basically,
Happy Christmas
is a hang-out comedy without the market-friendly high concepts that Judd Apatow hangs his movies on. If you like watching fine actors improvise and play off one another — mainly Kendrick and Lynskey, with Dunham providing additional deadpan laughs — you'll be entertained.
1-4 points: Does what happens make sense?
4/4. Like most movies in this vein,
Happy Christmas
is realistic to a fault. Kendrick captures a special kind of internet-age, high-maintenance neurosis here, like a Millennial Woody Allen.
Jenny's first "date" with the babysitter — she comes to his apartment, they smoke weed, they make out — is peerlessly awkward, in a way that's both funny and sad. When she decides she wants to leave rather than take things to the next level, she tries to cover the space between them with hyper-verbal wallpaper, proclaiming that "the kissing was top-notch." But the truth is, she's just uncomfortable in her own skin, as he — and we — can see from her constant fidgeting. Like many young people, Jenny talks a good game, but she has no idea what she wants or how to get it.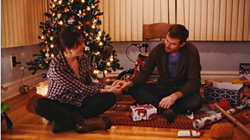 Magnolia
Awww.
1-4 points: Do the characters seem like real people? Failing that, do they look pretty?
4/4. The film is basically a duet between the contrasting physical presences and vocal styles of Kendrick and Lynskey, and the contrapuntal characters they play. Where Jenny is nervous, her dialogue a sea of "likes" and "ums," Kelly seems maternal and grounded. (Lynskey gets to use her real New Zealander accent here, which gives her dialogue a rhythm distinct from everyone else's.)
But Kelly harbors inner uncertainty about her choices, and the movie convincingly shows how her time with Jenny — mainly just batting around ideas for a terrible, terrible novel — gives her a release she's been missing, and makes it easier for her to ask for the alone time she needs.
As for Dunham, as Jenny's less self-aware friend, she contributes a third funny presence to some scenes without grandstanding. I could probably watch the three of them plot their mommy-porn book for a while longer. (Swanberg apparently feels the same way, since he added more of that footage to the credits.) Then again, I find people who attempt to jump on a literary bandwagon and make a million trillion dollars inherently amusing.
1-4 points: Does the movie give us a reason to care about anything happening on screen?
3/4. Did I care a ton whether Jenny would get her shit together or ruin Christmas for her big bro? No. Did I care just enough? Yes.
Magnolia
Aww again.
Verdict:
15/20.
Happy Christmas
doesn't coddle or sentimentalize its characters. And, despite its irony, it does depict a happy Christmas (in a happy home, with a realistically rambunctious toddler and an awesome tiki-themed basement) as something worth having.
Directors like Swanberg may not bring the art or the "cinematic" qualities to cinema, but I think they're making an honest effort to depict how people live now, with some laughs along the way.
And I value that, because most of what I see in the big Hollywood films is fantasy (yes, even in the "grown-up" dramas and rom coms, to the extent that they still exist). Seeing ourselves reflected more frankly on screen
can
teach us things worth knowing.
This Week in Theaters
Behold, Ridley Scott brings you Christian Bale as Moses in
Exodus: Gods and Kings
. And it was decreed that on Tuesday evening,
The Hobbit: The Battle of the Five Armies
would arrive to do blockbuster battle with the biblical epic.
At the Roxy and Savoy, Hilary Swank plays a frontier spinster in
The Homesman
, a weirdo western directed by Tommy Lee Jones.
Rick says check it out
(and so do I).
This Week in Your Living Room
Calvary, Dolphin Tale 2, Frank, Guardians of the Galaxy, When the Game Stands Tall.