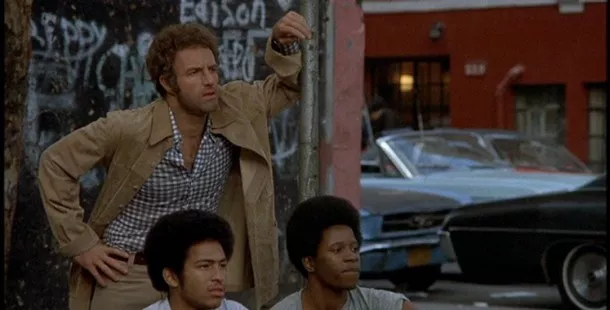 Paramount Pictures
I actually remember when New York City looked as stark as it does in The Gambler.
In researching the film I just watched a few days ago — Karel Reisz's 1974 picture
The Gambler
— I learned that it's recently been remade with Mark Wahlberg in the lead role. The original starred James Caan. The remake, which once apparently had both Martin Scorsese and Leonardo DiCaprio "attached" to it, will début just a week or two after this post is published.
I suppose the imminent theatrical release is the reason Netflix "pushed" the original my way. (Not that I'm complaining. Point me to a 1970s James Caan film that I've never seen before, and I'll be first in line.)
In some ways,
The
Gambler
is a curious choice for a remake. Not because the story (which concerns the slow self-debasement of a gambling addict) is irrelevant. Inasmuch as James Toback's original script was (sort of) adapted from the Dostoyevsky short story of the same name, the narrative is pretty close to timeless. But, to me, the 1974 version of
The Gambler
feels very much a product of a historical moment.
Not that I think the remake can't do justice to the original; every work of art should be taken on its own terms. But the 1974
Gambler
is so strongly informed by several artistic and historical currents that I'm willing to wager the remake's main similarity to the first one will be its title. Which is fine — it's even intriguing.
I find it fascinating to observe how different historical, cultural and artistic forces shape artworks over time. Now that I've seen the original, I'm curious to see how the remake turns out. (Kudos, Netflix, your ploy worked.) I'll try to take it on its own terms, but the remake will be at a disadvantage, because the early-to-mid-'70s was a special moment in film history.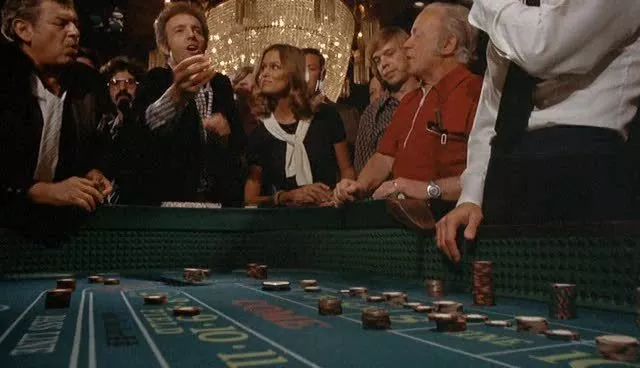 Paramount Pictures
James Caan shooting craps in The Gambler
The 1974 version of
The
Gambler
has a rambling, episodic plot in which the main character, Axel Freed, bounces from loan shark to loan shark, and from one potential moneylender to another. As is usually the case in films with episodic plots, this one's protagonist lacks strongly defined goals. Or, rather, his goals change often and without warning. At times, Axel seems to want to extract himself from his gambling addiction; at others, he embraces it and is thrilled by it. The reasons for these changes are never made clear.
Films of this type — with inconsistent characters and episodic plots — are hallmarks of "New American Cinema" (also called "the New Hollywood"). Many consider this style to have commenced with Dennis Hopper's
Easy Rider
in 1969, but it actually stretches back as least to 1965, with Arthur Penn's
Mickey One
. Other important entries into this long-lasting, vibrant and fairly coherent film movement include Sam Peckinpah's 1971
Straw Dogs
(also recently remade); Sidney Lumet's 1975
Dog Day Afternoon;
Robert Altman's
McCabe and Mrs. Miller
(1971); and, most famously,
The Godfather
(1972) and
The Godfather Part II
(1974).
This movement is considered a high-water mark for artistic experimentation in mainstream American cinema, and with good reason. Take a look at
Wikipedia's rough list of its constituent films
and you'll find title after title that breaks new ground and challenges conventions.
This movement didn't emerge ex nihilo, though. It was directly influenced by European Art Cinema, a loose but pervasive movement that itself emerged as a challenge to the Hollywood films then dominating European screens, often to the detriment of indigenous industries.
Where Hollywood had psychologically consistent characters, art films had characters whose psychologies are inscrutable, and who act without justification. Hollywood films wrap up all their loose narrative ends, but art films often end ambiguously. Hollywood films are rigorously clear in conveying time and space, while art films deliberately make these dimensions difficult for viewers to grasp.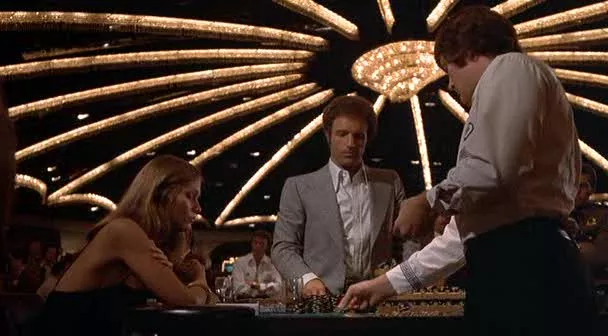 Paramount Pictures
Lauren Hutton and James Caan in The Gambler
Hollywood, the greatest of all cinematic magpies, responded to art cinema in part by co-opting its devices. The New American Cinema is one of the most exciting moments in Hollywood history largely because it represents a meeting of two seemingly opposed styles. That yielded some of the world's richest, most fascinating cinema at that historical moment.
The Gambler
is something of a standard-bearer for many of the tendencies in New American Cinema.
The other strong influence on that film — which I strongly doubt will color the remake in any way — is the realist British cinema of the 1960s. The film's director,
Karel Reisz
, was one of the leading figures in that movement, having made such films as
Saturday Night and Sunday Morning
(1960) and
Night Must Fall
(1964). Both of these films, as well as some of Reisz's other works, are marked by a stark naturalism that owed a great deal to contemporaneous fiction, such as that of
Allan Sillitoe
and
John Osborne
. The films of this movement have a "plain style": unshowy cinematography, unspectacular lighting. Thematically, they often traffic in stories of the working and lower classes, and are frank about social issues such as poverty and disenfranchisement.
The Gambler
's style is as "plain" as anything made by Lumet, the American director (sometimes included in the who's who of the New Hollywood) whose style most often earns that description. Both Lumet and Reisz, when they make their directorial presence felt at all, typically do so via shot compositions that are unfussy in their attractiveness.
A great example is the shot of Axel sitting, with a blank expression on his face, in the bleachers of a gym right after the conclusion of a basketball game. The composition is realistic — even documentary-like — but still quite lovely.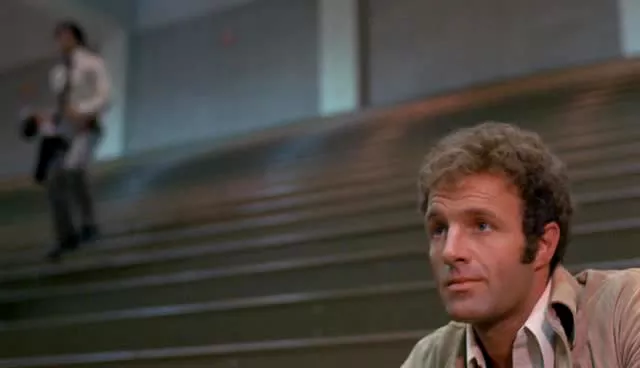 Paramount Pictures
A naturalistically well-composed shot in The Gambler
The actors' performances are also realistic, at least according to the standards of 1970s film acting. They often mutter lines rather than enunciate; they use slang and dialect; they slouch and fail to return glances; their hair is mussed. Paul Sorvino, as a bookie, excels at this kind of acting, but other supporting players — namely Vic Tayback, Burt Young and Allan Rich — give strongly naturalistic performances, as well.
(By the way, this film was a bit of a goldmine for me, as it features two of my very favorite actors in small parts, M. Emmet Walsh and Antonio Fargas. The remake seems to cater to my performative tastes, too: The great George Kennedy is part of the cast.)
When I watched
The Gambler
, I had these two contexts in mind, which enriched my enjoyment of the film. When it was over, I remarked to my wife that such a movie would likely not be made in modern Hollywood; it was so bleak, episodic, naturalistic and plain. At the time I had no idea that a remake was on its way. I suspect that the 2014 version of
The Gambler
will not brandish its influences quite so proudly as the original.