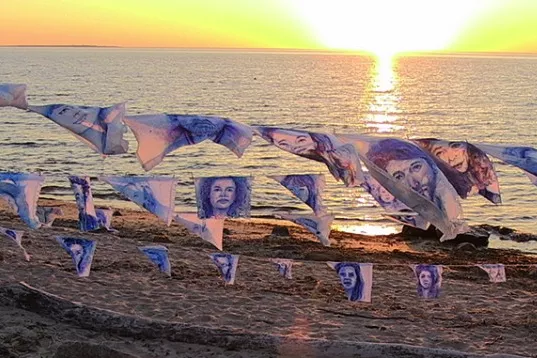 Courtesy of ArtsRiot & ONE Arts Collective
"Leviathan Phase I Sunset II" by Aubrey Roemer
ArtsRiot
and
ONE Arts C
enter
have joined forces for the
Connect Series
, visiting-artist events that aims to "include Vermonters in the national arts dialogue." What does that mean? "We wanted to develop a different kind of arts scene," explains ArtsRiot curator Hillary Clark. "Instead of just having Burlington artists [present] exhibits in Burlington, we wanted to grow the conversation."
In practice, that means established artists from the "New York City/Chelsea art world" will come to the Green Mountain State, and organizers intend to rent a Chelsea gallery space for a monthlong show of Vermont contemporary artists, Clark hints.
"The primary goal is to build connections," she says. "We want visiting artists to meet a lot of [Vermont] artists and gallery curators and patrons, and we want that artist to go back to New York or wherever they came from and share our Vermont artists with their community."
Spearheaded by Clark and ONE Arts Collective cofounder Margaret Coleman, the Connect Series grew out of public conversations during ArtsRiots'
Burlington on Burlington
discussions earlier in the fall. Those addressed topics such as how to make a living as an artist and how artists might reach markets outside the state.
"Out of [those conversations] came [an expression of] a need — from artists, patrons and consumers — that people weren't buying art and that Vermont had a stale brand in art," Clark suggests. Through the Connect Series, she and Coleman want to demonstrate that "Vermont art" means more than than rural landscapes.
The duo aims to host talks, events or public art exhibits four to six times per year. The first of these is Sunday evening, December 7. New York-based multimedia artist
Aubry Roemer
will lead a talk about "moving away from the NYC Chelsea gallery success model." Roemer, who's currently at work on an outdoor, site-specific portrait project in Montauk, N.Y., will talk about DIY art-making and the potential for shifting the contemporary art scene from an epicenter like Chelsea in this age of social media and grassroots networking.