IFC Films
Grandma, what big teeth you have!

This Week in Movies You Missed:
Of course
I have a Halloween movie for you — if you don't mind that this outrageous Spanish import is more funny than scary.
What You Missed
Deep in the woods, three witches are receiving a prophecy about the "chosen one." "A yellow sponge?" one says dubiously, reading the cards. "Jesus Christ? A green soldier?"
It all becomes clear in the next scene, set in Madrid, where we discover a fellow named José (Hugo Silva) robbing a gold dealer dressed as Jesus, complete with loincloth and crown of thorns. His accomplices have equally silly getups, including SpongeBob SquarePants and a green soldier. Oh, and he's brought along his 10-year-old son (Gabriel Delgado) so they can bond while aiming semi-autos at cowering employees.
But the real horror comes later, after the heist goes south and José and his buddy Tony (Mario Casas) commandeer a cab and head for the French border. Taking their cues from the kid, they hope to hide out at Euro-Disney. But first they must pass through a Basque border town called Zugarramurdi with a reputation for harboring witches. (The film's less provocative original title is
Las brujas de Zugarramurdi
.)
These dudes — including their hostage, the taxi driver — are already pretty well convinced that
all
women are witches. José tearily tells anyone who will listen that he stole the gold solely to get custody of his son from his uptight ex-wife (Macarena Gómez) — who, by the way, is pursuing the criminals while two inept cops are pursuing
her
. The men's loot consists of cast-off wedding rings, a symbolism that does not escape them.
But they still aren't prepared for what they'll encounter in the home of matriarch Graciana (Carmen Maura, star of several early Almódovar films), who has her own private plan to welcome them with a witches' sabbath of world-shaking proportions.
Why You Missed It
Witching and Bitching
is the latest from director Álex de la Iglesia (
The Last Circus, 800 Bullets
), whose cheerful fondness for the grotesque has been compared to Guillermo del Toro's. It played several U.S. film festivals and can now be seen on Netflix and Amazon Instant.
Should You Keep Missing It?
Several months ago, I read this review of
Witching and Bitching
that convinced me it would be both taboo-breaking and disturbingly misogynistic. (Actually, it's not so much the reviewer who presents that opinion as the commenters.)
In my experience, the movie was no more disturbing than an episode of "Buffy the Vampire Slayer" — perhaps one dreamed up by a stoned Xander feeling jealous of Willow's magical powers. It's colorful, splashy, irreverent and self-consciously campy, stuffed with incidental verbal and visual gags — in short, hard to take seriously as anything but a spectacle and a goofy satire. And it succeeds very well at being those things.
Watch the trailer for a taste of the weirdness:
Granted, the movie revels in "man-eater" archetypes (literally!) and presents the male characters as bumbling Everymen who are no match for a group of magic-wielding women set on world domination. (Just wait 'til you see the Big Bad…) But I found I just couldn't take this seriously as an instance of vitriolic misogyny.
Maybe that's because the witches, despite being portrayed as old and hideous, have a certain style and sense of fun, while the male characters are almost uniformly navel-gazing, self-pitying doofuses. (Who'd let
them
rule the world?)
Maybe it's because, given the European setting and over-the-top theatricality, I found myself seeing
Witching and Bitching
as one of those traditional farces that exaggerate the war between the sexes to comic effect, only to resolve the whole conflict with an implausible romance. (In this case, Graciana's sexy daughter [Carolina Bang] takes an unlikely shine to José. But she continues to behave like a hellion rather than a submissive mate, and he claims he likes her that way.)
Or maybe I was just too busy having fun at this ridiculous Halloween pageant of a non-horror film to worry about ideological anything. Not soon will I forget set pieces like the World's Worst Roadside Toilet (it's one of those "two-holes-in-the-floor" ones, but that's not the bad part), the Heist by Christ, the Banquet from Hell, the Guy Chained in the Basement with only Zane Grey novels for entertainment, or the absurd, fourth-wall-breaking coda. Not all the jokes land, but there are so many it doesn't matter.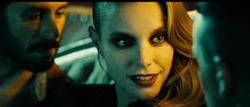 IFC Films
Can a randy young witch and a woman-hating single dad make it work?

Verdict:
This is the first de la Iglesia movie I've seen, and a pleasant surprise. It's certainly an over-achieving entry in the category of Netflix Movies You Might Pick Solely for Their Titles.
This Week in Theaters
Jake Gyllenhaal plays a slimeball chasing crime with a camera in
Nightcrawler
. Nicole Kidman can't seem to remember yesterday in
Before I Go to Sleep
.
Saw
is having a theatrical rerelease for its 10th anniversary, if anyone cares.

At the Roxy, an outspoken African American college student has a message for Dear White People. The irreverent flick was a Sundance hit.

This Week in Your Living Room
America: Imagine the World Without Her, Begin Again, Deliver Us From Evil, Wish I Was Here. Oh, and Snowpiercer is on Netflix Instant now. Catch it.