MGM Pictures
When a film's closing credits provide its best, and most watchable, moment, you have a problem.
What makes a film a cult film?
I struggled with this question when I wrote
a short book on the film This Is Spinal Tap
, because that movie didn't seem to jibe with any of the prevailing theories about the nature of film cultishness. It isn't beloved by only a small, devoted audience; it doesn't contain esoterica graspable only by those "in the know"; it is certainly not "so bad, it's good"; it does not court controversy; it is not a "lost treasure," rediscovered by fans after failing to receive its due in its original release. But I think few film lovers would deny that
This Is Spinal Tap
is indeed a cult film.
Ultimately, I concluded, rather plainly, that a cult film is simply one that, for any number of reasons, attracts a devoted following. Furthermore, the term "cult" implies no particular scale: A film's cult may be small (like that of, say, the oddball semi-satire
The Wizard of Speed and Time
) or large (I see no reason why we can't call films in the
Star Wars
series "cult films"; same for
The Lord of the Rings
movies, and even for beloved classics like
Casablanca)
. All of these films have inspired devotion in a certain segment of their audiences in ways that movies such as, say,
27 Dresses
and
Shooter
do not. Cult films, it seems to me, can achieve that status in any number of ways. If they strike the right note with their audiences, they're in the club.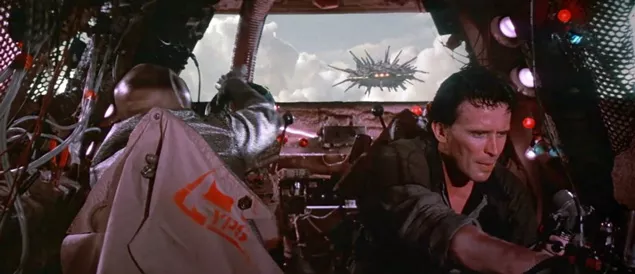 A few weeks ago, I saw, for the first time since approximately 1990, one of the definitive cult films of the 1980s:
The Adventures of Buckaroo Banzai Across the 8th Dimension
. This film, in a word, sucks. I thought so when I was in high school and I still think so now. That is not, in itself, a problem for its cult status, as there are lots of sucky films that have achieved that mantle: the oft-trotted-out
Plan 9 from Outer Space
, the MST3K-bolstered
Manos: The Hands of Fate
, the marvelously daft
Troll 2
. The weird thing about the cult of
Buckaroo Banzai
is that the members of that cult seem to me to have granted the film cult status for all the wrong reasons.
Buckaroo Banzai
is basically incomprehensible. Characters, plotlines, even ostensible jokes remain impossible to parse. The film's makers would like you to believe that many of the characters and situations in the film are "weird" or "zany," though they are actually rather underdeveloped. It's not enough, in other words, to have Jeff Goldblum dressed up like a cowboy just because it's "quirky" to have Jeff Goldblum dressed up like a cowboy. Better there be some kind of justification for that sartorial choice; such things tend to enrich a text.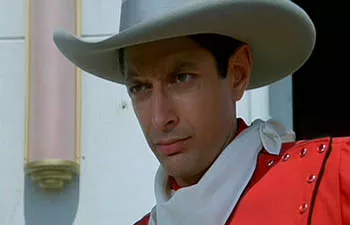 MGM Pictures
It's "weird" to put a cowboy hat on Jeff Goldblum.
To put it plainly, the film assumes a breeziness and (for want of a better term) coolness that it simply doesn't earn. A few inspired performances (notably that of John Lithgow) and oddball jokes (the surnames of the many characters named "John," mostly) do not compensate for the film's lack of coherence, its rambling incomprehensibility and its many inconsistencies. Overall, the film possesses only the minutest amount of the cleverness that it purports to contain.
Not to mention that the film does not use cinematic style in any particularly inventive manner. I noted not a single cut, camera placement, camera movement or soundtrack choice that was anything other than functional. The style contributes nothing to the film whatsoever, merely delivering story information without adding any sort of artistically worthwhile value. And when that story information is itself impossible to parse (not because it's "deep" but because it's deployed with incompetence), it's a bit of a double-whammy.
The weird thing is that the members of
Buckaroo Banzai
's cult celebrate the film for its putative greatness. Seems to me that, if it is to be granted cult status, it belongs in the "so bad, it's good" category. Beyond Lithgow's unhinged performance and the enjoyable closing credits (which are nevertheless marred by incompetent camerawork), I find little in this film that was pulled off with any skill. I'd argue that it's far more incompetently made than
Plan 9
, long regarded as "the worst film of all time."
I realize that this is all opinion, not fact, but I think it's nevertheless worthwhile to consider the reasons that
Buckaroo
Banzai
has been granted "positive" rather than "negative" cult status.
One possible reason is that the film is an underdog of sorts. Famously,
Buckaroo Banzai
was released indifferently by its studio, MGM, premiering in a small number of theaters at the very moment the politically controversial 1984 Summer Olympics commenced. Reviews were mostly pretty tepid, but there was enough weirdness in the film to inspire some of its fans to rally behind it, proclaiming loudly that
Buckaroo
had not been fairly treated by its studio. Everybody likes a lost cause.
That "weirdness" — a hero who's a scientist
and
a rock star, Rastafarian aliens, nutty character names — does indeed distinguish
Buckaroo Banzai
from other films, mostly because its weird bits are deployed with such randomness. That "you never know what's coming next" approach has a certain appeal, I'll admit.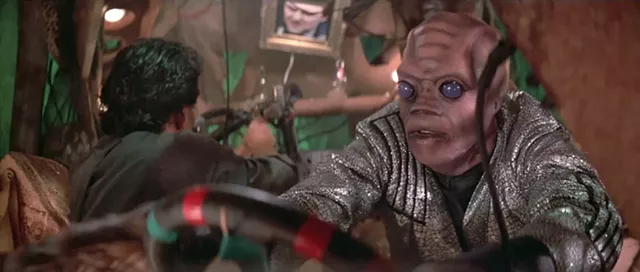 I think that the chief reason for the cult status of
Buckaroo Banzai
has to do with a historical coincidence. The film was made in 1984, one of the golden ages of home video and cable television. Soon after its release, it wound up as a mainstay at video stores and on late-night cable, at precisely the moment when impressionable kids of about my age (12 at the time) had their first taste of unfettered access to movies that were
not
intended for their parents. The disjunctive sci-fi "oddness" of the film appeals, I would submit, primarily to teenage boys, who I believe were the founding members of this film's cult.
Moreover, the film presented itself to these boys at a highly impressionable moment: Their own tastes in music and movies were just congealing. As
Daniel Levitin
has argued in his books about human beings' deep neurological connections to music, the artworks that we admire at the age of about 13 have a tendency to form the basis of our overall artistic preferences. Even if we don't listen to it much anymore, we'll always have a soft spot for the album that was our favorite when we were 13 or 14. Same thing with movies, and all the more so when we can claim them, for reasons of their oddness or difference, as our own.
Teenage boys, as is well known, can yell pretty loudly, and often succeed in imposing their opinions on others. It's my hypothesis that the initial fans of this film yelled pretty loudly, and thereby set the tone for the cult status of
Buckaroo
Banzai
. And once a film gains a reputation as a cult film, it's pretty hard to shake. So even though, in my opinion,
The Adventures of Buckaroo Banzai Across the 8th Dimension
is worthy only of "negative" cult status, it remains beloved by its many fans.
As for me, I'm done with it. Life's too short for crappy movies, even if they do have John Lithgow in them.
MGM Pictures
Lithgow almost makes this film worthwhile.