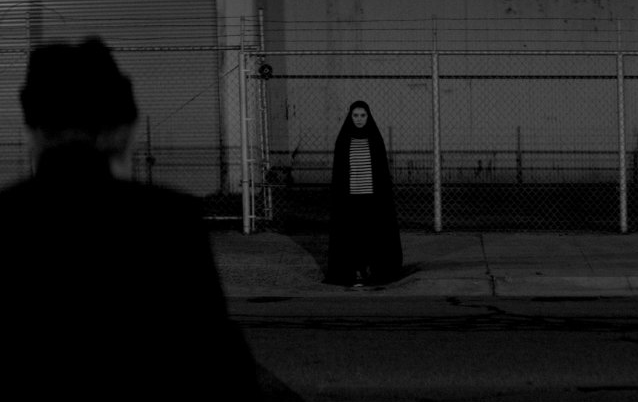 This week in movies you might miss:
the "first Iranian vampire western."
You can kick off Halloween week in style by catching
A
G
irl Walks Home Alone at Night,
the debut feature from writer-director Ana Lily Amirpour, on Sunday, October 26, 10 p.m., at Burlington's ArtsRiot as part of the
Vermont International Film Festival
. (Tickets, $5-10.)
What You Might Miss

Somewhere in Iran, there's a place called Bad City dominated by a gigantic power plant and a fleet of idle oil wells. A place that appears to be inhabited mostly by pimps, whores, drug dealers, addicts and party girls.
Arash (Arash Marandi) is none of the above. He's a gardener with a sports car who likes to wear tight T-shirts and pose like James Dean. When his junkie dad (Marshall Manesh) runs afoul of a vicious dealer (Dominic Rains), he's in danger of losing everything he loves — but not for long.
Because someone else stalks the streets of Bad City. She (Sheila Vand) wears a chador and a Breton-stripe top like Jean Seberg in
Breathless
. She follows men. Quiet and demure, she invites them home with her. She decides for herself what they deserve. And she executes her judgment — sometimes with fang and talon.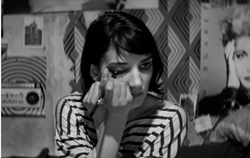 Why You Might Miss It
First, some backstory: This Persian-language film was actually shot in Bakersfield, Calif. (Amirpour was raised in the US and UK by Iranian parents and studied film at UCLA.)
Girl
screened earlier this year at Sundance and various other fests.
The film will have a limited U.S. release on November 21, but I wouldn't count on seeing it in Vermont after VTIFF.
Why You Shouldn't Miss It
Style, style,
style
.
A Girl Walks Home Alone at Night
has style to burn. Shot in black and white, Amirpour's film self-consciously references New Wave films and the starkness of Jim Jarmusch. Its soundtrack channels the romanticism of '80s New Wave (it's actually "a modern soundtrack of Persian rock and Euro-pop," according to the Facebook page), and I want to get my hands on it.
Girl
qualifies as a vampire flick and a feminist flick, but those aspects are subordinated to the overwhelming ambiance, so don't expect any heavy messaging. Don't expect the deftest storytelling, either. Amirpour expanded this from a short film, and it shows — the structure is lopsided, with plot points bookended by long, moody reveries and montages.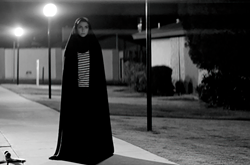 Still,
Girl
has many points of appeal as pre-Halloween viewing:
Attractive actors looking cool.




Gorgeous compositions that keep the viewer slightly off-kilter.




A few genuinely scary scenes where the chills come from artful shooting and blocking. If you didn't think a small woman in a chador could put your heart in your throat, think again. (I was reminded of the original

Cat People,

and this film likewise deploys a guttural snarl to great effect.

)




One big hairy gross-out that pops out of nowhere, rather like the ending to last Sunday's "The Walking Dead."




Many scenes featuring vinyl records.




The best feline performance since

Inside Llewyn Davis

. The cat gets his or her own on-screen credit, and it's well deserved. (Also, in case you're worried, here's a SPOILER SPOILER SPOILER for you: The cat doesn't die.)



Verdict:
You know how at Halloween parties, hosts put on cool, creepy movies as a visual backdrop?
A Girl Walks Home Alone at Night
would be the ideal movie for that purpose, and it's good with the sound on, too.
More to the point, given the film's incessant, brooding coolness, it's hard to imagine a better flick to watch at ArtsRiot while sipping a craft cocktail.
Check out this trailer (featuring French subtitles for extra cool points!) to see what I mean:

This Week in Theaters
Bill Murray plays mentor to Melissa McCarthy's kid in
St. Vincent
. Keanu Reeves kicks bad-guy ass in
John Wick
. Teenagers shouldn't contact the dead but do in
Ouija
.
In
Pride
, only at the Roxy and Savoy, Britain's striking miners team up with gay activists in the Thatcher era. The Savoy also has a film about music therapy for Alzheimer's disease called
Alive Inside
.
This Week in Your Living Room
Snowpiercer
, which all SF fans should check out;
The Purge: Anarchy, Earth to Echo, Sex Tape
.