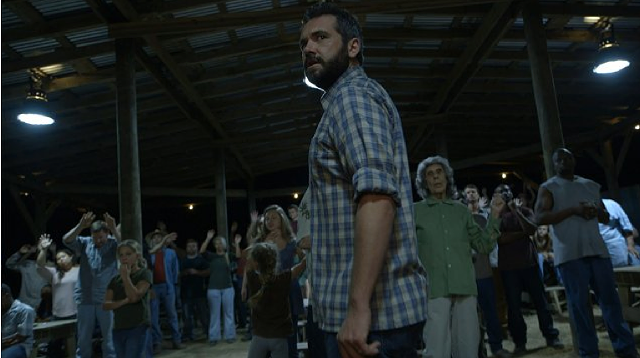 Magnolia
A.J. Bowen plays a Vice reporter who finds himself covering a thinly veiled version of the Peoples Temple.

This week in movies you missed:
It's October again, season of crappy horror releases, so I'm on the hunt for a scare flick that will actually scare me. Where better to look than among movies I missed?
Let's start with
The Sacrament
, the latest from director Ti West (
The House of the Devil, The Innkeepers
). This found-footage film has a simple premise: What if
Jonestown
had happened last year, and Vice Media was there to film it?
What You Missed
Vice reporter Sam (A.J. Bowen) explains self-importantly to the camera that he practices a new form of gonzo journalism called "immersionism." Next up: He'll immerse himself in a utopian community that could well be a cult.
Sam's photographer friend Patrick (Kentucker Audley) has arranged to visit his ex-addict sister at Eden Parish, an overseas colony built by a religious community with a charismatic leader called "Father." Patrick, Sam and Vice photographer Jake (prolific indie director Joe Swanberg) take a helicopter into the jungle, where they're met by guards with machine guns.
When the three young hipsters reach Eden Parish, they find a multiracial community of happy, shiny, hardworking people who insist that Father is the best thing that ever happened to them. Patrick's sister, Caroline (Amy Seimetz), is the leader's biggest fan, even if she seems a tad
too
close to him. Even cynical Sam finds himself swayed by all the bliss he's seeing — until this happens:

Why You Missed It
The Sacrament
played five U.S. theaters this past summer and is now available on Blu-ray, Netflix Instant and Amazon Instant.
Should You Keep Missing It?
Here are my criteria for horror movies:
During how many scenes was I genuinely scared?
Two, and they were
not
the scenes involving the little girl named Savannah, who seems to be a misplaced homage to
The Ring
(see clip above).
Was I shocked/grossed out? In a good or a bad way?
Let's put it this way: I can't think of a horror movie in which more children die on screen. Even in
Hostel: Part II
, where a kid gets shot for no apparent reason beyond shock value, the death stays out of frame. (Eli Roth, who produced
The Sacrament
, seems to be really into breaking this particular taboo;
one of his favorite horror films is the obscure Who Can Kill a Child?
)
Then again, many real children died at Jonestown — far more than shown here. (Eden Parish has a budget-friendly 167 inhabitants; Jonestown had 909 victims.) Pretty much everything shown in
The Sacrament
— parents handing cups of poison to their children, babies being injected with cyanide — happened in real life.
West stages his horrifying re-creation effectively, but that doesn't answer the question: Did it need to be done?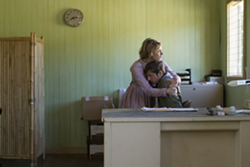 Did the director do anything new with the formula?
West throws a few twists into the standard (and increasingly tired) found-footage M.O.
The real Jim Jones was obsessed with his media image and made an audiotape of the meeting that resulted in the mass murder/suicide. So it makes perfect sense that Father (a fairly creepy Gene Jones) would appropriate the Vice crew's video equipment and use it to his own ends.
The Sacrament
is most interesting when it raises questions about the ethics of "immersion" journalism and the reporters' degree of complicity in events they can't prevent.
What I like about West's past work is his willingness to create tension by drawing out a shot or scene to unconscionable lengths, waiting until the viewer's boredom curdles into discomfort and dread. (Mileage will vary, but I thought the wandering-around-the-house scenes in
The House of the Devil
were terrifying. The scenes where something actually happens, less so.) In
The Sacrament
, there's a long stationary shot that both tricked me — by going against found-footage expectation — and freaked me the hell out.
This is what brainwashed looks like.
Were the characters so stupid I wanted to see them die?
No, but they are basically just stock figures. Seimetz has been great elsewhere, but she can't do that much with the role of an unquestioning groupie.
Was there any point to it all?
If I'd never heard of Jonestown — if I hadn't grown up with photos of piles of bloated corpses seared into my brain — I might have found
The Sacrament
horrifying, brilliant and implausible. As it is, I'm wondering why West went to such trouble to re-create events already chillingly portrayed in documentaries like
Jonestown: The Life and Death of Peoples Temple
(2006). His Eden Parish isn't "inspired by" Jonestown: It
is
Jonestown in a modern setting. (Of note: Jones' rhetoric of anti-government paranoia feels perfectly at home in 2014.)
That raises the question: Is
The Sacrament
any more creative and less exploitive than a tabloid TV reenactment? Or than
this
, also a lightly fictionalized film version?
While the movie's framing does offer a new lens through which to view the tragedy, I didn't find that the Vice reporters' perspective ultimately added much insight. So, while
The Sacrament
appealed to me as a horror fan fascinated by both journalistic dilemmas and cults, it left a bad taste in my mouth.
Verdict:
A couple scares, a couple cringes.
This Week in Theaters
Roxy only: Jeremy Renner plays a crusading journalist in
Kill the Messenger
.
Roxy and Savoy: Mia Wasikowska does her own version of
Wild
in
Tracks
.
Savoy only: An amateur opera singer has
One Chance
to find fame on a reality show.
Everywhere else: A kid named Alexander has a
Terrible, Horrible, No Good, Very Bad Day.
Robert Downey Jr. plays one of those type-A urban professionals who has to go back to his hometown and Learn Lessons in
The Judge
.
Dracula Untold
is the origin story I know I wasn't asking for.
This Week in Your Living Room
The Grand Seduction, Million Dollar Arm, A Million Ways to Die in the West, Obvious Child.