Warner Bros. Pictures
The clever opening shot of Torque.
Joseph Kahn is one of the many filmmakers who moved into feature filmmaking after cutting their teeth on music videos. It used to be a bit of a punchline to say something like "Looks like this guy should have stuck to making music videos," but I don't think that really applies anymore. Big, Important Directors like
David Fincher
,
Spike Jonze
and
Michel Gondry
started in music videos, as did less beloved but still talented directors like
Michael Bay
,
Gore Verbinksi
,
Antoine Fuqua
,
Dominic Sena
,
F. Gary Gray
and
Alex Proyas
(all of whom, in my opinion, have made some excellent films).
Maybe it's still commonplace to mock music videos for being "all style, no substance," but I don't subscribe to such a notion. The more stylishly you can do
anything
cinematic, the better, I believe. And it's no surprise that so many music-video directors have found success in making big-budget genre films in Hollywood. By definition, genre filmmaking traffics in narratives that are, in at least a general way, predictable; they thereby provide directors with narrative frameworks that viewers understand "already." In other words, genre films are perfect vehicles for stylistic experimentation, since their general narrative familiarity won't be compromised by experiments with film form. Indeed, in many cases (I would argue), genre films are importantly
enhanced
when they're directed with stylistic flair.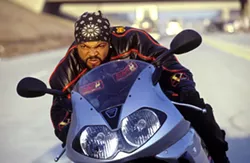 Warner Bros. Pictures
No film starring Ice Cube can be all bad.
The
list of director Joseph Kahn's music videos
is long and impressive, and it includes such iconic works as the videos for Eminem's "
Without Me
" and Britney Spears' "Toxic." Kahn has made only two feature films, but they're both fascinating and well worth your time — which is why I'm writing about one of them,
Torque
, and my colleague Margot Harrison is writing about the other,
Detention
, for her weekly film column "
Movies You Missed
." I don't watch too many music videos anymore (unlike the 11-year-old, glued-to-MTV version of myself), so I'd be pretty happy to see Kahn get more filmmaking gigs. His work is visually inventive and thought-provoking, which is more than I can say for many other current directors.
Before discussing
Torque
, it's worth looking again at the video for "Toxic," which you can do below. The song — almost certainly Spears' best, and one of the most important pop songs of the last 20 years — is terrific in and of itself, but consider how much our experience of it is enhanced by the video's imagery. If you're looking for evidence that Kahn knows how to create memorable, striking images, look no further than the incredible scene of Spears dancing her way through the laser-riddled tunnel, or of Spears climbing up the glass face of a high-rise, or (of course) of Spears writhing in an all-white room, clad only in hundreds of sparkling diamonds. Once seen, the video is not soon forgotten.
In fact, "Toxic," which premiered on MTV just
three days
before
Torque
premiered in theaters, has much in common with Kahn's first feature. In the video, Kahn repeatedly takes us inside the mechanical systems of a jet; in
Torque
, we often find ourselves coursing through the fuel injectors of souped-up motorcycles. "Toxic"'s middle third, in fact, is set on a motorcycle ride, and Kahn treats them similarly: spinning, kaleidoscopic close-ups; laws of physics gleefully defied; an emphasis on speed and curvaceous lines. And Martin Henderson, who plays Spears' boyfriend in the video's last scene, is the lead in
Torque
!
What I love about
Torque
is its relentless kineticism. This is a film in which neither the actors nor the motorcycles nor the camera
ever
stop moving. I've seen the film probably half a dozen times by now, and I still find in it moments that make me gasp for the sheer boldness of the movements they depict. One such image, below, was shot with a very long lens (aka a telephoto lens), which has the effect of compressing the distance between foreground and background. In this shot, the rotations of the windmills in the background are juxtaposed to thrilling effect with the side-to-side movements of the trio of zooming, weaving motorcycles. My kingdom for more such images in current filmmaking.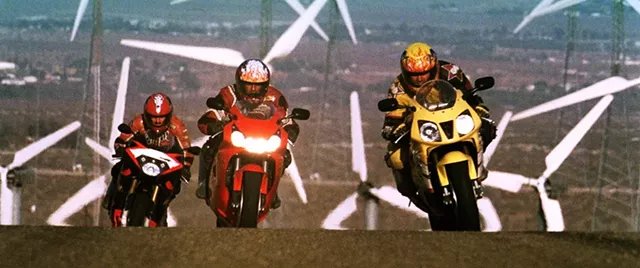 Warner Bros. Pictures
One of my favorite shots in Torque.
I believe that Joseph Kahn directed
Torque
with tongue firmly in cheek. Which is to say: To watch this film and expect any kind of "realism" would be a mistake. The director gleefully abandons realism in scene after scene, not least in the scene in which Monet Mazur and Jamie Pressly engage in what can only be called a joust on motorcycles. (The image below demonstrates just how nutty this scene is.) Another scene, just as fast-moving and breathtaking and blissfully impossible, is the moto chase atop a moving train. This is a film that received much criticism because its action scenes are so implausible. To such critics, I say, "Fooey!" I, for one, don't watch action films for their rigid adherence to realism.
Torque
goes pretty far in the direction of the imaginative reworking of reality — all the better, as far as I'm concerned.
Warner Bros. Pictures
What? That's totally not impossible.
I consider
Torque
to be an important case study in the "Cinema of Visual Overload," which is my informal term for the hyperkinetic, hyperaestheticized "group style" that's found such a strong foothold in the last two decades of Hollywood filmmaking.
I've written recently about Tony Scott's Man on Fire
, which is another key example, as is the same director's
Domino
and, to a lesser extent,
Deja Vu
. The
Crank
films (which I adore) are also key texts in this rough movement, but perhaps the first film in which I recognized this tendency is Renny Harlin's underrated (and similarly vehicular)
Driven
. Just as in
Torque
, every frame of
Driven
is packed with character movement, camera movement and fast-moving digital effects. The story might be a little dopey, but the visceral experience of the film is exhilarating. And even though, as far as I know, Harlin has not made any music videos, we can very broadly credit the ultra-kinetic tendencies of that medium with making his film look the way it does. That statement is all the more true for
Torque
.
Warner Bros. Pictures
Well, it's faster than merely walking from one train car to another.
If, when it came out a decade ago, you dismissed
Torque
as "
The Fast and the Furious
on motorcycles" (which it sort of is, I'll admit), or if you read reviews claiming that the film was all flash and no substance, give it another look. Forget about the story — that's the least interesting thing about this film. Just sit back and let its crazy, ultrastylized visuals scrub out your eyeballs. And, hey, if you find that you can't endure 90 minutes of this kind of thing, "Toxic" lives online, now and forever, as does most of the oeuvre of Joseph Kahn.