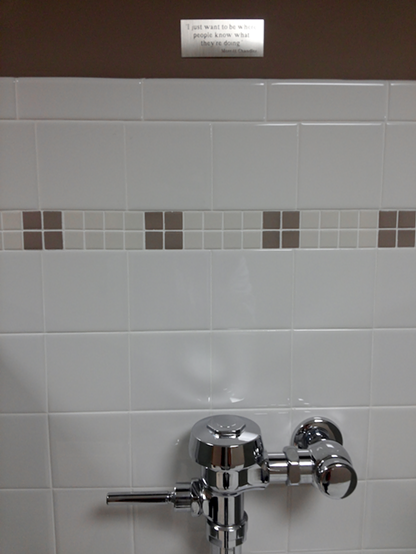 The final round of the
Flynn Center for the Performing Arts
' three-year "patron enhancement" renovation project has brought about some major refurbishments at the landmark Burlington venue. Most prominent are a shiny new box office and an updating of the sunburst pattern on the sidewalk beneath the Main Street marquee. The place looks spiffy.
But a much smaller and less prominent part of that face-lift will likely attract the most eyeballs. The Flynn has sold "naming rights" to the four urinals in the recently renovated men's bathroom on its basement level. Small brass plaques, some engraved with pissy — er, pithy — sayings, will catch the eyes of many an arts-loving male urinator. Each sponsor paid $1000 for the privilege of prime pissoir plaque placement.
"To pee or not to pee — that is the question," reads an anonymously donated plaque. The downtown restaurant
Leunig's Bistro
, getting into the spirit of things, sponsored another: "Tinkle Tinkle, Little Star / Relieve yourself at our pissoir." Perhaps the most diuretically apt plaque sponsor is the nearby
Zero Gravity Craft Brewery
.
John Killacky, the Flynn's executive director and CEO, says that the theater had no intention of selling the naming rights to the urinals, but liked the idea when a donor inquired about the possibility. No more than 30 minutes after contacting potential sponsors, Killacky says, the theater had sold the rights to all four of the new urinals.
Killacky acknowledges that the plaques are examples of somewhat crude "boy humor," but the funds generated by their sale were put to good use. "The fun of this [project] paid for asbestos remediation," says Killacky, referring to the cleanup that was a necessary part of the renovations of the Depression-era building.
A less conspicuous fifth plaque is sponsored by
Ben & Jerry's
and dedicated to that company's former CEO, Fred "Chico" Lager. The ice cream company had heard about the plaques and wanted to get in on the action, but, by that point, the urinals had all been claimed. The company happily settled for a spot on the wall near two newly constructed sinks.
Several more urinals in an adjacent section of the bathroom remain unnamed, as do the 14 new stalls in the women's room down the hall. At present, the theater has no plans to take advantage of this potential excretory goldmine.
Photo: Chico Lager | Courtesy of the Flynn Center
L to R: Eric Flegenheimer, Libby Flegenheimer, Yvette Pigeon, John Killacky