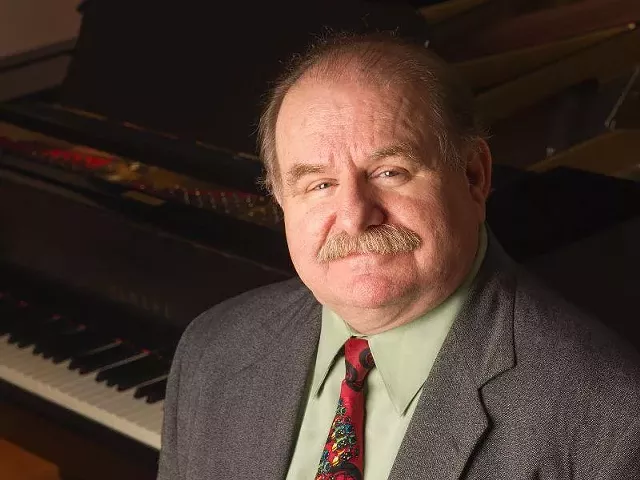 Courtesy of Ben Resnik/VPR
Walter Parker
Not many people work the same job for 30 years these days. When they do, they might get a watch to mark the occasion. If you're Walter Parker, the 30-year classical music host on
Vermont Public Radio
, you get a live hour-and-a-half concert played by musicians you've known for years, and a live audience to applaud both them and you. Oh, and cake and champagne for all.
More than 100 people turned out to hear Parker's free tribute concert at Elley-Long Center in Colchester on Wednesday. Hosted by its lead organizer and Parker's newest colleague, morning classical host Kari Anderson, the "variety show," as she called it, was also broadcast live. And tuning in, no doubt, were many of VPR Classical's 42,100 weekly listeners (the Nielsen Audio numbers for fall 2013).
Parker is now the wise old owl in Vermont's classical-music forest, the one who, as he recalled during the concert, brought the "barely teenaged" violinist
Soovin Kim
and a young boy who played piano,
Ignat Solzhenitsyn
, to perform live in the VPR studio long before anyone knew their names. Parker has interviewed and hosted performances by pretty much every musician and ensemble in the state since he began doing so at VPR's original headquarters in Windsor. Not surprisingly, he had a hand in choosing who performed in his concert.
These included pianist
Sally Pinkas
playing a Beethoven rondo, a rarity for the Burlington area given that the Dartmouth College professor generally performs in other states; two members of the all-female wind ensemble
Heliand Consort,
Elisabeth LeBlanc on clarinet and Katie Oprea on oboe;
Karen Kevra
and
Rebecca Kauffman
playing an ethereal Jacques Ibert piece for flute and harp, respectively; Kevra with pianist
Paul Orgel
on a Poulenc sonata; and
Counterpoint
, Vermont's professional chorus led by Nathaniel Lew, harmonizing and clapping their way through a wide variety of songs, some arranged by former director Robert DeCormier.
Between acts, VPR's on-air gang replayed congratulatory phone messages from, among others,
Vermont Symphony Orchestra
conductor Jaime Laredo and cellist Sharon Robinson, and American Public Media's "Performance Today" host Fred Child. Child joked, to amused laughter from the audience, about Parker making the music happen not with the help of computers but in spite of them; as volunteers such as Ann Larson know, he could often be heard berating his equipment. At the same time, Parker welcomed the advent of CDs, which, he told the audience, are free of the "extraneous noise" of the LPs he began his career playing.
It all made me wonder: Where else does this happen? Vermont's classical scene seems to be just small and mutually supportive enough to have made such a celebration possible. And, of course, there is Parker himself, the Great Unifier of that scene. As Pinkas put it while chatting on-air after her performance, Parker "make[s] everybody feel at ease."
Presumably, that includes the biker crowd: Parker's favorite hobby is riding his Harley Davidson, though the music lover left its tailpipes unmodified and therefore quiet. (One wonders what other bikers think of him. On the other hand, perhaps the biker world is, contrary to perception, teeming with classical-music fans decked in black leather.)
Too, Parker couldn't have lasted as long as he has without being both unfailingly kind and resolutely diplomatic. When asked by phone how he felt after the concert, the phlegmatic host characteristically answered, "It's very gratifying that people seem to have noticed that I've been here for 30 years."
Then he added, "I'm most grateful that we have listeners who support classical music, because they've helped me stay employed all these years."
But good luck getting him to express a strong opinion on, say, the merits of one recording of a piece over another. "I don't want to be quoted as dissing anyone in particular. I'm a positive person," says the state's authority on, effectively, all extant recordings of all classical music, ever.
Later, by email, Parker relented and came up with this recklessly strident judgment: "We just received a couple of new recordings of Mozart Piano Concertos, which are among my favorite music. I can't help comparing every new [one] with the great ones made by Rudolf Serkin and Robert Casadesus with conductor George Szell in the 1960s. Many of the newer ones are quite fine, with many virtues, but none seems to have the blend of passion and elegance that those Serkin and Casadesus recordings still convey."
To Walter Parker, a quite fine man, with many virtues.