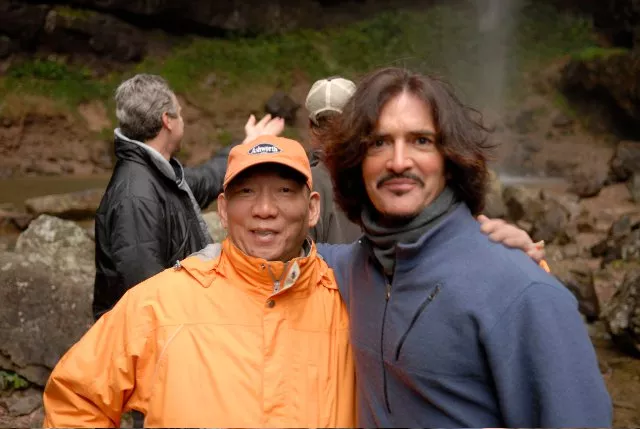 Courtesy of John Fusco
Director Yuen Woo-Ping and writer John Fusco on the set of Crouching Tiger, HIdden Dragon II: The Green Destiny
Nearly 15 years ago, director Ang Lee scored a major international hit with
Crouching Tiger, Hidden Dragon
, a film that uses Hollywood-style storytelling to introduce global audiences to the wonders of Hong Kong martial arts films.
The movie, which stars legendary Hong Kong actors Chow Yun-Fat and Michelle Yeoh, grossed more than $200 million worldwide, and inspired all manner of ancillary materials: comic books, video games, even a TV series in Taiwan — but no sequel, a surprising thing for a film that raked in critical acclaim as well as box-office returns.
Next summer, the film's many fans will finally have the chance to see its story continue, thanks in part to Morrisville screenwriter
John Fusco
. Fusco wrote the screenplay for the sequel
Crouching Tiger, Hidden Dragon II: The Green Destiny
, which is currently in production under the direction of legendary martial arts choreographer and director Yuen Woo-Ping. Michelle Yeoh reprises her role in the sequel, and is joined by the martial-arts film star Donnie Yen.
For Fusco, the 15-year gap between the first and second films is not only unproblematic but appropriate. In an email to
Seven Days
, he explains, "When [the film's producer] Harvey [Weinstein] asked me if I would consider writing the sequel, I said only if it could be based upon the actual literary sequel, which is Book 5 in Wang Dulu's
Crane-Iron Pentalogy
. One of my reasons for proposing that is because the book is set approximately 15 years after
Crouching Tiger, Hidden Dragon
. So, in that sense, I find the time passage kind of perfect."
The Weinstein Company
Donnie Yen in Crouching Tiger, Hidden Dragon II: The Green Destiny
In an unusual move, the film will receive simultaneous release on Netflix's streaming service and in a limited number of Imax cinemas. According
to an article in the New York Times
, the film is Netflix's first venture into this kind of "two-tier" release; other such films are in the works. Fusco is enthusiastic about this release strategy, writing, "As the moviegoing experience evolves, cinematic storytellers need to evolve as well, so I'm excited to be breaking new ground with the Weinstein Company and Netflix."
This is not the first time
Fusco
, whose screenwriting credits include
Young Guns
(1988) and the 2002 animated film
Spirit: Stallion of the Cimarron
, has worked for Netflix. He also wrote the service's upcoming miniseries
Marco Polo
, scheduled to premiere in December of this year. In both
Marco Polo
and
Crouching Tiger, Hidden Dragon II: The Green Destiny
, Fusco returns to the Chinese and martial arts themes that run through much of his work;
the writer also penned the 2008 film The Forbidden Kingdom
, in which Jet Li and Jackie Chan met for the first time on screen.
Fusco's novel Dog Beach
, published just this month, is itself about a Hong Kong stuntman who finds work as a hired thug in Los Angeles. The author himself is a student of martial arts.
Fusco writes, "Staying true to the DNA of the source material was my priority and focus. Of course, bringing back Michelle and Master Yuen Woo-Ping has mattered greatly. It should be noted that Master Yuen is one of the pioneers of the genre and it was his early films that partly inspired Ang Lee to make the original. Master Yuen created the heightened, poetic Crouching Tiger fight style, so we're really going back to the source on several levels."
Crouching Tiger, Hidden Dragon II: The Green Destiny
will be available in August 2015 to subscribers of Netflix's streaming service, and to Imax ticket-buyers.
The Weinstein Company
Michelle Yeoh in Crouching Tiger, Hidden Dragon II: The Green Destiny