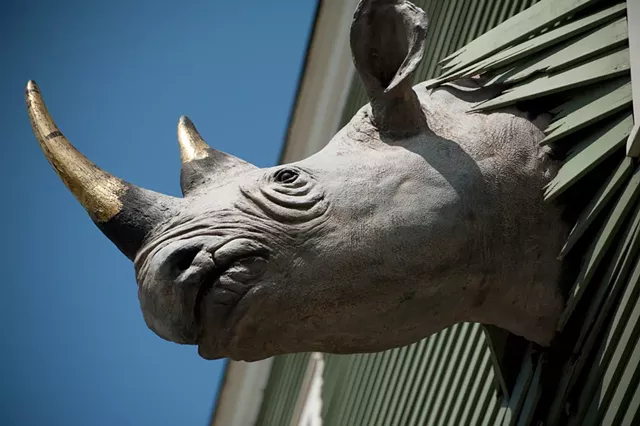 Courtesy of Natalie Williams
The rhino at Conant Metal & Light
If you want to share civic-planning information with artists, designers, craftspeople and other creative-economy types, posting dense consultants' reports or the minutes of snooze-worthy public meetings on a website just won't cut it.
Sometimes, a more effective way to engage the public is through artsier media — sketches, paintings, sculptures, even plays and spoken-word performances.
At least, that's the hope of planners in the City of Burlington's Planning and Zoning Office, who've been afforded a rare opportunity to communicate with South End residents and business owners in unique and creative ways.
Recently,
Burlington City Arts
was awarded a $100,000 grant from the
National Endowment for the Arts
to encourage an "artist-led information engagement and visioning process" for the future of the South End. The goal of that effort, which is part of the city's larger visioning process,
Plan BTV
, is to create a master plan for the city's burgeoning arts district along Pine Street.
File photo by Matthew Thorsen
Sculpture by Tyler Vendituoli
One component of that effort kicks off Thursday afternoon with an event that launches three days of "active living workshops" focusing on transportation and walkability in the South End. This week's events, which are sponsored by the city and
AARP-Vermont
, include a presentation and "walking audits" by Dan Burden.
A former bicycle and pedestrian coordinator for the State of Florida, Burden is a cofounder and consultant with the
Walkable and Livable Communities Institute
in Port Townsend, Wash. Earlier this year, the White House recognized Burden as a "champion of change" for his years of efforts to make cities across the country more pedestrian and bicycle friendly. All of this week's events are free and open to the public. More information is available
here
.
Earlier this week, Burlington City Council approved a contract with the consulting firm
Goody Clancy
to lead a team that will analyze what currently exists in the South End. The Boston-based urban design and architecture firm is perhaps best known locally for its work helping Champlain College master-plan its Burlington campus.
Sandrine Thibault, principal planner for comprehensive planning in the city's planning and zoning office, says that some of the $100,000 NEA grant will help fund artists' projects that decipher and communicate the urban planners' data and findings.
"We're going to work with local artists to see how can we convey this information to the public in a different way so that it's easily understandable," she says, "instead of just saying, 'The report is online. Go read it.'"
"Artists are sometimes really good at envisioning the future," Thibault adds, "so we definitely want to bring artists into the process to help envision what the future of the South End could be."
One concern, voiced by Adam Brooks, executive director of the
South End Arts and Business Association
, is that he's heard from "a ton of artists and small businesses" who worry that the South End's rapid growth and gentrification, from industrial spaces to artists' enclaves, could soon become unaffordable for them. As with other arts districts around the country, as the South End becomes a more interesting and colorful place to live, work and recreate, rents are bound to rise, potentially squeezing out the very artists and other creative types who make it such a desirable location.
Still, the SEABA director says he's been encouraged by what he's heard thus far from city planners: that they won't kill the goose that laid the South End's golden egg.
"We're very optimistic that the master plan will dictate that," Brooks says, "and that the city of Burlington will take those steps to ensure artists and creative businesses have an affordable place to work."
Indeed, city planner Thibault points out that one of the consultants hired for the BTV-South End planning process is
Susan Silberberg
, founder and managing director of the Boston-based design firm
CivicMoxie
. One reason the city chose Silberberg, Thibault explains, is because of her expertise in working with cities to help keep their art districts affordable.
"That's definitely going to be front and center," she says.