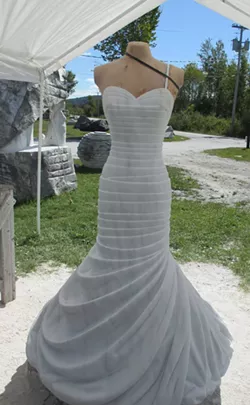 Courtesy of the Carving Studio & Sculpture Center
For the past two months in West Rutland, the
Carving Studio & Sculpure Center
's artist-in-residence
Alasdair Thomson
has been at work on a stunning series of marble sculptures: dresses.
The Scottish-born, Italian-trained master sculptor says he's "exploring the way fabric hangs and folds," and is attempting "to capture that lightness and gracefulness in stone."
The articles of clothing in the series, called the
Identity Collection
, were donated by friends and family — and by a popular bridal designer and television personality,
Pnina Tornai
.
Even if you've never heard of her, you've probably seen one of Tornai's dresses. The Israeli designer makes regular appearances on TLC's reality TV show "Say Yes to the Dress" as the
exclusive designer
of Kleinfeld Bridal in New York, and her designs are frequently worn by celebrities and featured in fashion magazines. (In 2008, the
New York Time
s
summed up
her style as "patently vixenish.")
Until the end of September, visitors to the Carving Studio & Sculpture Center can get a look at Thomson's sculpture of a Tornai dress. After that, it's headed to the Big Apple to be featured in the designer's runway show during
New York International Bridal Week
, according to Carving Studio executive director Carol Driscoll.