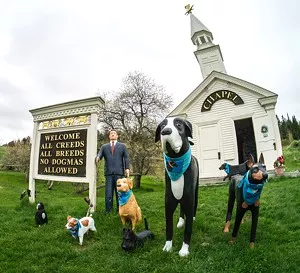 Courtesy of Dog Mountain
The Dog Chapel, built by Stephen Huneck
Vermonters know that Dog Mountain, a 150-acre hillside in St. Johnsbury, is a lovely destination — even if you don't have a dog. Now, a new
National Geographic
book,
The Dog Lover's Guide to Travel
, lets everyone else in on the pooch-friendly place.
Dog Mountain is the creation of the late folk artist Stephen Huneck. It includes a gallery/gift shop with original and reproduction art, and a poignant Dog Chapel that has been visited by thousands of canine lovers since it was built in 2000.
Stephen and his wife, Gwen, both tragically took their own lives, in 2010 and 2013, respectively, but the place carries on with a dedicated staff and the oversight of Gwen's brother, Jonathan Ide. Pups and their people continue to flock to Dog Mountain's picnic events as well as volunteer Labor of Love clean-up days.
Left to sort out the financial matters — both Hunecks died intestate — Ide told
Seven Days
in a
cover story
last year that saving Dog Mountain "is the last thing I can do for my little sister. I want to make sure it gets done right, so Stephen and Gwen's legacy lives on," he added, "because this was their life's work."
The staff is particularly excited about
The Dog Lover's Guide to Travel
because Dog Mountain rates a whole chapter of its own. "The other chapters cover entire cities," reads a press release. The book, written by Kelly E. Carter, is a compendium of canine-friendly destinations, hotels, events and more throughout the U.S. and Canada.
No question that Dog Mountain is utterly unique — and all wag.
Priced at $22.95, the book can be purchased in the
Stephen Huneck Gallery
at Dog Mountain or on its
website
, as well as usual book outlets.