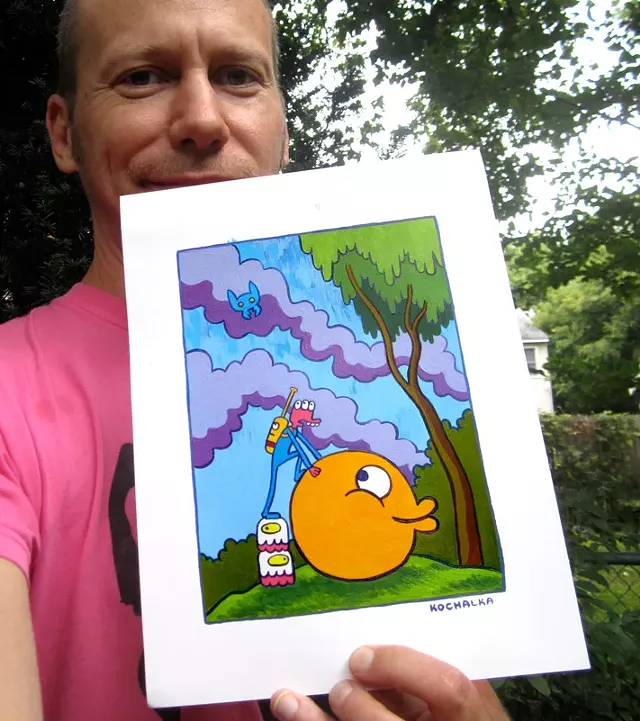 Courtesy of James Kochalka
James Kochalka selfie with prize painting
James Kochalka
is hoping to build an army. A Glorkian army, that is. And by army we mean players of his iOS game
Glorkian Warrior: Trials of Glork
. How? By putting on a fan art contest, of course.
That's how Kochalka, and North Carolina-based game developer
Pixeljam
, which offers
Glorkian Warrior
at the App Store, aim to set the game apart from all the other games vying for attention on Labor Day weekend.
"Apple approached us and asked if we'd be willing to put our game on sale this week," says Kochalka, an Eisner-winning Burlington cartoonist who was Vermont's first official cartoonist laureate. "We knew we wanted to have a sale eventually, because that's just the way the App Store works. Many people watch and wait and don't buy until there's a sale. But with the additional push from Apple, we knew we had to do it now."
So, until Thursday, September 4,
Glorkian Warrior
is just 99 cents; it was released in March 2014 for $2.99. The game is available
here
.
To celebrate the event, Pixeljam is hosting the fan art contest, accepting entries until September 4. Fans of all ages are encouraged to join in. "So far it's been mostly grownups," Kochalka says. "But I really hope more kids submit art, too."
Find info about the contest
here
. Submissions, which can also be emailed to contest@pixeljam.com, will be displayed on the Glorkian Transmissions
Tumblr
, and Kochalka says he'll be blogging them on his
own site
, as well.
The artwork will be judged by Kochalka and Pixeljam, and the winner will get the painting shown in the photo above, as well as a copy of Kochalka's book
The Glorkian Warrior Delivers a Pizza
. Game on.