Courtesy of David Budbill
Edgar Davis
Vermont poet/playwright
David Budbill
envisions a different planet in his new play, but it's not science fiction. Rather, he writes, "This is the story of a black man growing up in racist America."
While that theme is sadly as resonant as ever in this country, Budbill could not have predicted the racial firestorm in Ferguson, Mo., taking place on the eve of
Different Planet
's public debut.
This Thursday, August 21, actor Edgar Davis and bassist William Parker will present a staged reading — augmented with music — of the work in the
Greensboro Arts Alliance
tent.
The shooting death of an unarmed black teenage boy, by a policeman, in Ferguson, and the anger it has unleashed illustrates a particularly tragic breed of racism. But it is not the kind of story Budbill tells in
Different Planet
. As it happens, the play is about the first African American chemist ever hired at DuPont, who then quit that job to teach chemistry at an all-black college. Is it a happier story? Not exactly.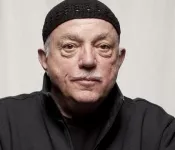 Different Planet
is a true story — though names and some details are changed — based on a man that Budbill knew when both taught at Lincoln University decades ago. "He was a tough guy," says Budbill in a phone interview, "but he was also a fabulously interesting guy."
Dubbed Edward T. Jordan in the play, he is described as "always immaculate, a sharp dresser, and handsome." He is also brilliant, a ruthlessly strict teacher, and angry. Playing Jordan, Davis tells his story: "what it was like to be a researcher at DuPont, why Edward thinks [the film]
Hoop Dreams
is a nightmare, what it was like to be educated, poor and black in the 1920 and 1930s, on what's wrong with black higher education."
Jordan also talks about why he was fired from "Dunbar University," his love for music and, finally, the cause of his death. Yes, he is telling his story posthumously.
Courtesy of David Budbill
William Parker
Parker, a New York bassist, has collaborated with Budbill for years on jazz and spoken-word projects, with the latter on shakuhachi, a Japanese wooden flute. In
Different Planet
, his role is to play musical interludes, to respond to things Jordan says — kind of a musical Greek chorus.
Davis, who lives in Hardwick, has wowed Vermont audiences numerous times with his intense portrayals in productions at
Vermont Stage Company,
Unadilla Theatre
,
Lost Nation Theater
and other companies.
Davis and Parker will deliver a slightly truncated version of
Different Planet
in Greensboro on Thursday at 7:30 p.m. The event is part of the
First Annual Greensboro Writers' Forum
, a residency created by the Greensboro Arts Alliance, which is presenting "a week of award-winning authors" through Sunday, August 24. Oh, and the subhead of the play?
The Life and Times of Edward T. Jordan: Chemist, Educator, Militant Activist, Irritant, Dreamer, Idealist, Disagreeable Person
.