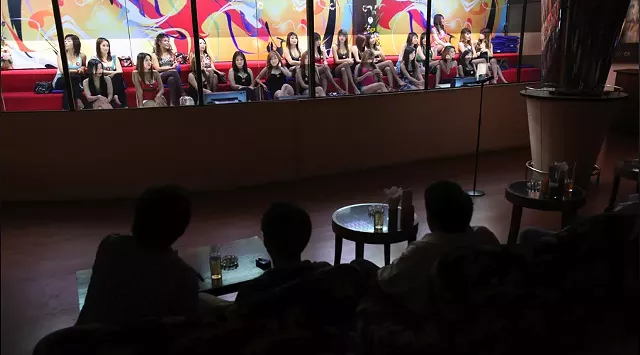 Lotus Films
Prostitutes in the "fish tank" in a brothel in Bangkok
In the late 1950s and early 1960s, an array of technological developments cleared a path for the single-most-influential documentary style of the last 50 years. At first, this movement was known as "direct cinema" in the U.S. and as "cinéma vérité" in Europe, but the latter term has clearly triumphed, as evidenced by the fact that its shortened name, "vérité," occupies a place in the parlance of every filmmaker.
Vérité
has changed the course of cinema — not just documentary cinema — in profound ways.
Like so many other art movements,
cinéma vérité
arose from changes in the tools and techniques used in the construction of art. Just as the great masterworks of Renaissance painting could not have been made until someone figured out how to suspend pigments in linseed oil, cinéma vérité could not have existed until cameras became lighter in weight.
We have World War II to thank (indirectly) for this advance: The cameras used by cinéma vérité filmmakers were descendants of those used on the battlefield. Many of these cameras sported newly developed
zoom
lenses, which allowed filmmakers to take images from a variety of distances without any cumbersome, time-consuming lens-swapping.
Lotus Films
Three prostitutes pray before their shift.
Sound equipment, thanks to the venerable
NAGRA
Company of Switzerland, also got lighter and more portable, meaning that films could now be made just about anywhere with a crew of two people. These devices were small and relatively lightweight; more importantly, they used crystal-sync technology to maintain an unvarying speed. This, in turn, allowed the sound recorder and the camera to record sound and images in perfect lockstep. This was a major advance.
Also, film stock got "faster" — that is, able to produce legible images with only a small amount of light. The trade-off was that those images were rough-edged and grainy. But this ushered in an aesthetic of imperfection that became an important artistic hallmark of vérité.
Add up all these developments and you get the classic cinéma vérité "look": grainy, handheld shots; imperfectly recorded sound; frequent zoom shots; and an overall sense of "being there." The idea was that the vérité camera was a fly on the wall, getting into the action without influencing it.
The politics of the cinéma vérité movement were problematic, precisely because its practitioners claimed that, by adhering to this generalized group style, they could get closer to "the truth." Though rather ridiculous (why would a handheld camera be more "truthful" than a stationary camera?), this idea's impact is impossible to overstate. Some great films were made in the cinéma vérité movement, but their makers might've thought a little too highly of themselves.
In any case, the aesthetic is still with us, and indeed has even intensified in the era of digital video. Until we get those long-promised retinal implants, high-quality digital cameras are about as lightweight as they're going to get. Fiction and nonfiction filmmakers have taken advantage of this, giving us such "you are there" digital docs as
Catfish
and fiction films such as
V/H/S
that turn the free-flying camera into an important plot device.
Michael Glawogger's
documentary
Whores' Glory
was apparently made on some high-end digital equipment, but that doesn't mean it wasn't animated by the spirit of cinéma vérité. The film spans the globe to depict the varied forms of modern prostitution, visiting a high-end brothel/nightclub in Bangkok;
a "prostitution complex" in Faridpur, Bangladesh
; and a dusty street called La Zona, in Reynosa, Mexico, that's a magnet for johns from all over the region.
Lotus Films
Enticing potential johns in Bangkok
This film would be nothing without its "you are there" aesthetic, as it brings the viewer into these strange, "forbidden" places. And it truly is fascinating to be "taken" to these places, which run the gamut from high-toned to chillingly grimy. The film's entire M.O. is to show us people, places and phenomena that most of us would never otherwise witness.
I was surprised by the film's fairly rigid adherence to the cinéma vérité aesthetic, as I'd heard from cinephile friends that
Whores
'
Glory
was somewhat groundbreaking. Despite the excellent cinematography that shows us remarkable things, I found the film to be highly conventional.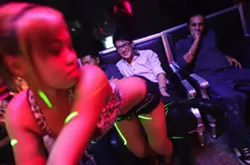 Lotus Films
This is among the least shocking things in Whores' Glory.
Whores
'
Glory
does deviate from cinéma vérité standard practice: Some of its subjects address the camera directly. Such a gesture was anathema to the most hardcore of the original generation of vérité filmmakers, because it "revealed the device" — that is, broke the illusion of being a fly on the wall.
Once a subject addresses a camera, the camera's presence is acknowledged, which shatters the Emersonian "all-seeing eye" that was the ideal of cinéma vérité.
In
Whores
'
Glory
, several prostitutes and johns address the camera (though we never hear the voices of anyone on the film crew). These scenes played, to me, like classic theatrical soliloquies: characters in a drama revealing their thoughts to an audience. As I read them, these scenes do not mount a strong challenge to cinéma vérité form for the simple reason that, once a camera is
used
to create a filmed image, its presence is tacitly acknowledged. We
always
know
that a device has created and presented to us the images we watch; they do not originate
ex
nihilo
. And that's one of my problems with the polemics of cinéma vérité: It doesn't give enough credit to the thoughts and filmgoing experiences of the "regular" viewer.
Whores
'
Glory
is almost guaranteed to surprise and fascinate any viewer. But it left me yearning for a documentary model that might arise to supplant that of cinéma vérité, which has run its course.